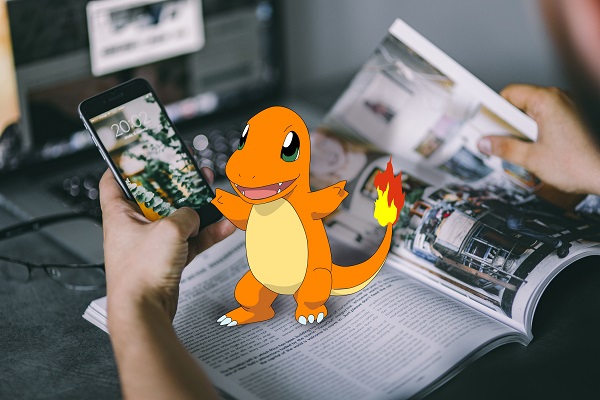 You've probably seen some posts on Facebook, Twitter or Instagram regarding this new phenomenon – a mobile app Pokémon Go. What was your first thought? Is it year 2000 again? Did I travel back in time? Life is, unfortunately, unfair and it's not time travel, it's a new gimmick released by Niantic. People love it or hate it, but you as an owner of a language school can use it for your benefit. 
Pokémon Go – what is that?
People went crazy about this new app. It's simply a mobile game created by Niantic, part of Nintendo corporation (owners of the Pokemon game franchise). The game uses so-called AR – Augmented Reality. The app takes the image taken with the camera and adds objects there.
Players are playing as Pokemon trainers and thanks to the GPS, they are looking for the little monsters, catch them and unlock special items. It sounds easy and effortless but this app really requires a lot of motivation and activity. Sometimes you need to walk hours around your neighborhood in order to find special creatures or hatch an egg (some Pokemon are born this way). People can join teams, battle other trainers, mark their territory.
The game is free and already available in the majority of the countries. It's interesting that even when it was not yet available globally, people were downloading .apk file with the app to their phones and installing it before the official release. Now it's available in Google Play store or AppStore. You just need to write "Pokemon Go" in the search window. Remember that if the download is free it doesn't mean that there are no costs. There are in-app micropayments that every day provide a multimillion income for Niantic and Nintendo. What can you buy in app? Additional equipment that makes catching the Pokemon easier, luring algorithms (the creatures come to you).
Why should I even care?
The answer is very easy. Because your potential clients are the players! You can already see that companies are adapting to reality – bars, shops, clubs, their owners had a hunch and now they are organizing special events related to the Pokemon Go phenomenon. This app is now more popular then Tinder (dating app) and has a big chance to be more popular than Twitter. It really already is if we look up the statics of usage. It's the biggest hit since FarmVille, Candy Crush or Angry Birds series.  Now there are approximately 80 millions of users. Germany has 80 million citizens. Wow!
Take a look what's happening in places where there are rare Pokemon:
Pokemon GO is just insane right now. This is in Central Park. It's basically been HQ for Pokemon GO. pic.twitter.com/3v2VfEHzNA

— Jonathan Perez (@IGIhosT) July 11, 2016
So, what do you think? Don't you think that it's a good idea to use this social phenomenon to start earning money?
How to start advertising with the game?
There are two special places in the game: PokeStop and Gym. In PokeStop, once per 5 minutes, the player can win precious rewards that will help him to advance through the game. The Gym is a kind of an arena where people battle against each other with the use of the Pokemon. Both places are in a real location and here comes your chance to attract customers.
There are already several shops and commercial areas where you can catch a Pokemon at a Gym or a PokeStop. Some of them even have rare Pokemon which will attract the players.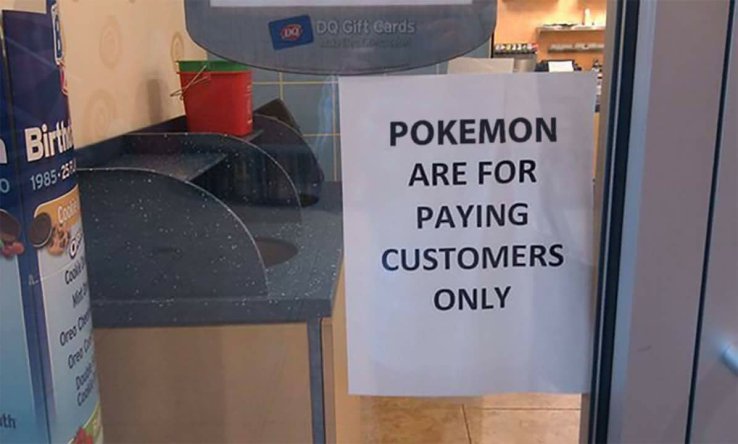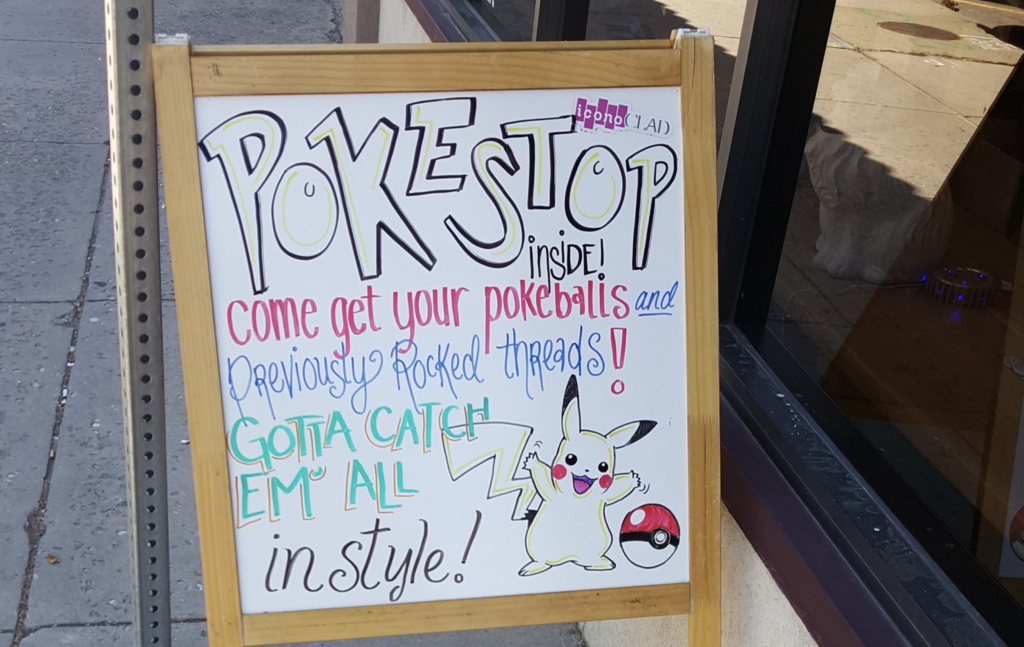 [source: https://techcrunch.com/]
David Jones, investor from Niantic Lab said:
You can understand how anyone with anything to do with retail and location has that ability to get their brands to tie in. Real world food shops could have virtual berries; real-world pharmacies could have cures; sports stores, gyms, there are so many different things you can do. The potential is enormous.
Just like I said in the beginning of this article, there ar in-app payments. If you recharge your account with 79.99 GBP you can get 14.500 pokecoins which you can spend on 168 lures (it will attract rare Pokemon).
It could be your office or a park where you are having outdoor lessons. You don't have to pay, you'd just have to play a lot, earn coins and then buy lures. Let the people know that you have a rare Pokemon at the office. Do it on social media and observe who is playing the game. Remember, not all the students left town for summer.
What next?
Inform the people that your school is Pokemon friendly. Put the info on the windows, doors or put a signboard on the street. Prepare some snacks for the guests, it is not expensive but will be a nice surprise for the guests or your clients passing by. Display your Wi-Fi password and point people to the room where the Pokemon is, in an exchange for their e-mail. Offer your guests symbolic discount or one free demo lesson. Maybe you will personally enjoy catching the Pokemon? How about a hunt with your clients? Have fun and show that you're following the trends!