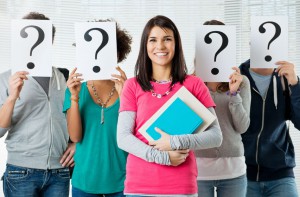 Understanding who we target our offer at and what the needs of such person are, we can perform more effective marketing actions and more efficiently sell our services.
In realising who exactly we work for, it is very useful to develop buyer personas, i.e. identifiable groups of persons who buy products or services of our company. The point is to create models of potential clients and always bear them in mind when we pursue our activities.
Collect the data
It is worthwhile starting the development of the buyer personas from collection and analyses of the data about our clients. Whenever possible, perform questionnaires and interviews among students. Talk to course instructors too – they are in permanent touch with the students and know a lot about them.
Collection of the data helpful in the creation of buyer personas is not always possible. This does not mean we have to give them up. It is better to create profiles on the basis of the  knowledge about the industry, experience and intuition, than not to have them at all.
Once you have analysed the data about your clients, on that basis you can create buyer personas. Instead of writing "university students and graduates wishing to improve their attractiveness in the labour market" though, come up with a fictional character corresponding to features of a given group.
To do that, you must answer the following questions:
Who is that person?
The buyer persona consists of such features as: sex, age, profession, financial and family situation, education. Each of those factors matters when daily decisions are made, including those related to the choice of a language school.
Invent a fictional full name of the person. You can also add a photo – the more life you give to the character, the better!
What are the buyer persona's motivations to learn a language?
Does the decision to start learning follow from passion or is it rather a self-investment? Does this person think of going abroad, to find employment or to study? Or perhaps you buyer persona loves Scandinavian crime stories and would like to read them in original? You must know all those things to be able to reach out to clients with your offer effectively.
What are the buyer persona's needs?
Depending on the motivations to learn, buyer personas can have diversified needs. Someone planning to leave abroad for work within a few months will be interested in an intensive course stressing vocabulary related to their professional background. A person learning for pleasure will prefer slower learning pace and a greater stress on information about culture of a given country.
What factors influence the buying decisions?
What is of the greatest importance when the choice of a language school is made – the price, location, customer service, quality of the course, number of hours, or perhaps flexibility of learning? This is of utmost importance! Without good understanding of how your clients make decisions, it will be difficult for you to perform marketing activities.
Collate answers to above questions, use your imagination and  …– you've got a ready buyer persona! Create as many such personas as you feel justified and necessary. Always refer to them when planning your offer and marketing activities.
This is a sample buyer persona for a language school:
Mark Exemplary, or a buyer persona in a language school
Age – 23 years old, during studies (for the degree of an electric engineer), single, lives with his parents, has no permanent revenues. During summer holiday he went several times to Sweden, where he undertook temporary jobs. In the future he would like to work there in his profession, and that is why he must know Swedish.
Motivation to learn: employment migration.
Needs: vocabulary needed to move around the labour market and within the electric industry.
Buying decision: he treats learning as a long-term investment so he is mostly concerned with the quality of the course.