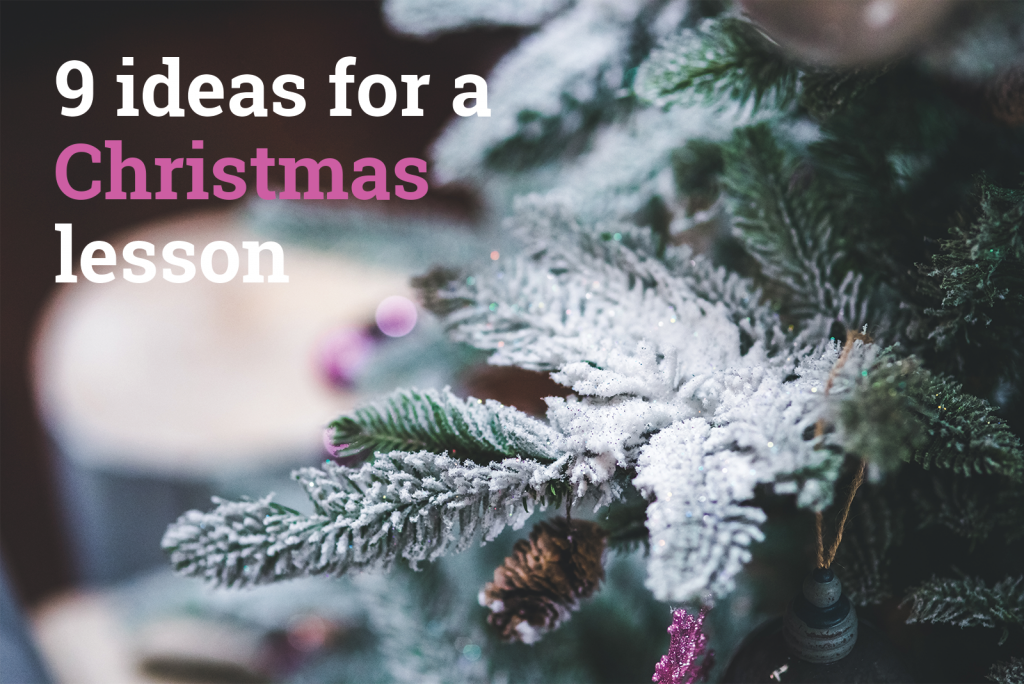 Christmas is close and it's a great opportunity to organize a lesson inspired by the best holiday's atmosphere. Have you thought about it? We well know that your students motivation just before the Christmas break is somewhat disappointing, so maybe it would be a good idea to organize a special lesson?
1. Christmas stories
Ask your students to write a Christmas tale in a few sentences. Give them a set of words closely related to this unique holiday: wise men, star, stable, manger, bells, gift, Santa Claus, Frosty the Snowman and so on. It will boost their creativity and will be a lot of fun.
Suggestion: Create such a story on Storybird or try reading stories created by students from other countries. Check out:  How to Survive Those Last Few Days~A Guide to Not Going Crazy Before the Holidays.
2. Christmas sock play
Another idea we'd like to give you is a game that will help your students improve their speaking. You need to create 50 cards with Christmas/winter vocabulary. On 5-10 cards you need to draw a block of carbon. Throw all the cards into a sock, make your group sit on the floor in a circle and you can start.
Each student needs to draw a single card, and read out loud the word and translate it to the mother tongue. If he does it well, the card is his, if not he needs to put it back into the sock. If somebody draws a block of carbon he needs to give back all his cards.
You can play for a certain amount of time or until all the carbon cards are drawn. Feel free to modify the rules, we just want to inspire you!
Curiosity: In Italy, bad children used to get a sock full of "carbon" instead of candies. This "carbon" was simply a sugar dice painted black with squid ink 🙂
3. Vertical poem
For more advanced and older students, you can plan something related to poetry. Ask them to write a poem that begins with certain letters. Student needs to choose a word from Christmas vocabulary and writes it vertically. Each verse needs to begin with one letter belonging to the word they chose.
Example:
Above the
Night sky
Gathered
Each of the heavenly host to
Loudly proclaim the
Savior's birth.
4. Christmas Taboo
We recommend Taboo game as it helps to learn how to speak in a foreign language and widens the knowledge of the vocabulary. All you need to do is prepare some cards with Christmas vocabulary. The word in bold font is the word that needs to be described, the other 5 words also written on the card are to be avoided in the description. The rest of the students have to guess the word.
We prepared cards for you, feel free to download them here
5. Finish the story
It's a game good for bigger groups. Someone needs to start and tell the story for 30 seconds, then it's to be continued by the next person. If somebody freezes for more then 5 seconds he loses and needs to withdraw from the game.
For more advanced: You can record the stories on your smartphone. Then after completing the story with the whole group you can listen to the story. If someone hears a mistake he rises his arm. First a person who made a mistake has a chance to correct himself. If he doesn't, then a person who noticed the mistake has his turn. One of them receives a point.
6. Play Ebenezer Scrooge
Everybody knows the main character of A Christmas Carol by Dickens. Scrooge is well known for his hatred for the people and especially for Christmas. In this game, a volunteer needs to tell as many reasons to call off Chritmas as he could think of. Then all the students should discuss and agree or disagree with the given arguments.
Suggestion: You can divide the group into two parts: one will be playing Santa Claus and the other Scrooge. Who wins this clash?
7. A lesson with a native speaker
If you have such a possibility invite foreign guests to the school and ask them about their Christmas customs:
Are there any special meals eaten at holiday time? If so, what are they?
What do people wear for the Christmas?
Do people exchange gifts? If so, what kinds of gifts are given and received?
Are specific rituals performed at holiday time?
Suggestion: Begin the meeting by asking your students if they have ever spent Christmas in a different country. Discuss about the differences. You can use this article to prepare: Christmas celebrations around the world 
8. Alternative singing
Every year the same tracks? All I Want for Christmas, Rocking around Christmas tree and Last Christmas? How about your own songs?
Young students would really have fun with changing the lyrics. For example: Jingle bells, Batman smells, / Robin laid an egg
A little bit of humor is always a good idea!
You can use Christmas karaokes
Christmas songs in English  for children
9. Movies and cartoons
One of the best ways to learn the language is by watching moveis, tv series, cartoons in original. All the difficult words you can translate while watching. You can ask your students to sort chronologically moments in the cartoons, just prepare cards with descriptions.
Cartoons for kids:
For older crowd:
I presented only a fraction of ideas for Christmas lesson. All the games will diversify the lesson and create a special atmosphere. You will still teach your students foreign language, but they will have more fun then usual. It is also a great opportunity to teach about different cultures and you will learn a lot about your students.
If this article was an inspiration for you, leave a comment! If you want to give me more feedback, send me a message at michal.krochecki@langlion.com