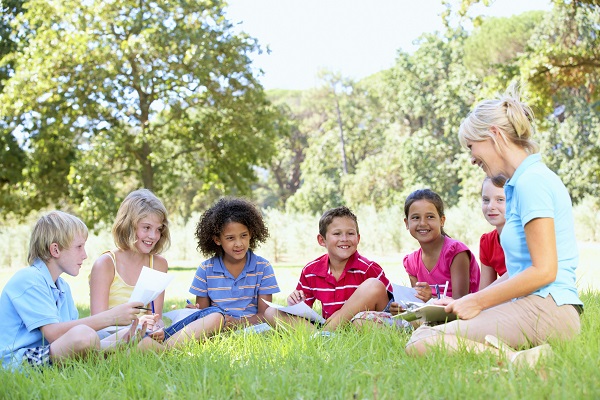 It's almost the end of the semester, and your students are less motivated because they can't wait until they go on a vacation trip. It's a good moment for some creative lessons. Have you ever thought about  organizing a lesson outdoors? Very good! Just remember that inviting your students to the restaurant is not an `entirely innovative concept. So how do you organize a truly successful lesson, which in addition will bring profits?
Going out to eat can be a very nice experience but it also implicates spending money, and that's something that you probably would like to avoid. Your students especially when they are not independent yet, will not be happy to spend money. If you were thinking about paying for them, so you are generous, kudos to you!  Don't forget about that not all of your students are sociable, and some of them could feel quite uncomfortable sitting at one table with people they greet with a simple "Hi!" when entering the class.  Another problem may be the shyness of people who are afraid to  speak in a foreign language in public, especially in fancy places. If you want to stand out, you need to offer something new, interesting and really useful addition.
The concept
Here are a few examples of fruitful spend time outside:
Play the tourists. Organize a tour of your city. Let everyone prepare information about some interesting landmarks. Each, in turn, will guide. Everyone should also ask questions as a tourist would do. (Just in case, teacher should have a pocket guide to back up his students with facts).
Go to the museum and ask for a  guided tour in a foreign language. Let the students take notes, so that you could later see how good are they at listening. Then they could talk about what they have seen. Give points for questions, for making a conversation with a guide. The most active person could get a surprise gadget.
Visit the embassies / cultural centers / invite travelers, local and national guides. Think of a themed lesson, to which your students could  prepare in order to participate in a discussion with the hosts or even ask them questions (culture, politics, sports …).
Picnic in a park combined with a lesson about nature. Organize the albums, books, photos,etc. Talk, share observations, knowledge and ideas. Don't forget to take a lot of photos, it can be used for marketing.
A film display with a discussion after (of course the film should be in the taught language preferably with CC subtitles).
Fun with translations. Walk around the streets and attempt to translate signs, inscriptions, information, etc.
Outdoor game or sport. Football match perhaps? Name the rules, types of players etc in a foreign language and later ask students to prepare a note about the match, like the ones on websites or in press.
You can also organize themed activities (fashion, style, cooking, travel, IT, job).
You can ask your students. Get inspired by them! Together, you can develop a plan for an outdoor lesson. Maybe someone will have a better idea then you?
Marketing
An outdoor lesson can be a great advertisement for you. Give participants items like caps with your school logo, some linen eco bags with materials, something sweet, a bottle of water. There is a big chance that a group of people like yours will be a curiosity for the strangers. You will improve your school's image and people will think that you are a creative place. In addition, if you speak out, passers-by will hear you and that will be a real-time confirmation that your school teaches the language.
Improve these ideas.  Nothing is perfect. Also, your ideas can be developed and improved. But that's ok, as you will know how to create new ones.  🙂
We encourage you to share your ideas in the comment section.