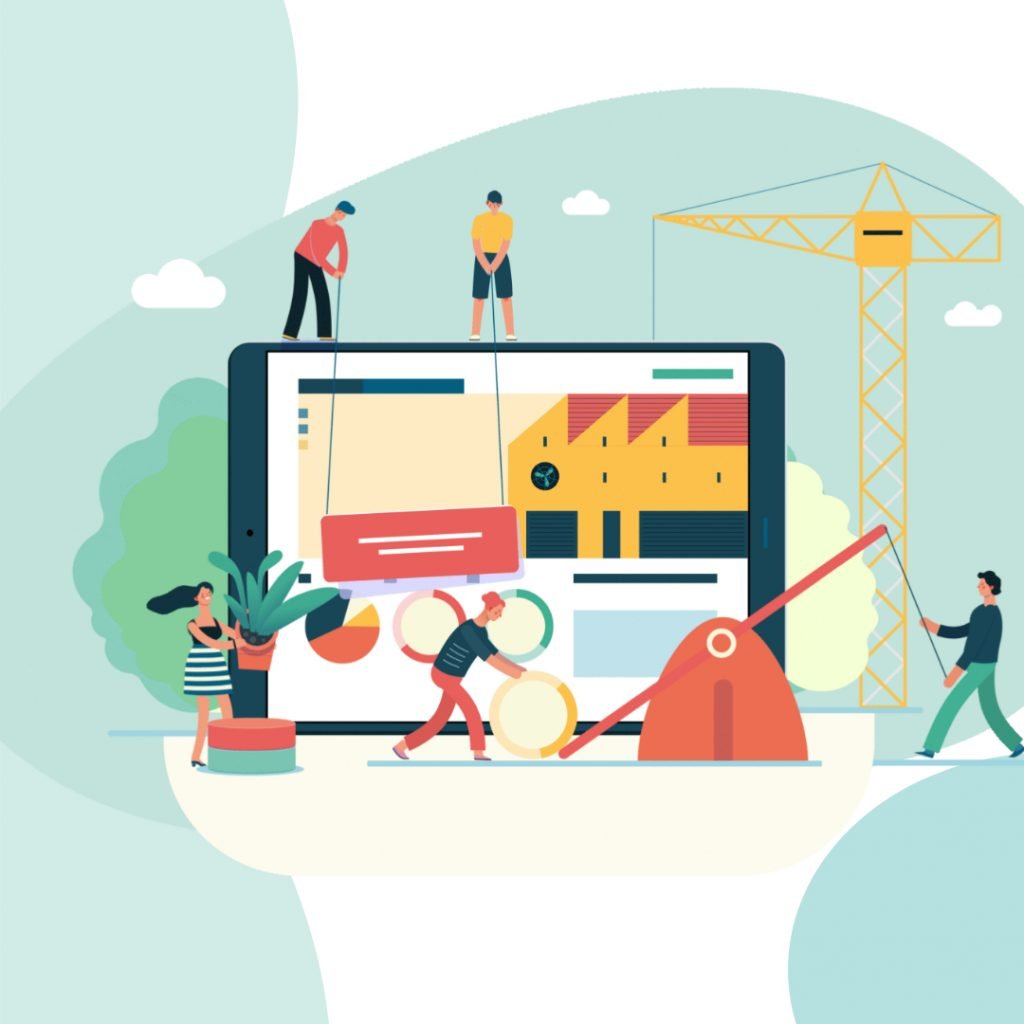 Imagine a situation like this: Emily, your potential students, searches language schools online by location because she would like to find a course near her home or workplace. On a map, near her apartment, only two schools are displayed, but she clearly remembers there are many more of them… Why is it so? See how to create a free Google business card and why it is worthwhile to have one.
Free Google business card
The story of your student might have been completely different. Emily was just sitting on her sofa at home with a phone in her hand and she recalled seeing an ad of your school somewhere. So she decided to enter the remembered name in Google and learn a little bit more about your school. The key question is "What is Emily going to see?"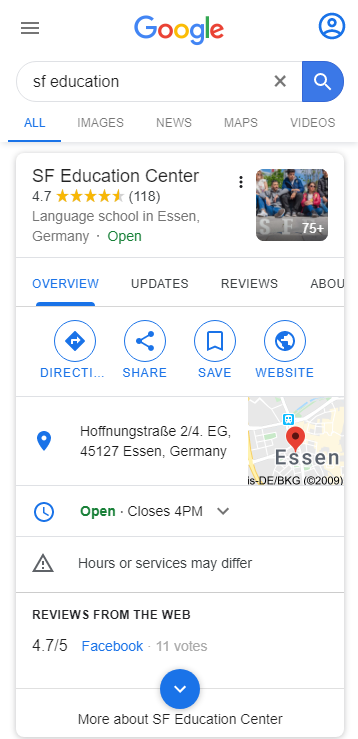 If you have a Google business card, Emily is going to see instantly all core pieces of information about your school: the address, opening hours, opinions from Google, but also from Facebook, she will be able to view school photos, but also with a single click she will be able to go to a map and check how far your school is from her, go to your website or call you.
For the computer version it would look like this: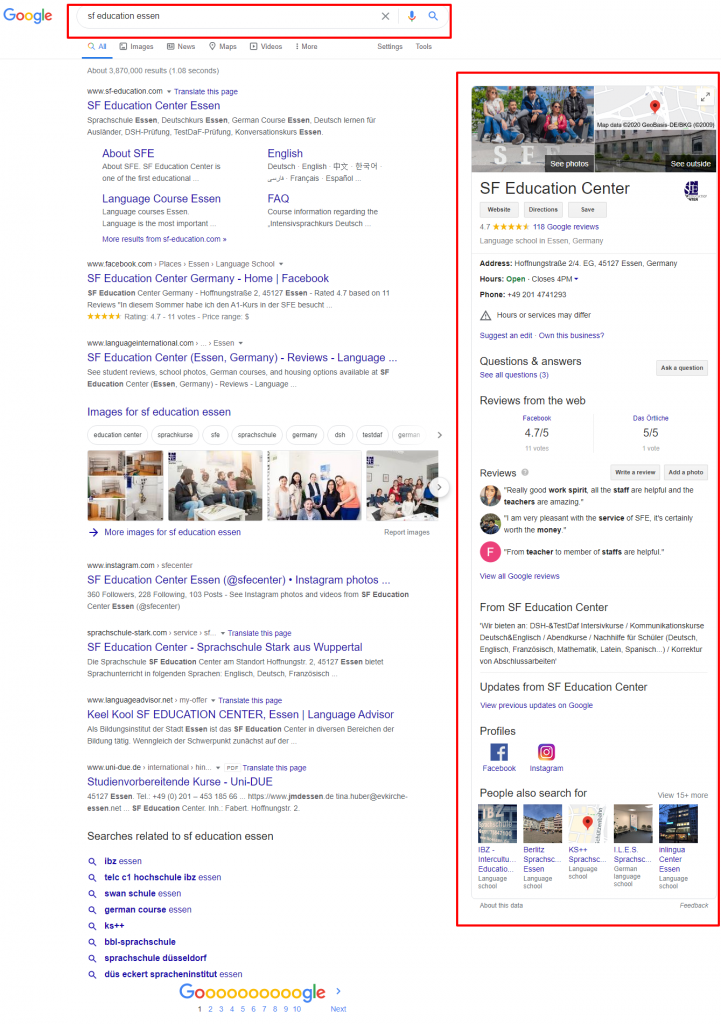 If you don't have a Google business card, Emily will have to ramble within the list of Google results, and perhaps above the list, she will see AdWords of your competition? If your website is poorly positioned, perhaps she is never going to find you and your school.
How to create a Google business card?
1. Enter the website: https://www.google.com/intl/com/business/.
2. Click on Manage now.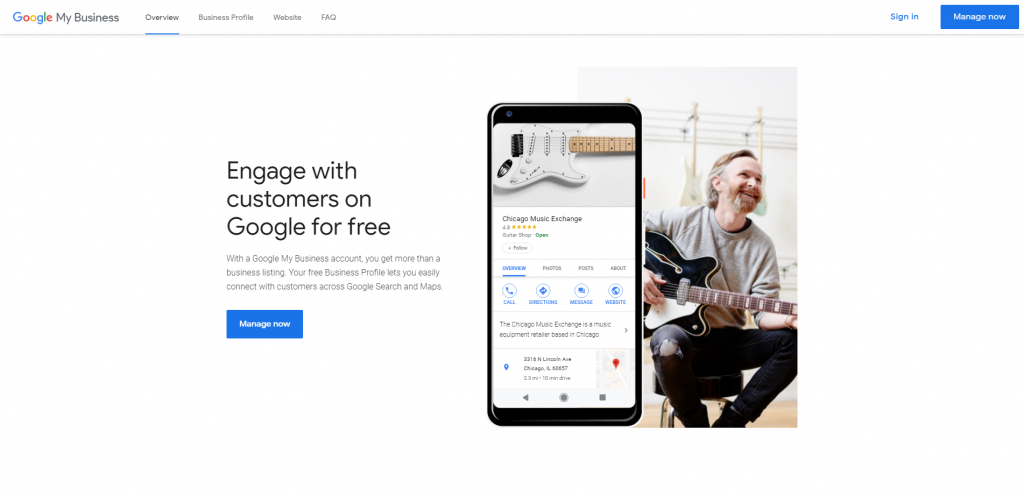 3. Log into your Google account (Gmail) or create a new account.
4. Enter the name of your company.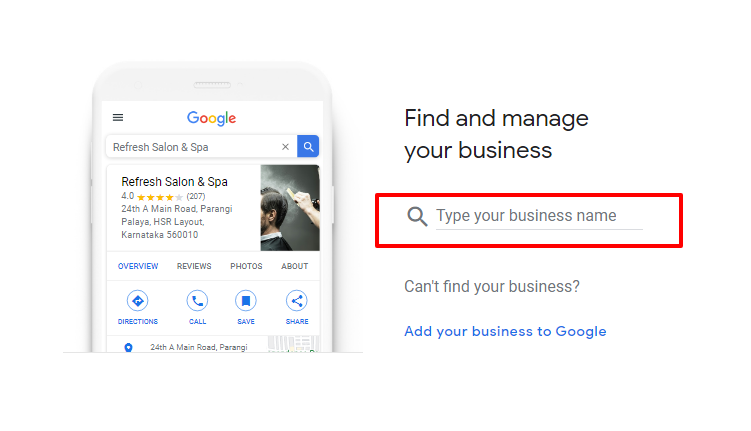 5. Accept Terms of Service and Privacy Policy and proceed.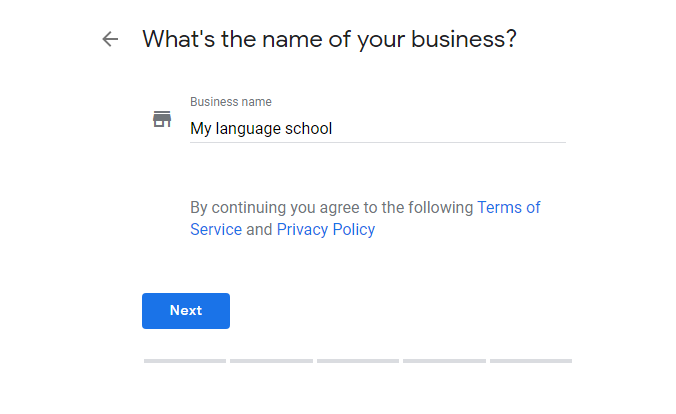 6. Choose the category best describes your company and proceed.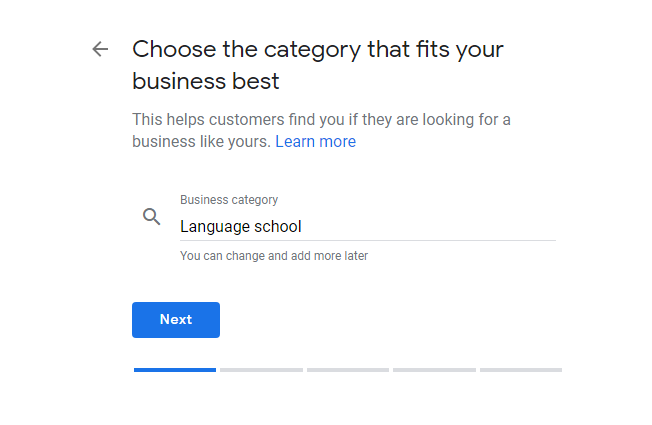 7. If you have an office where you invite your customers, click YES. Owing to this, your location will appear in Google Maps.
8. Add the correct (!) address of your school.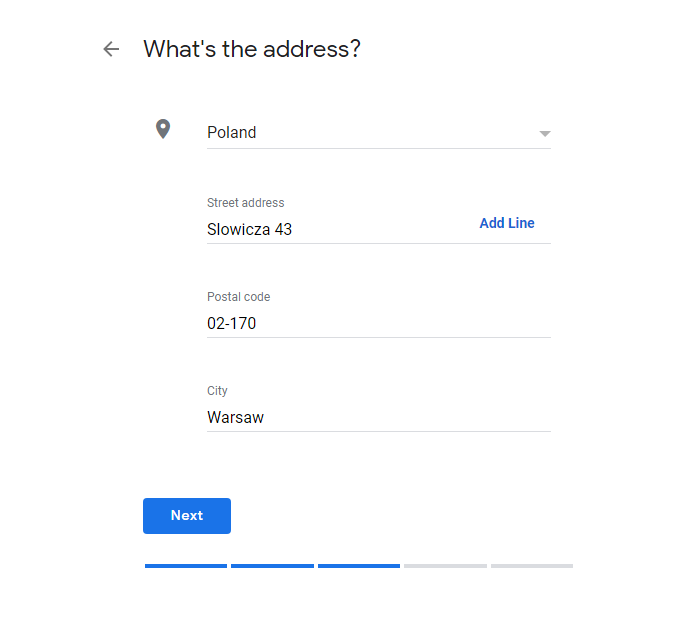 9. Google might suggest to you similar names or other locations marked near your school. It does so to avoid replicating the same points on the maps. If none of the options is a match, choose appropriately.
10. Then you can choose the range of your school's operations if you also commute to customers. If you operate only locally from your office, mark up appropriately.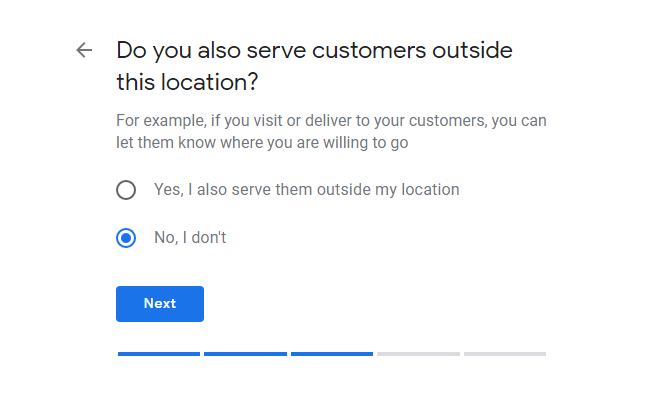 11. If you selected YES, mark the location you operate.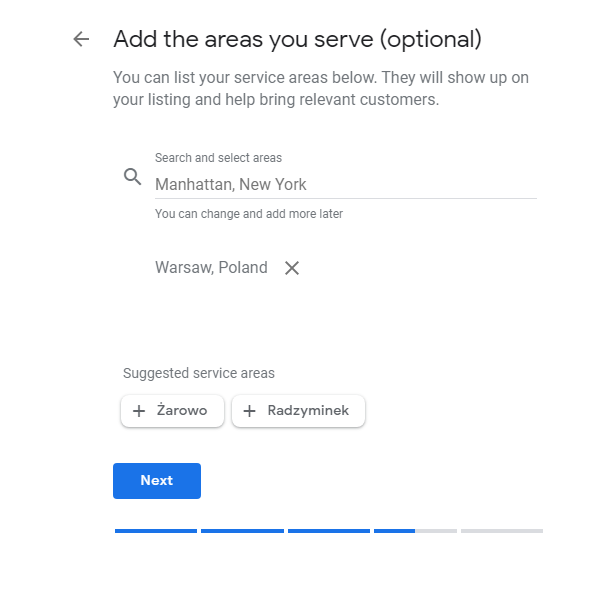 12. Provide contact data of your school.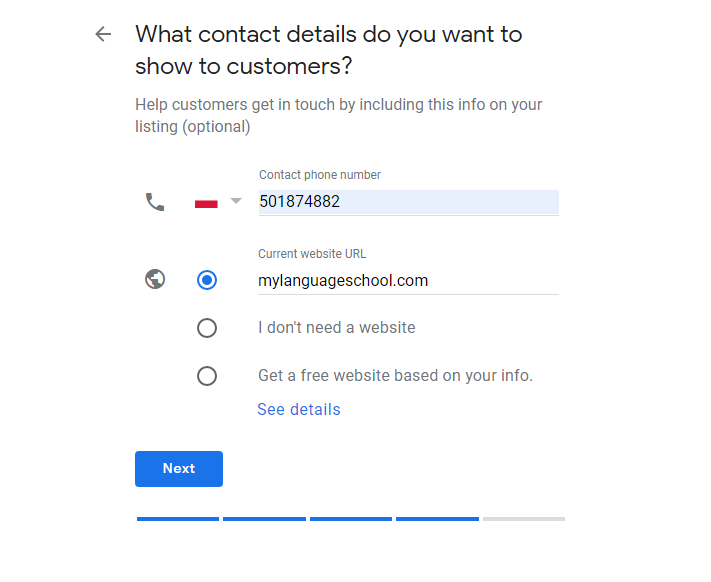 13. Click Finish, although there are still several steps ahead of you 😉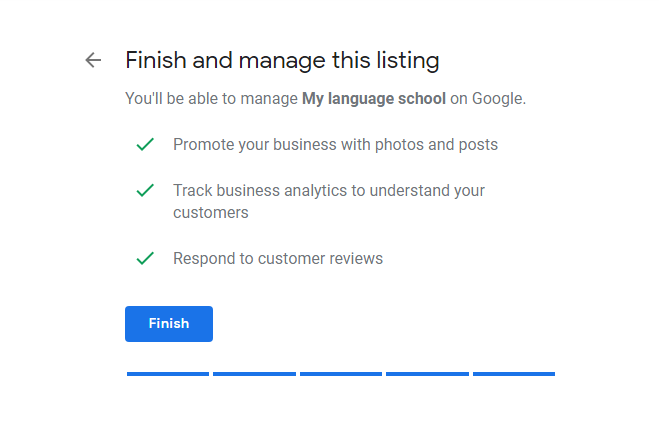 14. Now Google will want to verify your telephone number and your location. Definitely verify your telephone number via an SMS or phone connection. Verification of the address consists in Google sending to the indicated address a postcard with a code, which you must then enter in your account to finally appear on the Map.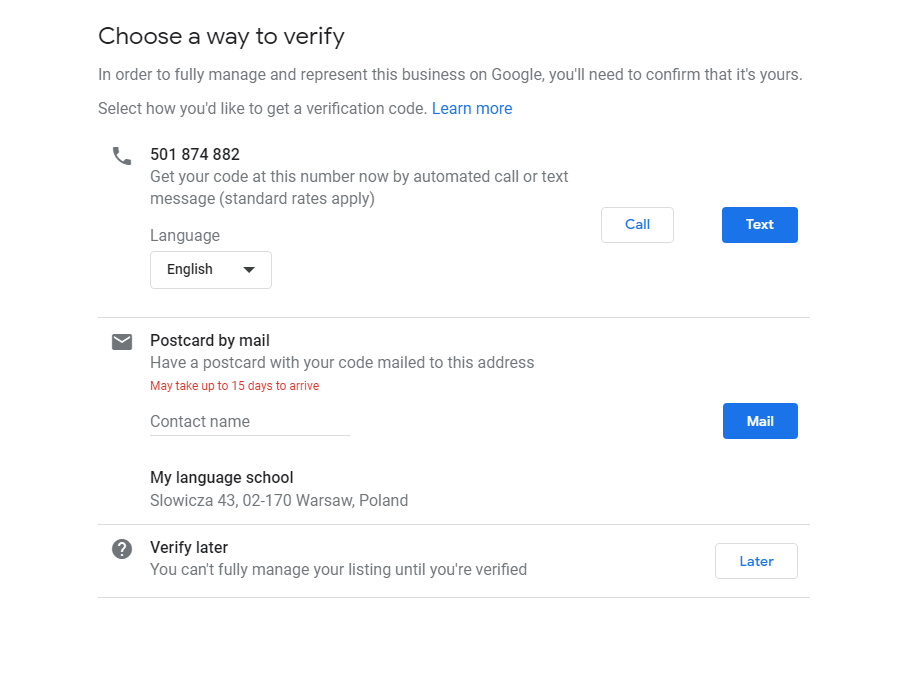 15. You can start adding photos to your business card and supplement its description. It is worthwhile to place here your logo, emblem, but also some school photos showing the unique atmosphere. You may also select what specific services you provide in your school.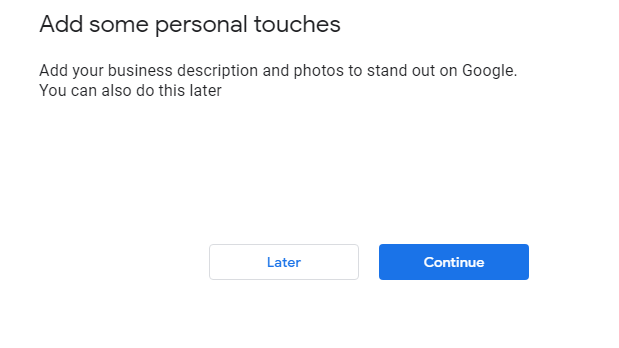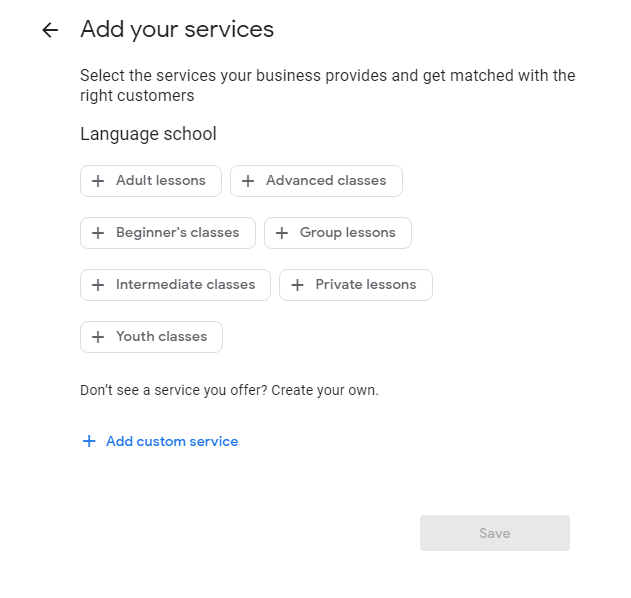 16. After you have gone through all screens suggested by Google, you are going to hit a control panel, where I suggest that you go through all tabs and supplement additional data. A new element has appeared there also, allowing you to mark up whether you teach online. If you operate from several locations, you can add additional points in the "Manage locations" tab.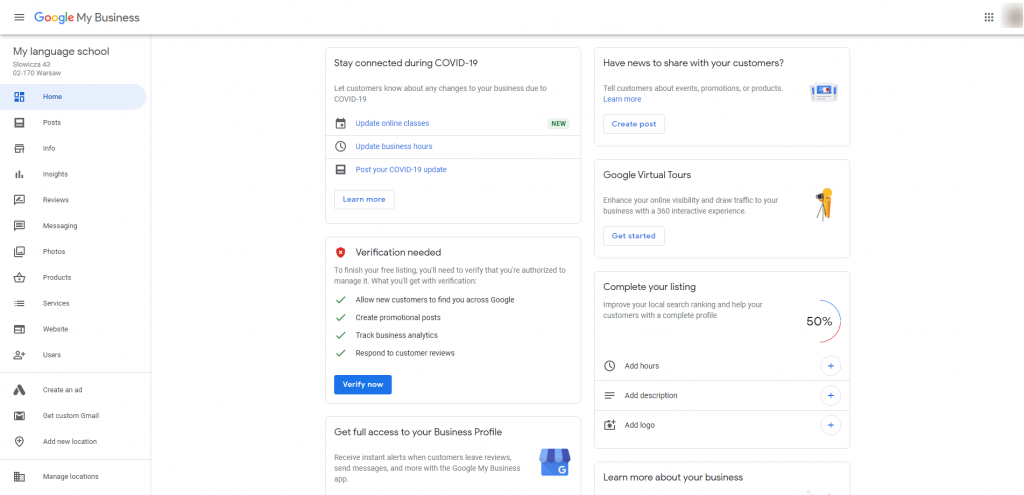 I would like to draw your particular attention to the tab Site and Posts. Owing to the former one, you can easily create a basic version of your site embedded in the Google domain. More precisely this will be www.NameOfYourSite.business.site. If you don't have your own dedicated address (we suggest you should change this), you can take advantage of easy site-building here. The other option, i.e. Posts may be your notice board. In the business card, in Google search results, they are also promoted below your school's contact data.
I hope that I managed to convince you that a business card is necessary to acquire new contacts and be more visible on the Internet. If you already have a business card, this is the best time to bend over, update and refine it.