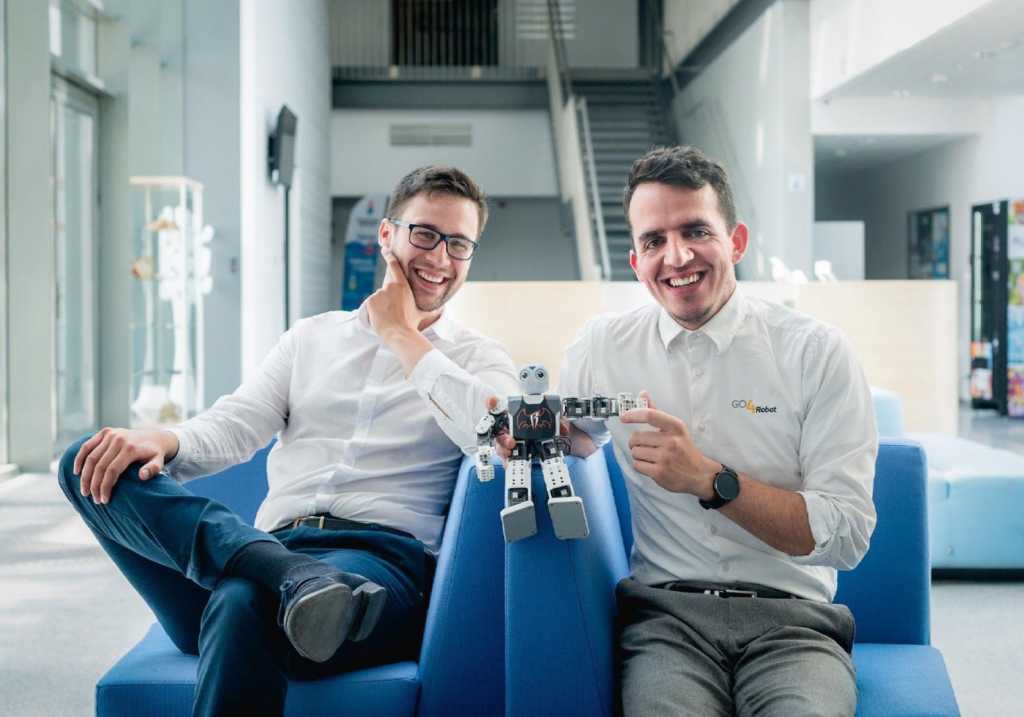 We live in the times when modern technologies are present at every step. Sometimes it might seem that smartphones and tablets preoccupy us completely, particularly the youngest ones. Between generations, the changes in lifestyles and outlooks on life are increasingly visible. And the outlook on life is far removed from what we used to know 20 years ago. On the one hand, perhaps we are not delighted by such turn of affairs, but on the other, this affords an opportunity we may grab and take advantage of.
It might seem that language schools exhausted the methods of creative teaching a long time ago. However, what some of the language learners are still missing today, are perceptible effects of their efforts and devoted time. Presently, when we have such diversified tools and technologies, classic Xerox copies and reading books are slowly sinking into oblivion and frequently they are not an adequate motivation to learn. Among comments, we may read at forums about language courses, one of the most frequently addressed topics is children's progress in learning. When parents sign their offspring up for a language course, they expect tangible effects and preferably within the shortest possible time. However, when a student identifies learning with an unpleasant duty, they swiftly lose enthusiasm and motivation.
So what shall we choose from the entire range of available options? Jarosław Kałasz and Marek Maj – entrepreneurs and founders of the GO4Robot Academy, which teaches children programming in robotics using LEGO blocks, will tell us today about one of such untypical methods of language teaching.
Marek and Jarek – privately friends from studies, and founders of GO4Robot in the business aspect. The willingness to teach through experimentation and fun bought them together. As they claim themselves, this is passion and not work, so they sometimes jokingly say they are virtually jobless. When they run classes, they inspire the participants with their commitment and smile. Creativity and good fun is their second name. This combination helps them to win the trust of parents and children.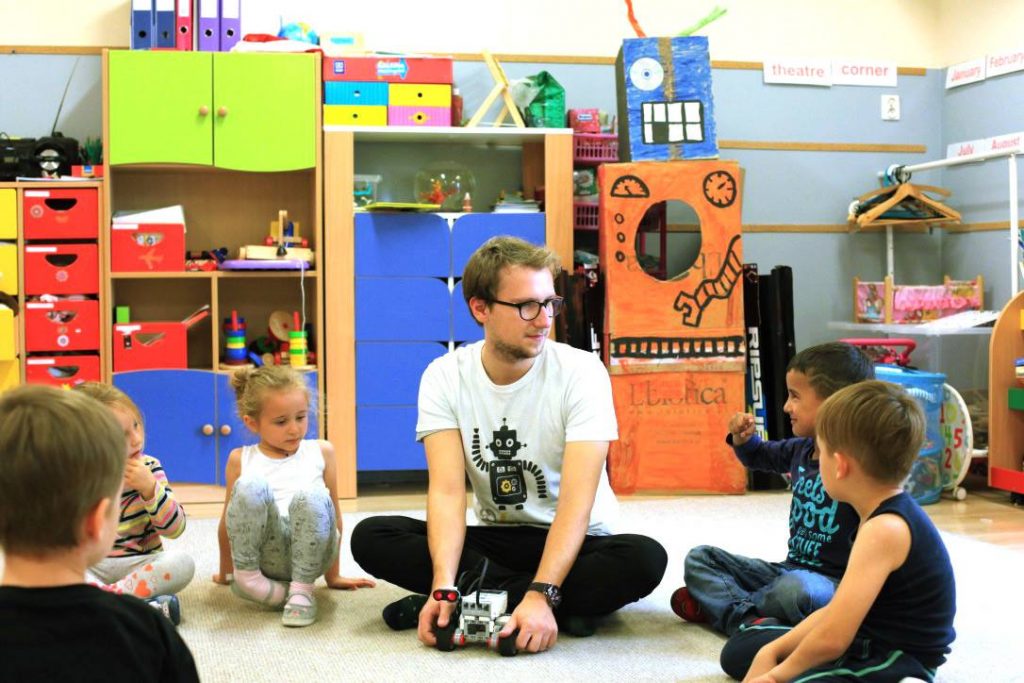 What do workshops in robotics consist of and how can they be combined with language teaching?
Working on LEGO® educational sets, during each class children create a new robot (usually using the instruction manual, but this is not a rule), which they later "bring to life" by programming it. Owing to this, they learn the rules of programming logic, problem solving and creativity.
Classes in robotics can be easily combined with foreign language learning. A good example is comprised of classes when children build an animal robot and the related vocabulary is discussed with them. We can also create more advanced robots, for example, ones capable of recognizing colors on its own, and we provide their names in English. Those are just a few examples. There are a lot of possibilities, and we are limited only by our imagination. Additionally, the entire programming process is carried out in English as a default.
Classes take place only in English or there are also other options available?
Of course, there are. We learn whatever language we want! The very process of programming can be carried out in various languages. The official LEGO application we use for that purpose supports the following languages: English, Spanish, Portuguese, German, French, Dutch, Danish, Swedish, Norwegian, Japanese, Chinese and Korean. As can be seen, the range of choices is quite extensive. What is more, one can record own sounds and commands, which the robot will later playback. As a result, the choice is virtually limitless.
What are the effects of combining robotics with language learning?
The very act of building something out of LEGO blocks helps to develop spatial imagination. Children have the opportunity to display creativity and express themselves by going beyond patterns and instructions. If we add robotics and programming, then we have such additional benefits as the development of logical thinking, manual skills or enhanced interest in technical science.
Instead of providing a dry theory, we rely on a child's development through the involvement of their virtually all senses. We carry out interesting experiments, which provide live demonstrations of the basic rules of the world's functioning. And children not only learn amazing things but also have a lot of fun while doing this. Owing to this, we stimulate the child' mind in an original way, which increases the speed of the assimilation of new knowledge.
Once we combine this with foreign language learning, we have outstanding effects. We interact with the open minds of children, who willingly assimilate new knowledge from each side! Owing to this, students learn definitely faster, memorizing new words is much easier for them, and they also display no reluctance in communicating with others.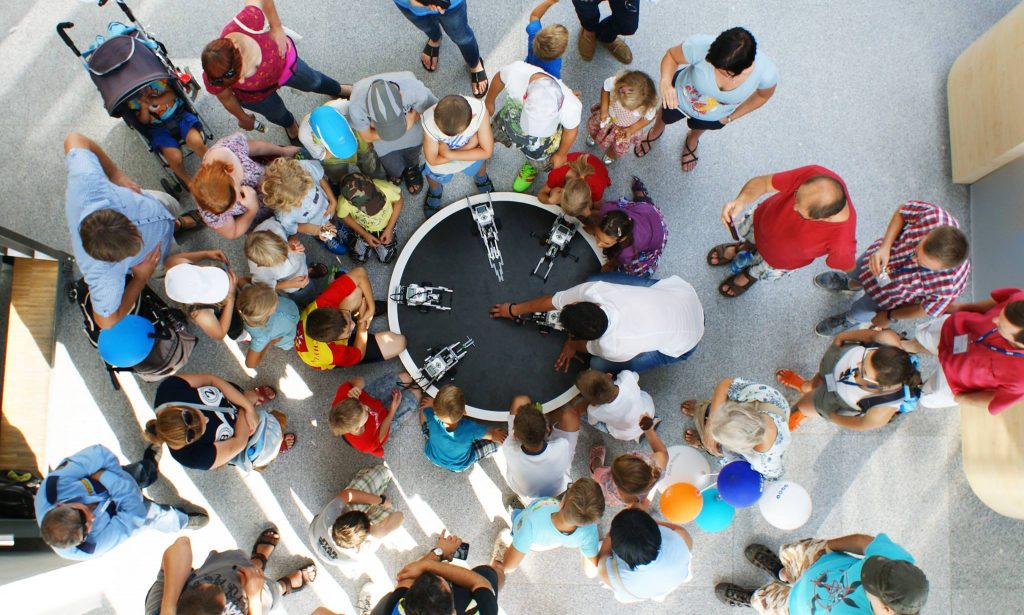 Do classes of such type enjoy popularity?
Children love those classes and there are probably very few people who do not like playing with LEGO blocks. And this is the exact reason why learning with their use is such fun for students and why they so willingly attend the classes. Within four years, the classes in robotics have developed across almost entire Poznań and its surroundings. On a daily basis, more than 1500 children learn in the Academy, in 100 various facilities, and not only in the capital city of the Greater Poland region. And the number of those willing to learn with us is growing all the time: by 50% percent annually on the average. Parents also frequently inquire about this type of classes in schools or kindergartens attended by their children.
How can we combine the regular school offer with classes in robotics?
Robotics may serve as a supplementary method to diversify the classic methods of foreign language teaching. But it works at its best when used as a standalone solution. For example, in its offer our company provides the option to open franchising arrangements. We guarantee equipment, training package, class scenarios, access to the dedicated LangLion system and full support to anyone willing to start cooperating with us!
Are there any age restrictions for participants?
Our educational program enables learning of robotics and programming already to 4-year-olds! Our oldest students are 14 years old. We rely on long-term contact with a child. Class curricula have been designed in such a way that on the one hand, we do not overwhelm students with an excessive dose of information, and we guarantee education and entertainment for the next 6 years on the other.
Can each school implement such classes into their curricula?
Certainly, this is not difficult at all. It suffices just to have the willingness to develop, obtain equipment, undergo training and start acting.
Thanks a lot for giving this interview!
There is no escape from technology, but as can be seen, we may use it effectively in the process of education, which is likely to contribute positively to the motivation of our students.
If you have any reflections related to the article or have any questions, please let us know in comments. To people preferring more personal methods of communication, we recommend contacting us via e-mail: marketing@langlion.com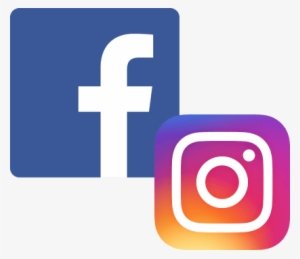 We are also available for you at our Facebook accounts: @langlion and at Instagram: @langlion_platform. Come and visit us!