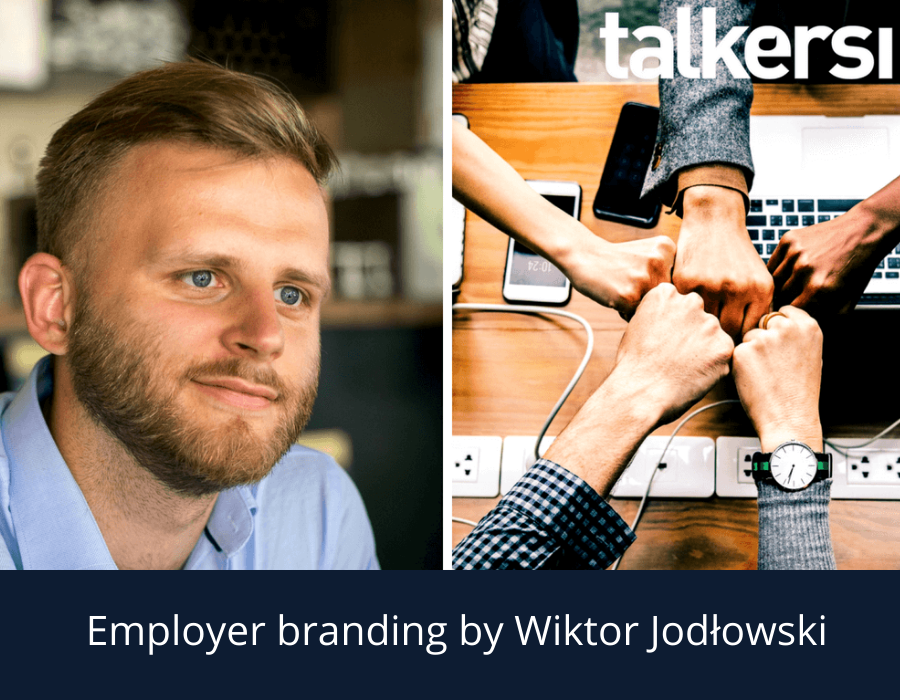 We warmly encourage you to become familiar with the second, final part of the text written by Wiktor Jodłowski  –  the founder of the Talkers Language School, about effective employer branding. And as a reminder – we encourage you to read part 1 of the text.
5. Have a well-developed teacher training system, preferably in digital form
Having joined our team, a teacher obtains access to a dedicated training folder. This folder contains plenty of files to be read and listened to. Having become thoroughly familiar with those materials, a teacher learns precisely what running a class in Talkers' style looks like; how to cope with the most frequent challenges in cooperation with students; teachers also learn company values etc. Because the training was once documented and now it is only made available to a teacher, we generate several benefits:

We save organization's time that might be spent on training because the latter does not have to be delivered by a human.

Teachers assimilate materials at their own pace – Talkers' newbies often break the "consumption" of the material down into many smaller parts, which facilitates to them in-depth understanding of the material. During many hours of live training sessions , which we used to deliver  before introduction of the above solution, concentration declined many times both in me as the trainer and in trainee-teachers. In this simple way we eliminated the said "bottleneck" and I encourage you to do something similar. We can be certain each training is uniform and each teacher obtains exactly the same, coherent pieces of information.
6. Hold monitoring sessions with veterans for newbies!
There are certainly people in your company who have been cooperating with you for a longer time and know what's what. Here at Talkers we rely strongly on mixing teacher having longer work tenures with those who have just joined. As part of the onboarding process, each new teacher holds 3 meetings with 3 other, experienced teachers (+ there is one teacher supervising the entire process). During those meetings, they share observations and experiences related to the method. There is always some room for questions on how particular theoretical assumptions presented in the form of files described in the previous section, function in practice. Owing to this, you improve the likelihood that:

 A new teacher will find the first allies/friends within the organisation.

 A new teacher will not become lost and consequently discouraged from working in your company owing to lack of support as concerns issues bothering them.

 Differences in the quality of the courses delivered by new and experienced teachers will be reduced to a value near zero (and because you collect from customers the same rate for classes ran by those two groups of teachers, this is an excellent motivation to equalize also the level of value they deliver).
7. Create and regularly expand the internal knowledge database!
We noticed that teachers come against various types of challenges when delivering classes to students, but all those challenges can be reduced to some reproducible models. We have created an internal knowledge database (and here again a simple FAQ in PDF format accessible to all teachers will suffice), where experienced teachers enter their own "means" to deal with the challenges. We keep updating it, but already now it is a multi-aspect treasury of knowledge on such topics, as e.g.: "What can we do if a student does not do the homework?" or "How to react if a student habitually speaks Polish during a class despite the fact that our proprietary method is based in 100% on communicating in English?".
The above 7 sections comprise a foundation of what helps to attract and retain for years fantastic members of the teachers' team. We do many more small and big things that comprise a strong link between employees and employers, so I decided to mention additionally a few of them as part of inspiration for you:

Every six months we organize so-called Grand Integration of Talkers, during which we train and integrate all employees at company's expense.

  Every months we organize local beer integration sessions (we have associates in 4 different agglomerations, so we hold integration of the entire company "only" once in six months).

At the Facebook group we celebrate birthdays of each Talkers, as well as successive anniversaries of cooperation with each of them; additionally, every Friday we brag about our successes of a given week (and we have been experimenting recently also with sharing failures and this gives everyone a good laugh).

 We pursue an Open Door Policy, so each associate may come to me and my partner, Maja, to talk openly about any personal or professional matter – we deliver them first and foremost through the format of so-called Development Talks carried out every week in pre-defined timeframes (of course, with keeping full confidentiality).

 When tension amerges between teachers and customers, we never just instantly "come down on" a teacher, but first we calmly investigate versions of both sides to determine all truth. Only then we undertake any steps, but in a prevailing majority of cases, when someone in our team makes a mistake (and even if that mistake costs us a loss of a customer), they perfectly know what they have to improve and also to live with short-term personal consequences, if any arise. This is an effect of creating an atmosphere where a failure is accepted and we even encourage teachers to make attempts and learn from them.

  We constantly seek and develop career paths for teachers. This has inherent limitations owing to company's size – in a large corporation the "promotion ladder" is inherently much more attractive than in a company with the staff of 30. But with each year quarter we are becoming a bigger and bigger company, and this opens up new opportunities! And we make sure with time teachers become involved in more than just delivering classes.
The above text results from more than 4 years of pursuance of language business by us. For us the above solutions work perfectly, which does not mean that exact replication of them into your own business will suddenly make everything become perfect (not everything is even in our company; business iseans constant struggling against reality). But you will certainly find in this paper several aspects you might implement into your company using in your own, customized style.
If you need any further hints or have any comments after reading this text, I encourage you to share them under the text or, if you prefer personal contact, find me at Facebook – this is where we can talk freely over the Messenger.
I keep my fingers crossed!
Wiktor Jodłowski
And if you want to get to know us better, we invite you to our profile on facebook www.fb.com/talkersi.