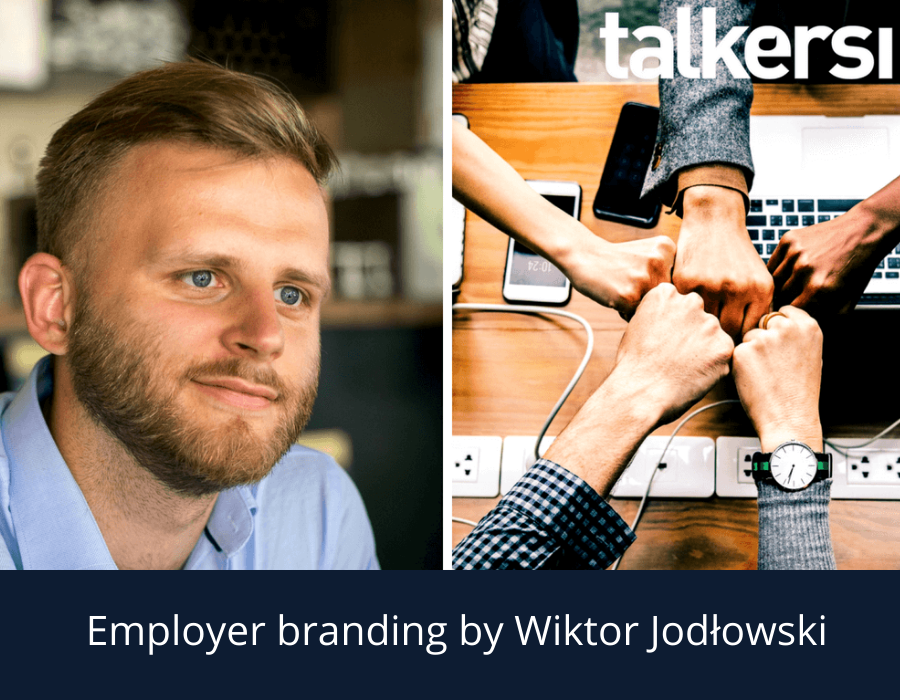 How can we create an effective employer branding? This is a question anyone running own business keeps asking themselves. What can you do to arouse interest of a potential employee-teacher in your language school? How can you retain the interest of the current employees?
Effective actions of the team you create virtually always depends on how you treat it. Being a good boss is a skill you should gain as fast as possible, although it is not an easy task because not always what you think is right, is also right for your team.
Wiktor Jodłowski – an entrepreneurs and the founder of the Talkersi Language School – will tell you how to initiate long-term relations with employees, how to build a team of people loving their work and how to create a forward-looking language school.
Wiktor Jodłowski – the founder of Talkers, or a language school with a  difference. A past teacher, today's mentor and a leader of a team of language aficionados. He shows to people how to communicate well, how to learn a language effectively and how to build a relationship-based business. Trivia: as a colour-blind person, he is indifferent to language of colours; he can play Xbox games for hours.
How to attract excellent teachers who will remain with us for years?
I will demonstrate below our "method" that not only makes excellent teachers stay with us for long years and become involved in the life of the company, but also delights customers. This will certainly not be a complete remedy for all challenges you are facing in your language business. Treat the guidelines below as a buffet– see them all and choose the elements that are coherent with your strategy. And if you do not have one… trust your intuition. Whatever you do, it is paramount to start in any way the process of "sealing" your organisation if any "leaks" emerge in it. You do something too important for the society to let it go. So I wish you an inspiring read and many changes for better! Just in case, at the end you find my contact data – I will be open to any questions and comments from you.

1. Make sure your employment terms are transparent, as this will make you stand out immediately!
Before you start caring for the teachers you have on board, I am encouraging you to look carefully at how you communicate with them even before they join your company. Many companies fail to inform publicly about the wages; very few of them inform about exact specifics of working in the industry, or provide vague descriptions of requirements set on candidates, like "openness, politeness, and ability to work under stress". This is where an opportunity emerges to stand out positively in the employee market. The more specific you are, the better.
It suffices if you create a simple PDF in the form of answers to the questions most frequently asked by candidates (so-called FAQ). By placing such a document at your website, you will obtain several benefits – among others you will attract good employees with your openness (of course provided your job offer is attractive, but this question you need to answer for yourself frankly) and save a lot of time you would otherwise spend each time to explain what the cooperation consists in. It suffices if you keep that document in a publicly accessible spot in the Internet, and interesting CVs will start flowing to you, because people circle our websites looking for valuable pieces of information. And if all they find is only general, neuter information, no wonder they leave no trace behind in the form of a job application.
We virtually do not use typical job ads that other websites publish. Our process governing acquisition of new teachers focuses on mentions at our own fanpage (if you do not have a fanpage of your own, you clip your own wings at the very start) that we look for new teachers + ongoing updating of the aforementioned PDF.
You can look for inspiration on our subpage related to work: www.talkersi.pl/praca (then click on the "OPEN FAQ FILE" button to display what you need).
2. Reply swiftly to candidates' applications!
Today's world goes forward frantically, whether you want it or not. To win in this employee market, you need to reply to job applications fast. Otherwise, a candidate will come to a conclusion that you are not interested in their application, or some other employer, who responds to applications faster, snaps them up from under your nose. But of course let us always keep a cool heart. You do not have to reply to all e-mails within an hour. But waiting 2-3 days for the first feedback is definitely too long. And anything longer than that is an utter "drama" 🙂

3. Keep the promises  given in the aforementioned FAQ file
Think well what you enter in that document. If there appears any discrepancy between what you have promised and what the candidate hears at the job interview or sees in the contract you give them to sign, you will most likely lose them soon.
For example: our FAQ clearly states when a teacher receives the first salary rise. They do not have to ask for one. They receive such a rise automatically, once they meet some clearly defined conditions. If we give a word, we stick to it. Teachers appreciate this and remain loyal. Because we are loyal to them. I observe proofs that this mechanism works almost every day. Just a few minutes before making final corrections to this text I received news that a teacher of our school declined an unethical proposal from a client – such things happen in our school without any commands or prohibitions. This follows simply from relationships established from the first second of cooperation.

4. Have a meticulously designed and reproducible recruitment process.

In the first e-mail we always ask a candidate for a teacher to define their availability, i.e. the time when they can run classes. We have a clearly defined minimum threshold and timeframes of interest to us (minimum 20 hours weekly after 4:00 p.m. – this is when most of our customers want to have classes). If a candidate is unable to provide this to us, we save a lot of their and our time otherwise wasted on further correspondence.

In the second e-mail, we ask them to send a CV; solve a short grammar test with a series of trick questions that any reliable teachers is able to answer correctly; we also ask them to write an essay on an assigned topic and so–called Talkers Test (our proprietary tool examining our associates' motivations, attitudes and values) – owing to this we can "screen" out another percentage of candidates whose elementary language competences are not adequate to make them excellent Talkers. Also at this stage, many people drop out owing to discrepancies in approach to life and career, which is simply "incompatible" with ours.

The third stage is comprised by a short, 15-minute interview over the phone or Skype – this is where we check the command of English and the aura a given teacher creates during a conversation. Jf they appear to be in stress or make us feel uneasy, the same would happen later in the presence of customers. We must not allow this. At this stage another batch of candidates drops out.

All previous stages are ran in our school by a dedicated HR manager, Kasia, while me and my partner, Maja, are concerned "solely" with the final stage, i.e. the final and decisive conversation with the candidate. Although, we could fully delegate also this element of the process, we deliberately keep the right to make the final decision on whom we admit and whom we respectfully refuse*. After that stage, provided the decision is positive, a given teacher is officially welcomed in the company (usually we do that in the form of a short interview with the teacher as a live broadcast at the FB group to which only employees of Talkers-have access. But I am aware this may be an organisational challenge, particularly if you are not such a fan of new technologies as we are. Nevertheless, I encourage you to develop your own way to welcome and introduce a new teacher to your organisation – you will see fast how positively this contributes to the atmosphere in the entire company).
Please note that the process is long. This is intentional. A person for whom we are just one of dozens companies they applied to, is going to resign at a very early stage. They will not be willing to invest the time. Only a person who really wants to join your organisation is going to become involved in the process. But let us be realistic – they will not do that on their own and you have to encourage them for that, e.g. in the form of an exhaustive FAQ document I referred to in previous sections.
It is worthwhile to add to the aforementioned that we constantly experiment with arrangement of that process in search of the most optimal scenario. This is already a solid foundation, which does not mean we cannot improve on it in a month.
*I have mentioned above a respectful refusal in the case of the candidates we decided not to accept on board of Talkers. One of cardinal sins committed by many  companies (not only in language teaching sector) is comprised by failure to give any reply to candidates who have been refused. This is slightly like when asked a live question, you just turn your back without saying a word and go another way. This hardly happens in real world so why do we practise this in virtual world? But to avoid being an idealist who speaks idly, I am going to give you a real example why this is going to benefit you. At certain point, one Mikołaj applied to us. At one of the recruitment stages his job application was rejected by us. He received from us a message with appropriate, concise explanation (today we provide a broader feedback only if candidates wish so; but if they ask for one, they always receive it). A few year quarters later he re-applied having meanwhile improved on the aspects that determined prior rejection of his application. Very swiftly he became one of the most "popular" teachers in our company. He is awarded excellent opinions and has perfect communication with the team. This would have most likely never happened if he had not received from us a reply with respectful refusal during his first trial.
We will be inviting you soon to read part 2 of the article – make sure you sign up for our newsletter and do not miss out on another entry! 🙂
And if you have any questions, you can ask Wiktor through our blog or by contact@wiktorjodlowski.pl