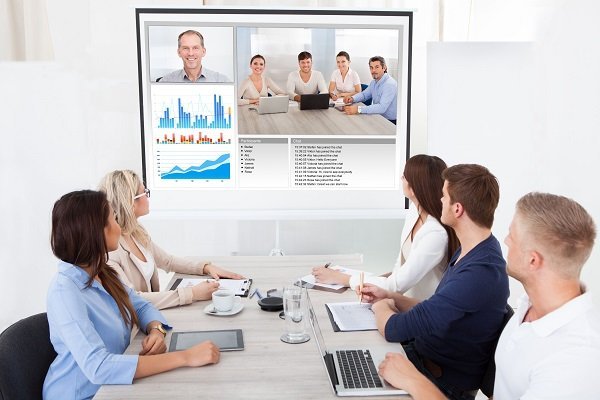 Preparing a professional e-learning lesson is not an easy task. Perhaps so far you have remained at the stage when many questions circling your mind discourage you from this idea? If you ever wondered how to start, what should be borne in mind, or what should be prepared to organise an effective online lesson – take a deep breath … – we have 7 useful steps for you.
---
To embark on your adventure with delivering online language courses, you should first differentiate between two basic concepts. E-learning is a very wide term, but as a rule it consists in providing access to materials, creating tasks and tests to be resolved by students on their own at the time of their choice. On the other hand, online lesson consists in contact with a teacher (and perhaps also with other course participants) provided live, with the use of a camera, microphone and a blackboard. In this article, an e-learning course is equivalent to an online lesson.
1. Survey the target group
Before starting any online course, you cannot forego the most important thing – defining your target group. Needs of students may differ depending on their age, education, performed work, access to technologies (computer, Internet), experiences in language learning so far. You would plan differently a course for a mother taking care of children than the one for a university student.
2. Define the goals of the course
Additionally, define the goals of the course, because they will help you in developing particular elements of an e-learning lesson. The goals should be related to three areas: knowledge, action and skills, feelings and attitudes.
Sample goals you might detail further:
competence levels of the participants,
raising students' knowledge by 10 perc cent upon completion of the course,
gaining by learners of advanced practical skills in given job positions.
3.  Match the course's form
It is also worthwhile thinking about the course's form – one matched to the students' needs. Beside fully remote learning (e-learning), you can use blended learning, combining online classes with meetings in person or you can create virtual classes (an application enabling online audio and video contact with a teacher and creation of virtual groups). Sometimes, students only need an e-mentor, providing one-on-one consultations on a chat or via a videoconference. Further steps taken by you depend on the course's form.
4. Select the right tool
Another very important element is comprised by a review of the tools available in the market, which will be accessible for your recipients. It is important that a given product has functionalities of use for teachers, i.e. a blackboard, generator of games and quizzes. Depending on the form of a class (e.g. sharing learning materials, providing advice, or a group of 15 students), you may use various tools:
| | |
| --- | --- |
| e-learning | spotkania online |
| | |
5. Create the course's scenario
The time has come for the most important step, i.e. developing the online lesson plan. The first rule is: Don't rush! – an effective course is not going to be created in one day. Make sure the tool you have selected provides the possibility to create content and additionally makes good impression on your students. To begin with, answer the following questions:
How long will the language course last?
What is it supposed to teach?
In what sequence should particular issues be discussed?
What is the rate of their delivery?
The basic thing is to inform students about methods of work during the course, communication, evaluation system – but not only. In the beginning you also have to make sure a given group integrates well so that is builds together so-called virtual community. For that purpose, you can create an organization forum with the following entry: Write a few words about yourself … At successive stages of learning, support your students and evaluate their progress on ongoing basis.
Useful tip: Ask other teachers, friends for opinions; see what else can be improved upon  – constructive criticism is very useful when you create an e-learning course.
6. Prepare interesting learning materials 
For some, online learning is more difficult than the traditional learning in a classroom, so prepare interesting activating materials. In the beginning always explain to students what they are going to derive from a given lesson. Remember that your course needs to motivate students constantly, so prepare activities upholding their attention. Besides standard e-textbooks, interesting articles, websites, use movies or podcasts (audio materials).
Encourage students for action though case studies and discussion on controversial topics. Tasking students with group projects – of course under a constant supervision of a teacher – is an excellent method to integrate them. Students' commitment will be definitely enhanced by interactive crosswords, quizzes, multimedia games –  you may create them on your own using Kahoot application. Always test all tasks before you give them to your students.
Useful online materials for teachers:
7. Evaluate the online course
One you have implemented a course, the most important thing is to analyse what you managed to deliver. You can analyse some of the set goals already during the course, but many of them can be evaluated only by students. At the end of the course, ask students for assessment of the value of a given language course. This is how you can constantly develop in creation of better and better online lessons.
By taking those seven steps, you will organise a truly effective online course. If you only devote your time to creation of lessons scenarios properly matched to the target group, you will achieve the course' goals, and consequently you will win satisfied customers. Meeting the needs and expectations of your students is tantamount to your e-learning success.
If you think this article is interesting and useful, click Like! please, or leave a comment