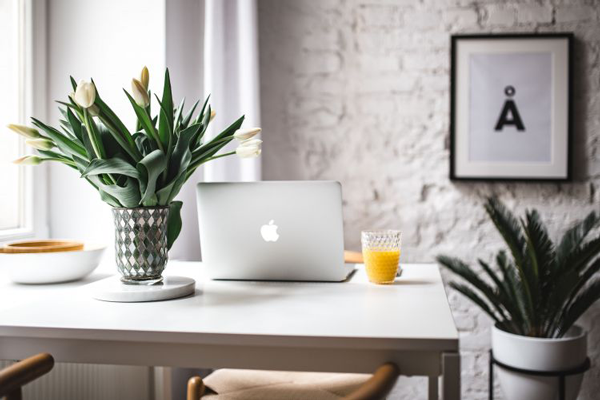 Although this is the time of blissful relaxation, our technical department never stops its preparations for the new term. Summer holidays are the time of changes related to notifications for debtors, signing of contracts or reporting. Most of the today's changes have resulted from your suggestions, dear customers.
| | |
| --- | --- |
| | A HIT! Debtors' list in Finance section |
We know that not all students pay for courses on time, so we have decided to help you in their filtering out. From now on, you do not have to enter reports to generate a list of students with outstanding payments. Now the Finance sections features a completely new tab named Debtors' list. 
You can easily filter out the people who have not paid for courses on time, and check out which instalments and for how many days they are in delay for. Two statuses have appeared there, namely A debtor and Not a debtor, owing to which you leave on the list only the people whom you want to inform about overdue payments or send a reminder about the approaching payment deadline.
To do that, it suffices to click on the Send an e-mail or Send an SMS button (if your account is topped up: How to do that?). A new element appeared also in e-mail messages– from now on you can edit the content you will send to the debtors! If your students are underage, you can choose the option of sending information to a parent.
See the functionalities of the Debtors' list tab: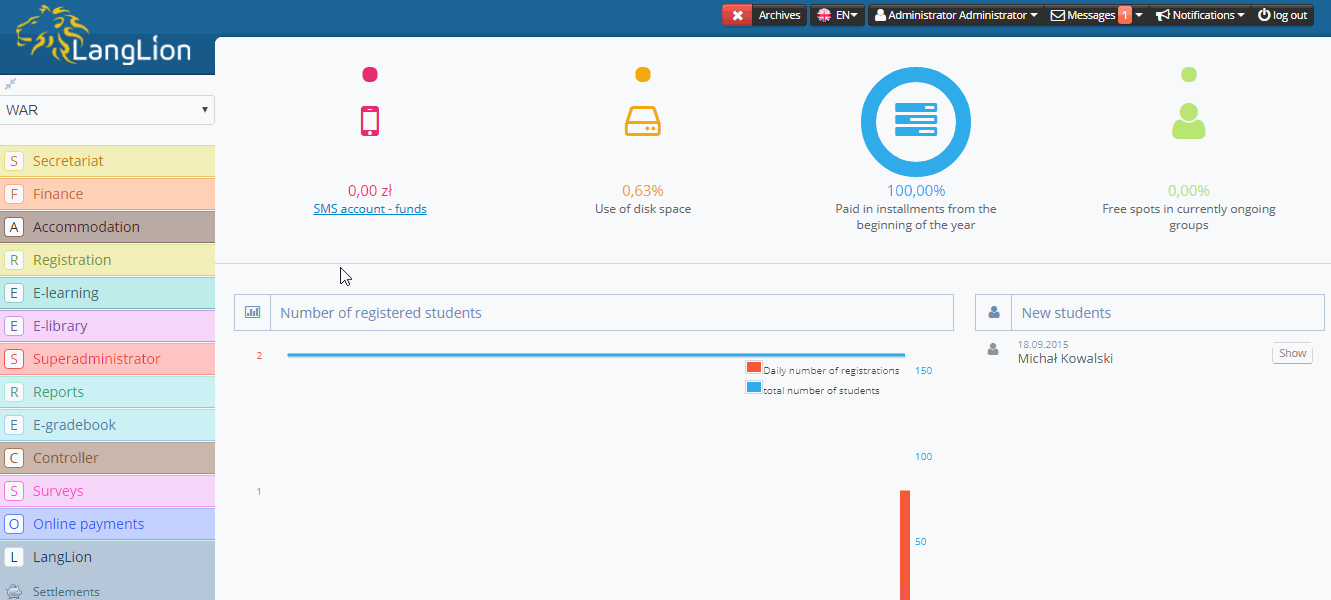 The button enabling notification of debtors about outstanding payment has disappeared from the Students – payments in groups schedule report, and now it can be found in the new tab named: Debtors' list.
The option do decouple the discount following a student
---
Most schools decide to provide discounts to students for: recommendations, leaflets, continuation of learning and many others. Some students learn in several groups, so some time ago an option was added to assign a discount to a given student, so that it is automatically applied for all successive instalments in all groups. In a nutshell, the granted discount followed a given student; it could be deleted by going to discounts saved in transactions.
From today's update on, you can on your own and in an easier way decouple a discount from a given student, so that it is not granted in all groups. You will find the new option at the very bottom in General information about a student.
See how to assign and decouple a discount: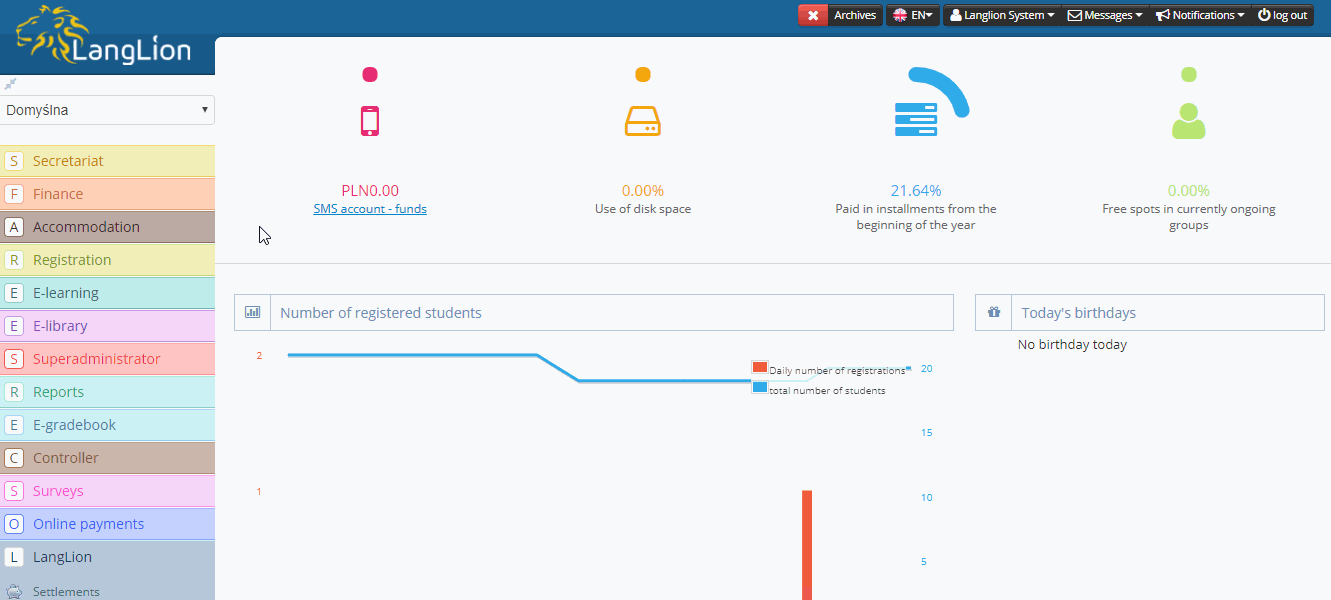 Adding class hours in teacher's settlement
---
After settling a given teacher, you can always print out the settlement. In line with requests made, we changed the class duration in minutes, into precise definition of from-to hours of their duration. Have no fear! Minutes have not disappeared; they are displayed above the hours.
If you want to print this settlement, go to a tab Teacher – General Data and click on Classes.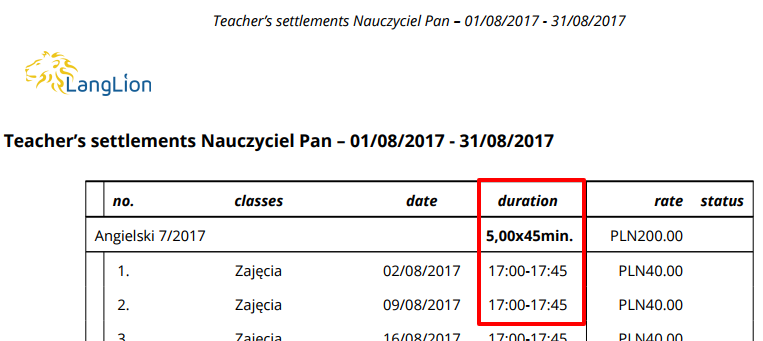 Let us remind that you can print out the settlement both from the Secretariat, and Teacher's Panel level. See how to do that in the guide below.
A dedicated place for the date of contract's end date
---
No more introduction of the end date of the contract with a given student in the notes! From today's update on, you can introduce the from-to dates of the validity of a given contract in a dedicated place.
See how to set the date of contract's signing and termination: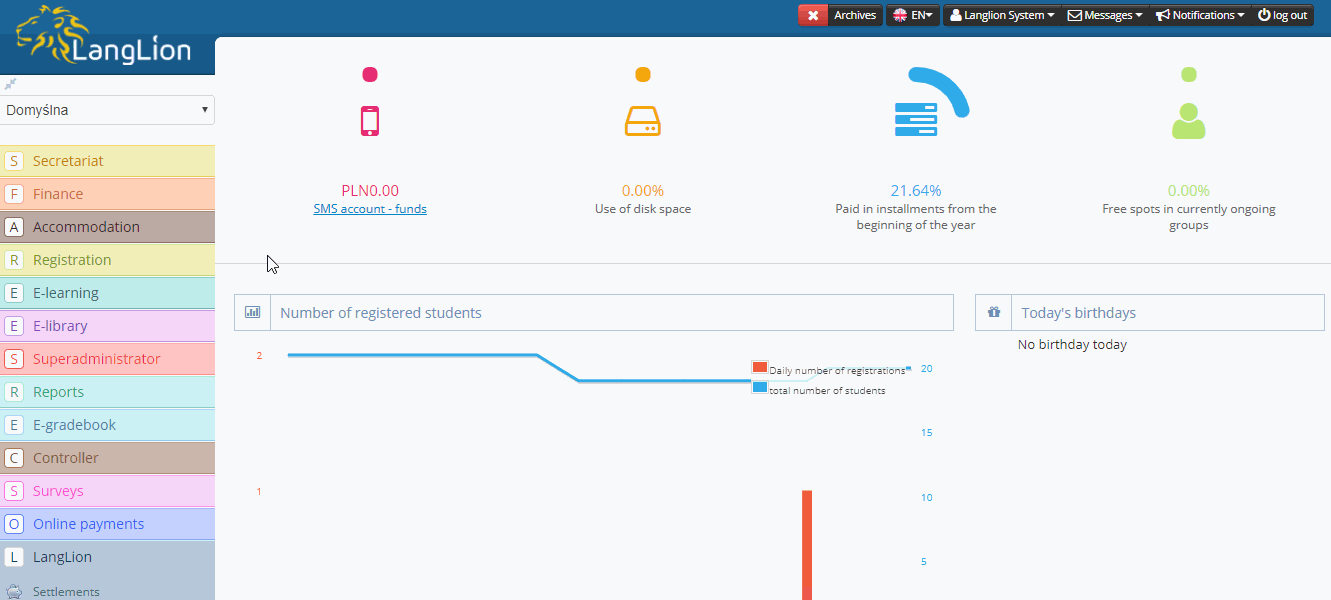 What is more, you can easily check out the students whose contracts will end soon by generating the Students – assignments report. This is where an additional column has emerged under the name of Validity date, which is the end date until which the contract with a given student is signed.
ATTENTION! Before you generate such a report, you should tick the systemic option named Marking the participant's contract state (signed/unsigned).
Organising the printout of the descriptive opinion
---
Each student has their own systemic history, where you can find among others recapitulation of their classes, attendance, as well as all grades. During the update, we have made the view of the grades in the student's history printout more coherent. Presently they are displayed in line with the view in Teacher's Panel.
See how to print out the student's history in the Teacher's Panel: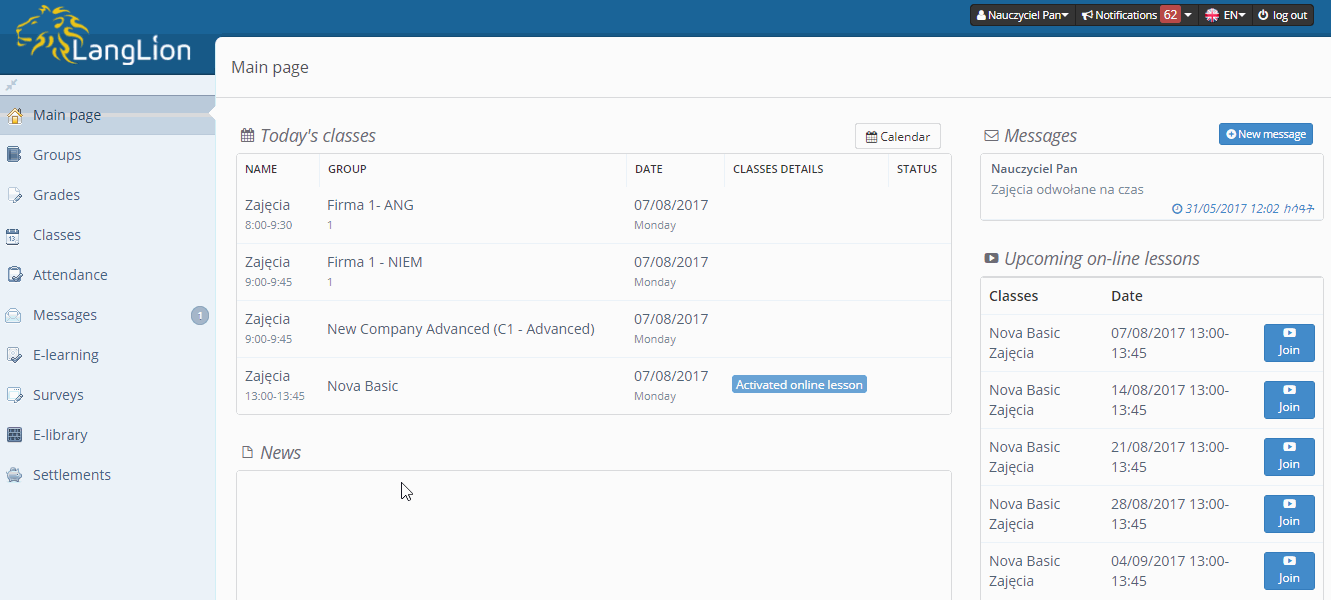 Remember you can do that also from the Secretariat level – see the guide below.
New statuses in the Students – additional details report
---
From today on you can easily check how many students decided to enrol for a course in your school even before the beginning of the new term. We added a new column in the Students – additional details report, which summarises the status of the group in which a given student is:
In progress – it takes a course
Continuation – it will only start
Resignation – it completed a course
The statuses are automatically assigned to students, depending on whether the group currently takes a course (in progress), or perhaps it will be active only starting from the new year (continuation).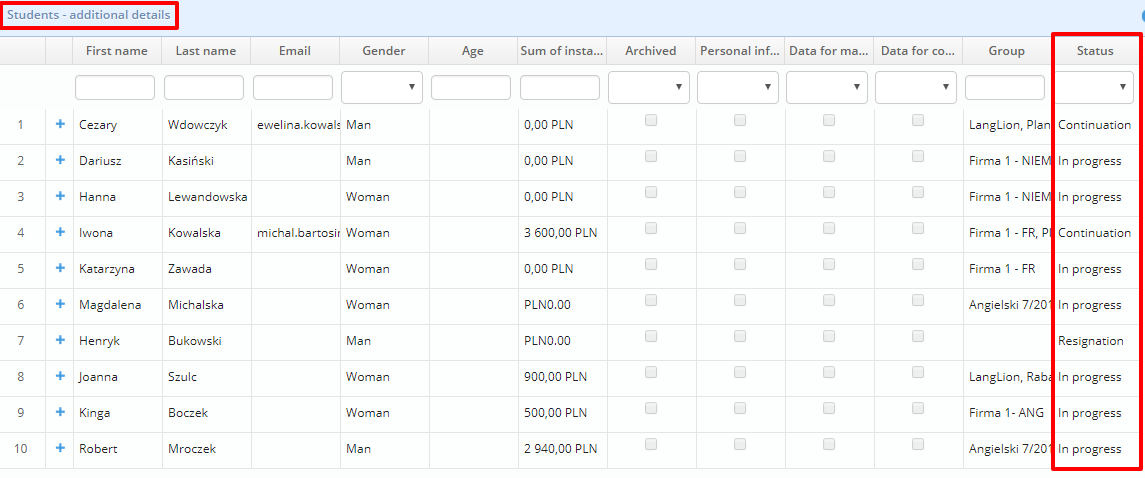 Adding the student's birth date field to list's settings
---
We have made a small change in the Students tab. If you want to filter out students quickly by age, you can to that fast by ticking the Birth date in the settings of the students' list. Remember that you can always print out the list of all classes.
See how to display the birth date, set the birthday box and send wishes to students: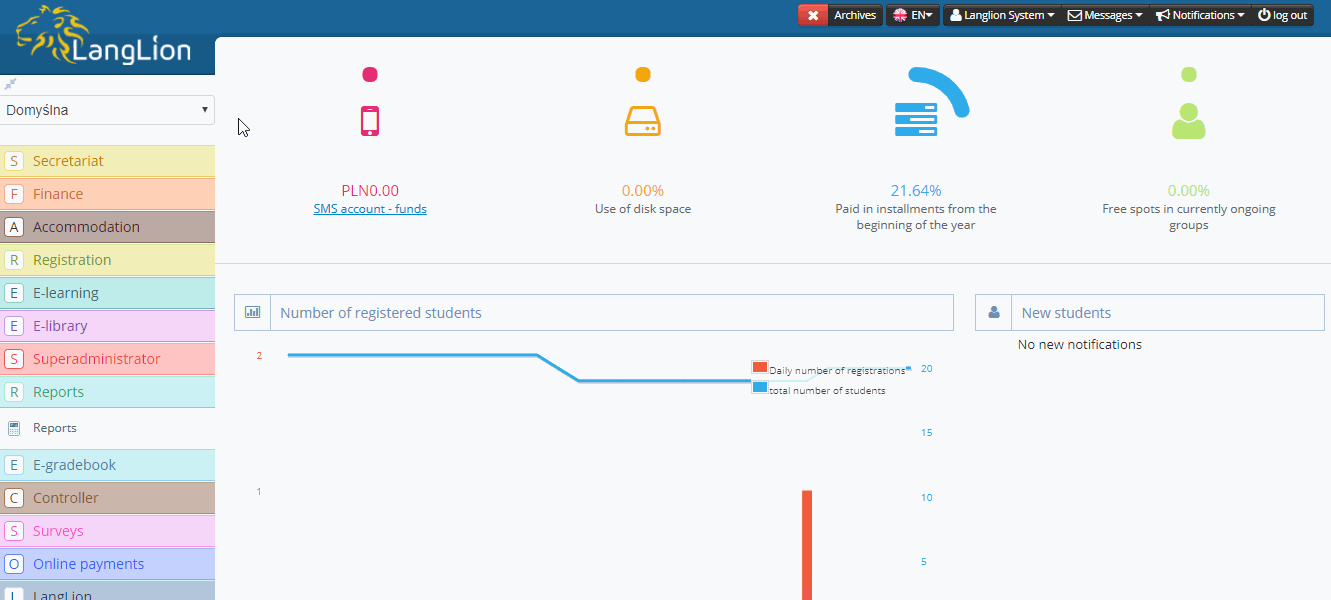 Remember you can always preview whose birthday is today and send wishes to your students. To display the birth date box, you should select a special systemic option – see the guide below.
We hope our summer holiday changes will improve the effectiveness of your work in the new term. Should you have any suggestions related to LangLion platform, do not hesitate to write to us: support@langlion.com
Enjoy your holidays!