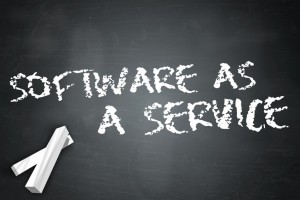 SaaS is a little like speaking prose: most computer users use it but very few are aware of it. The mysterious name conceals easy-to-use and useful computer programmes located and launched in so-called "cloud". LangLion Platform also operates under this model. Today we are explaining why this type of IT services becomes so popular.
SaaS is an abbreviation from English term "Software as a Service". It consists in provision of remote access to software via Internet. Still sounds complicated? Simply instead of installing a needed application on the computer from a purchased DVD or downloading it online from the producer, we use it via a web browser.
Google Docs office suite is one of the simplest examples of a SaaS application. Instead of using the free Open Office or chargeable Microsoft Office on your computer, you can use a word procesor or spread sheet from Google in the web browser. Simple? It sure is and that's why many people use this kind of software not even knowing they use "Software as a Service". LangLion Platform, to which you log in online, is an excellent example of SaaS.
But why do I need that SaaS?
The fundamental advantage for companies is absence of implementation costs. You do not have to spend several hundred – and sometimes even several thousand – zlotys to purchase the license and then pay experts for installation and configuration of the software on the computers in your office. Under SaaS model you just pay for a month of service use … and that's it. We have already mentioned this fact on our blog, when describing LangLion Platform.  The very process of service purchase is also much faster than in the case of "boxed" versions of applications – you don't have to place an order, wait for a courier or go to a store. Some thirty seconds spent to fill in the forms suffice.
Even more important is the producer's after-sale support. If any questions arise related to the operation of the application  or its security, the provider will answer them fast, and will repair any potentially faulty elements right with the users.  You don't have to install any additional files and remember to update them. Immediately after logging on, you see the most recent programme version. This is particularly important in the case of patches related to security – in the case of applications installed on computers or tablets, additional producer's updates are not going to help if users fail to install them.
Bigger companies also value scalability – it you need to launch about a hundred additional work stations with access to the application (e.g. when opening of a new branch), it suffices to log into it. In the case of the classic installation of software on about a hundred computers, this can take a few days.
Should you be worried about data security?
In the opinion of opponents of SaaS, such data storage is not safe – information is stored on the server of a service provider and not on our computer. But in practice it is more likely that we will lose our laptop with data or it will be stolen than that someone breaks into a professional hosting centre safeguarded by armed security guards and smoke alarm systems.
Data thefts extensively covered by the media are usually related not to cracking but to the fact that the password is too obvious (e.g. 12345, admin, qweasd) or to phishing. It is the carelessness of the owners of various devices (e.g. opening of dangerous e-mails) that most frequently results in loss of data. Professional service providers perform automatic data backups.
Let's go SaaS way!
Although opinions are divided, in our opinion the advantages of SaaS model make it a real winner. Absence of implementation and installation costs, very fast possibility of purchase, ongoing updates and security of data located in professional hosting centres are among its major advantages. This is why there are more and more applications offered under this model, while almost universal and relatively fast access to Internet (including mobile one) makes the use of those services increasingly easy. This thesis is  confirmed also by the growing popularity of LangLion and opinions of the users of the Platform.
Are you already using LangLion? Or some other applications under SaaS model? What are your impressions?