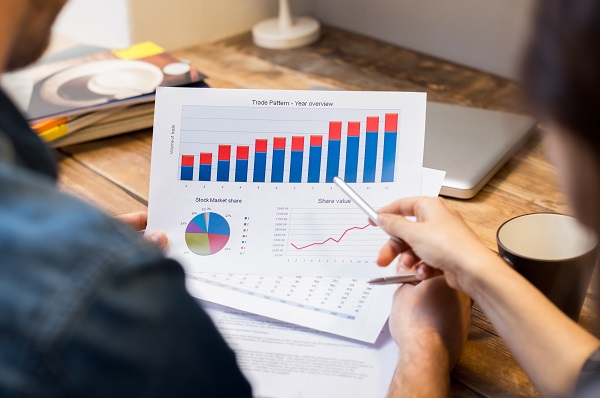 Since beginning of the year our technical department has been working on useful changes to LangLion Platform. Among others, a completely new function of expenses was introduced to supplement the Finance module. We also addressed the issues related to assignment of course participants to parent's account. We encourage you to become familiar with the updates.
---
In response to the needs of our customers, we created a completely new function to supplement the Finance module. From now on you can record the costs in your language school. You have three types of costs to choose from:
1.Amortized
Amortized consists in regular deduction of a given amount of fixed asset's cost as business expenses until it's totally worn out.
2.Recurring
If your costs recur every month, for example office rental fees, you can select a recurring cost. You can choose the date range when you incur a given cost and owing to this function it is automatically added to the list of expenses.
3.One-off
Of course you have the option of adding a one-off cost, e.g. the purchase cost of printer inks. You can add more expenses by clicking Add another one.
You will easily filter out your costs by date, name, or even by comments and you can delete items (in the cost of recurring costs, you can use the additional Cancel All button).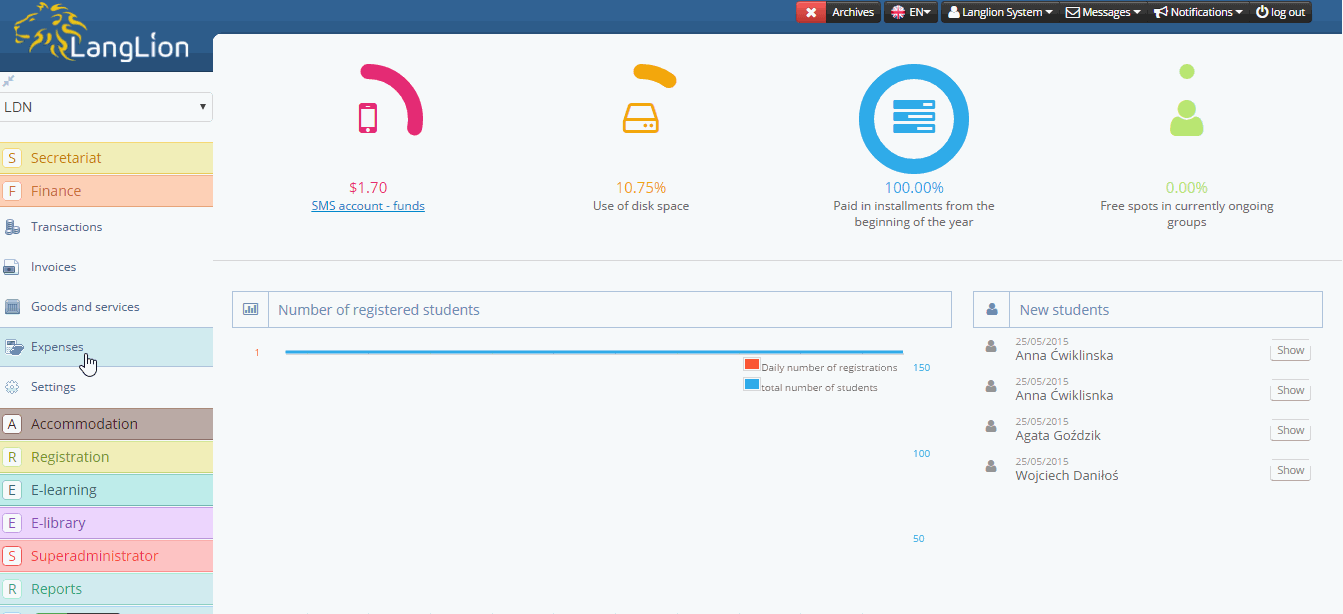 What is important, the expenses function is related to settlements of groups and teachers. After regeneration of classes, costs appear on the list. If you make changes, e.g. related to the amounts of teachers' fees or after a change of class status (e.g. you cancel a class) and you regenerate a class, the system automatically changes your costs. You can always preview on the list what costs you incur for specific classes.
Important!!!
Customers having Finance module can take advantage of Expenses function. To start using Finance and the new module, contact us 
sales@langlion.com
 +48 501 874 88 / +48 22 868 06 52.
Refreshing the Finance report – monthly balance of account
---
The name of the report at Finance – monthly results has been changed. Additionally we introduced a new column – Total cost, which is generated on the basis of data from cost module.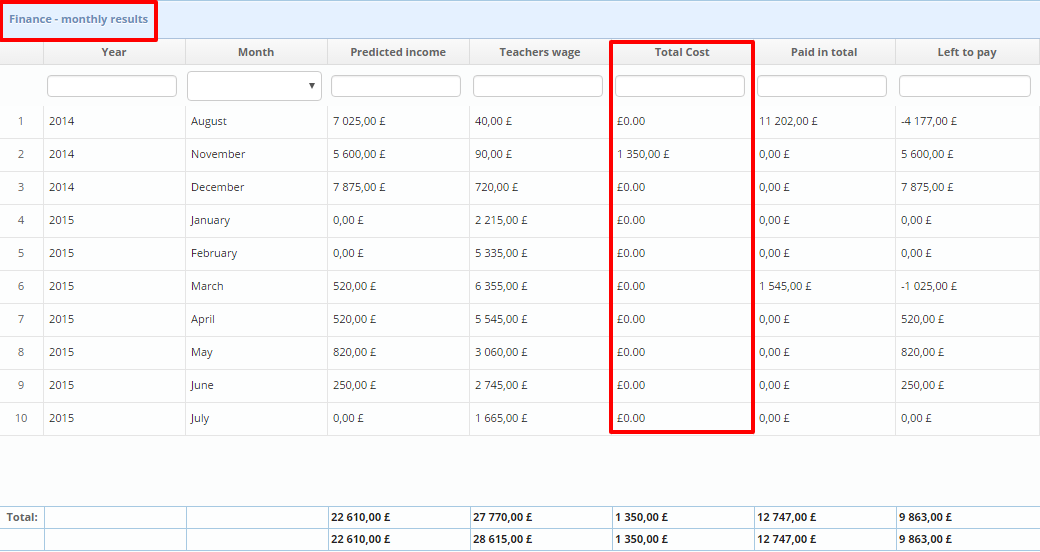 Adding attachments to invoices for corporate settlements
---
Starting from today's update, you can send invoices to companies accompanied by attachments. After settling a company you can send a VAT invoice in PDF format to an e-mail address. Then a query appears, whether you also want to send an attachment accompanying the said invoice (see below).
Choice of fonts in mailing editor
---
In line with your suggestions, we added the option to choose the font type in mailing. From now on you can better customise your mailing using various fonts. But remember that they have to match your visual identification.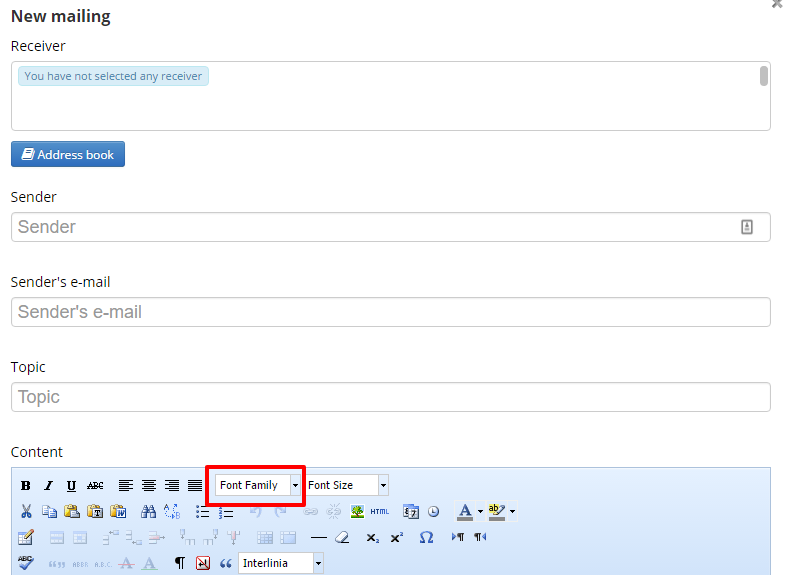 Assigning course participants' accounts to a single parent's account
---
So far, you had to create a separate parent's account for each child's account; now you can easily assign several accounts of course participants to an account of a single parent. Owing to this, a parent has access from a single account to e-register of all their children being course participants in your school. To start using the new function, you have to move to System Configuration in Secretariat and tick the The possibility of combining accounts.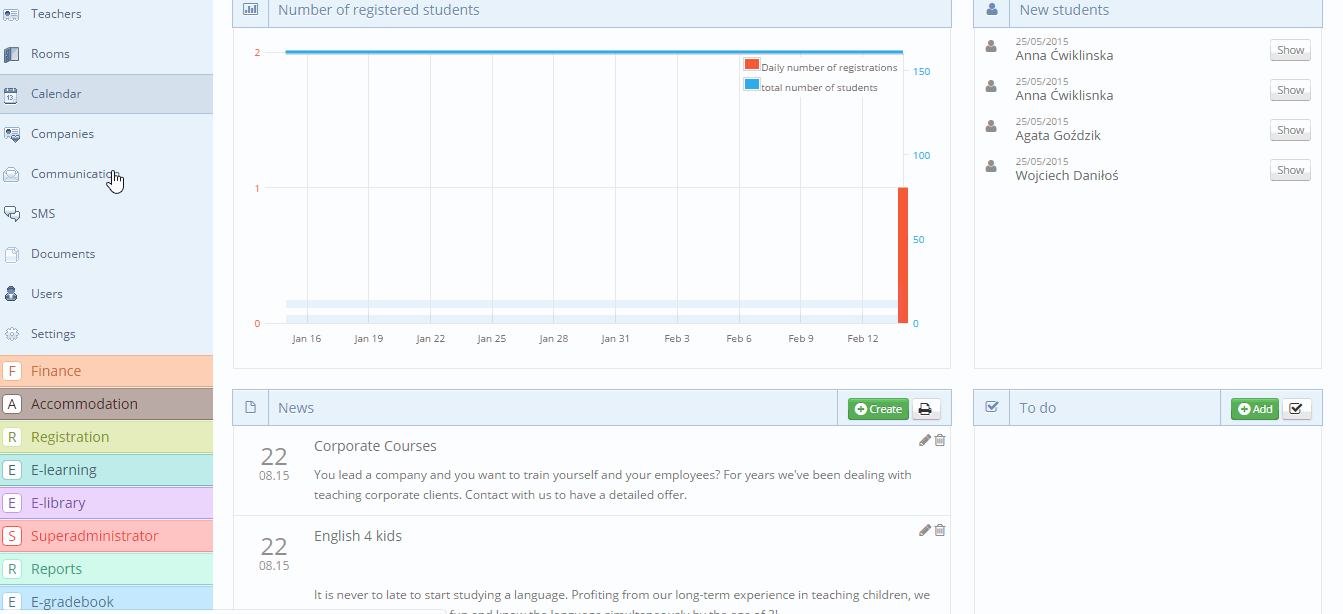 Moreover, you can always check fast who a course participant is merged with owing to Merge accounts info in the general data of a course participant.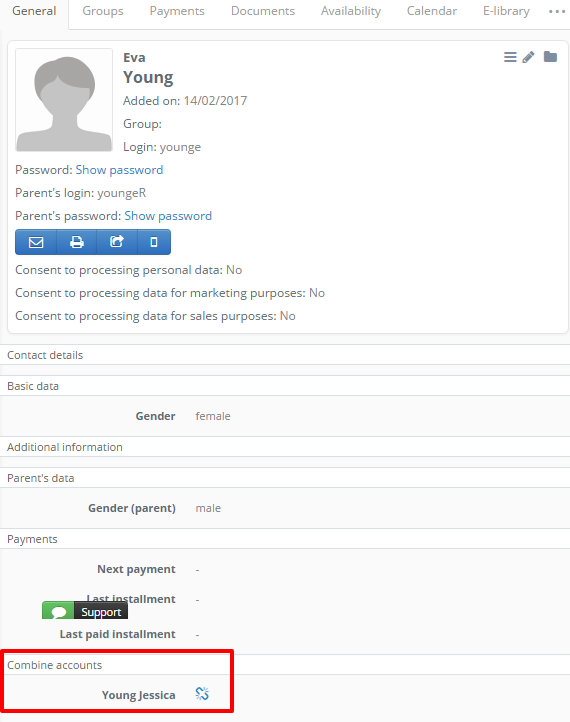 Refreshing class generator after class edition in the calendar
---
If a need arises to cancel a class, you can do that easily in calendar view. After you make changes, the system will automatically regenerate classes and add new lessons. You can do that from Secretariat level.
Batch export of grades from groups to a spreadsheet
---
Teachers assign a lot of grades they input in columns – at their accounts; so it is worthwhile to begin with creating grading column templates. To improve efficiency of work and their transparency, a new Group report has appeared at the Platform – average grades in grading column templates. Owing to it you can easily save on your computer the grades of all course participants in a given group, with the help of the option of data export to a spreadsheet.
Mailing of access data using SMS messages
---
After adding a new course participant, it is worthwhile sending to them the data enabling access to e-register. Earlier this could have been done via e-mails, and from now on you can also send SMS messages. This is an effective form of communication, because you can be sure that it will be read faster than a message in a mailbox.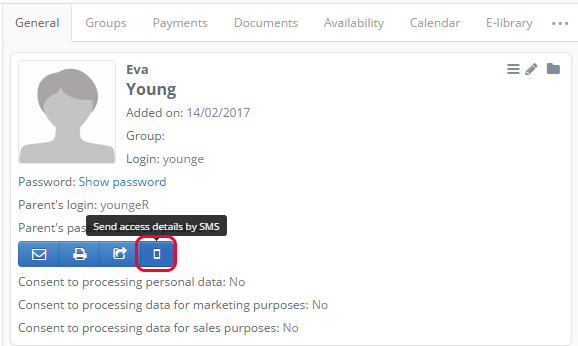 You have always two types of SMS messages to choose from:
ECO – a random number is displayed in sender's name,
PRO – the name of your school in sender's box.
To use this function, you need to have a SMS account recharged (from Secretariat level).
Bookkeeping each payment settled in advance
---
Course participants have the option to pay in advance for a specific number of class hours. The amount to be paid is converted on the basis of per-class fee. Earlier it was impossible to credit a payment that differed from product of the multiplication of the price and number of classes.
The technical department introduced an improvement consisting in the option of entering and crediting any amount paid in advance. Owing to it, a course participant can pay for classes with uneven amount and the secretariat can enter it into books with no problem. Any surplus is added to the balance of account.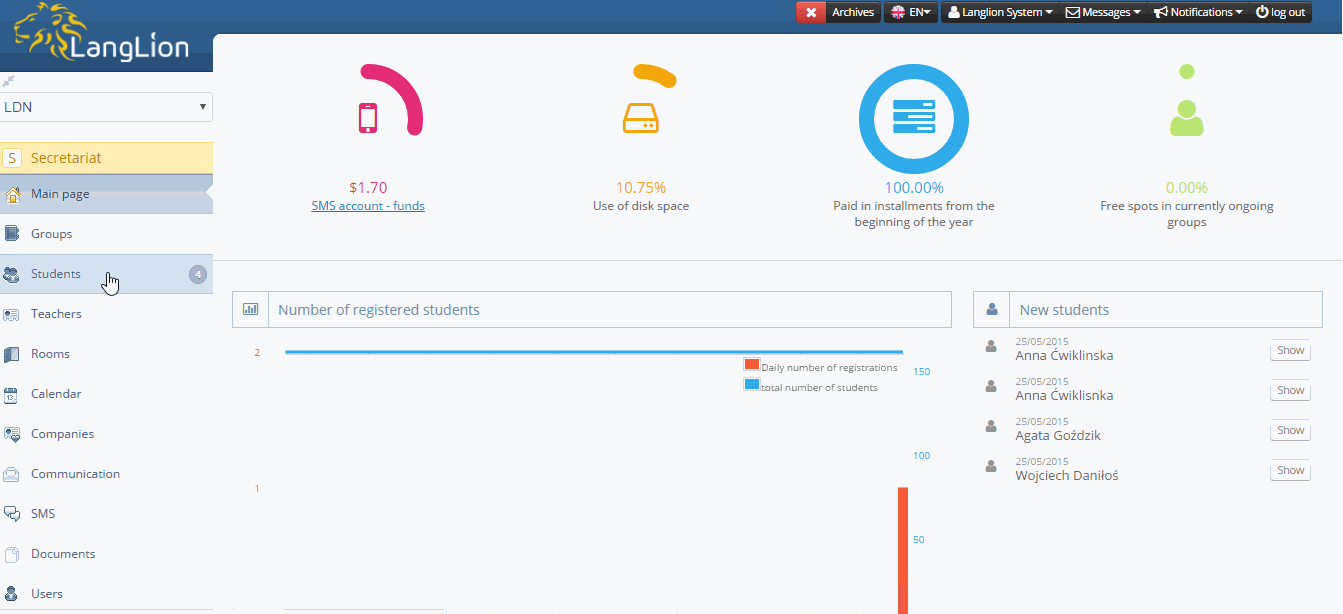 Balance of account for settlements on per-hour in advance basis
---
When making per-hour settlements of course participants in advance, two amounts appear (see the picture). The amount for unpaid classes a given course participant attended is displayed in red, while the balance of account, i.e. the amount that can be paid in surplus, is displayed in green.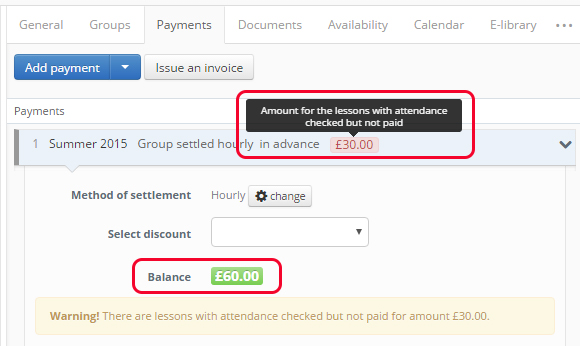 We work uninterruptedly on improvements to LangLion Platform do match it to your needs so please leave a comment or like us 🙂