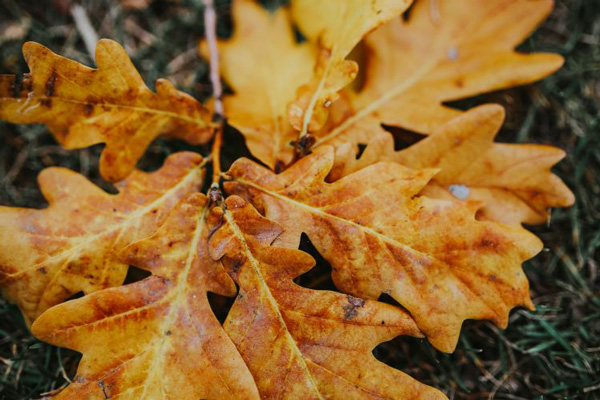 Leaves have already turned light brown. Your groups are full to the brim, and LangLion team has been working on improvements to the system. There are a lot of positive changes so make yourself a cup of good tea and take some time to read this post, it is really worthwhile.
The option to add content to a message with access data
---
Good news for everyone needing free space for additional information in the message with student's access data. Starting from this update, you can easily add instructions concerning signing of the contract or information about the first class.
Remember that you can send the access data both to an e-mail address or in an SMS. It is important to have the e-mail address and phone number entered by of each student in their general data.
Where can additional information be entered into the message? You can do that from the level of a single Student or entire Group.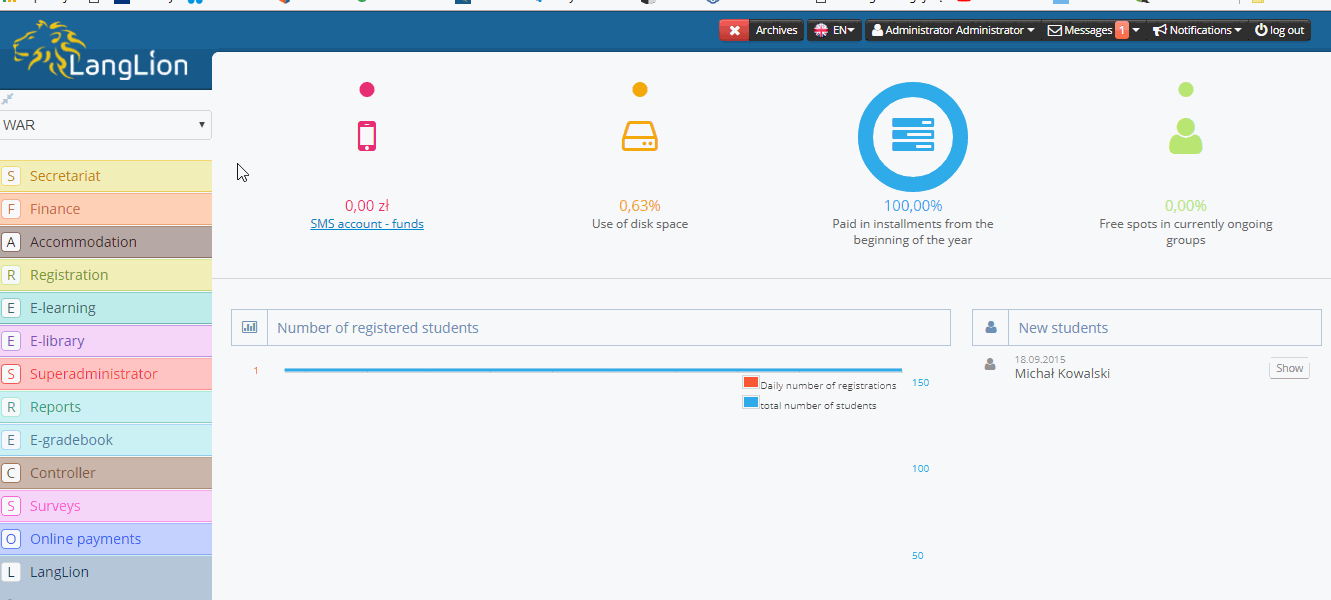 The newest version of online teaching
---
It's our pleasure to inform you that we have made available the newest version of the online teaching module at LangLion Platform.
From now on screen sharing works with all browsers. You can choose whether the entire screen is shared or only a part thereof.
Moreover, new functions that can be used during lessons have appeared:
Screen sharing can be paused and restarted at the right moment.
Distributing students among rooms – a teacher can divide students attending a class into groups and assign a "room" to each of them; students can share their presentations, work on a task together, and communication with the teacher is maintained. There is no option to record classes in specified rooms (the option is under construction).
Captions – during a lesson, the teacher can input captions in the selected language, and the system will display those captions to other students  in real time. After completion of a session, the captions will be displayed as captions in recordings.
Positive changes in test results in E-learning
---
In line with your suggestions, we have introduced improvements related to displaying of the test results:
If a student did a test several times, the teacher will first see the last test result. To display earlier results, one should use the button named History of test results.
The results are sorted starting from the most recent tests, by tests.
Result paging – maximum 10 records appear on each page.
New test results are flagged. Next to each result appearing as a new one since the last logging in, the NEW! flag is displayed. Such tests are placed on top of the list.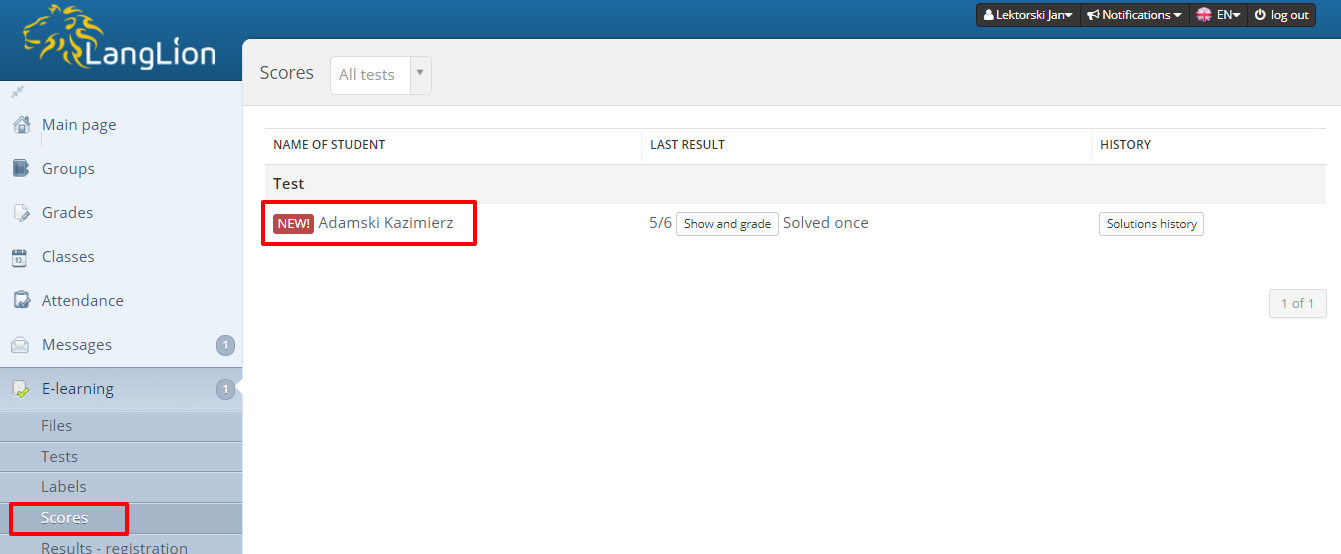 Identification of a conflict next to a group and on the list of classes
---
Sometimes it happens so that when a new lesson is created, a given room is already occupied or a given teacher already has a class scheduled at that time. To avoid such situation, you can easily check the availability of a room or teacher.
From now on, a group where there is some conflict is marked with Conflict in the group status. Additionally, on the List of classes, the exclamation mark icon appears, which means that there is some conflict. You can always preview it in Conflicts tab and edit errors fast.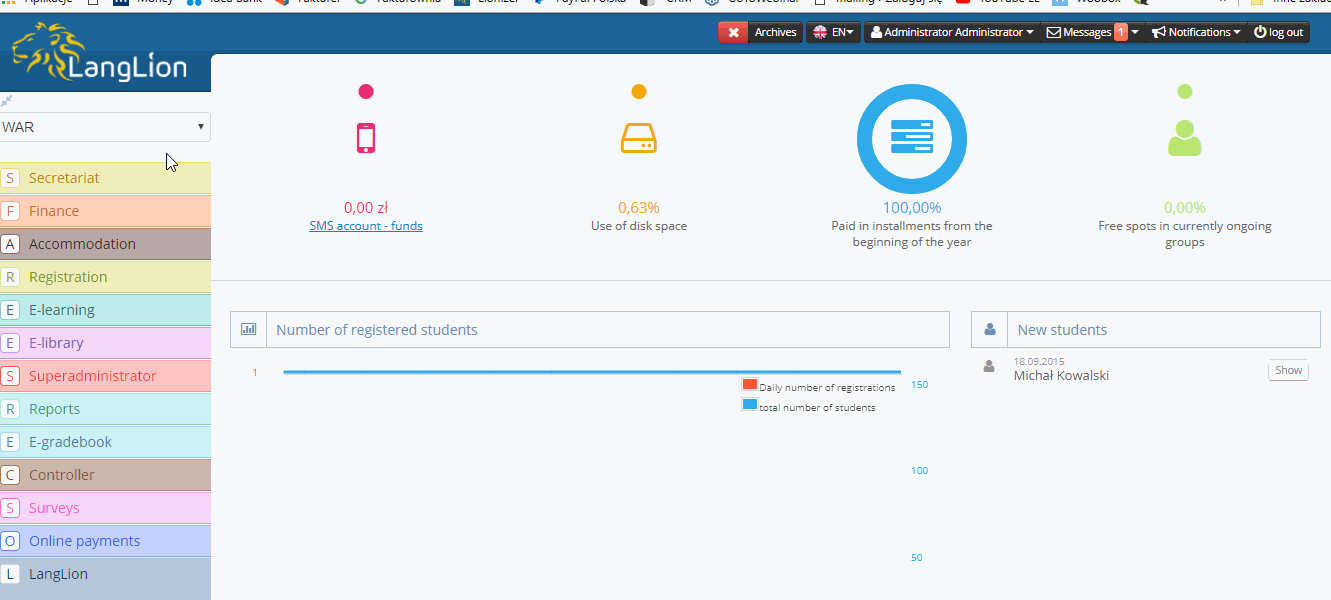 Information about the textbook in the Teacher's and Student's Panel
---
The improve clarity, we have added information about the textbook used during lessons both in the Teacher's Panel and in the Student's Panel. From now on, a teacher can easily preview such piece of information in the Groups tab, while a student can do so after passing through Grades tab to their History.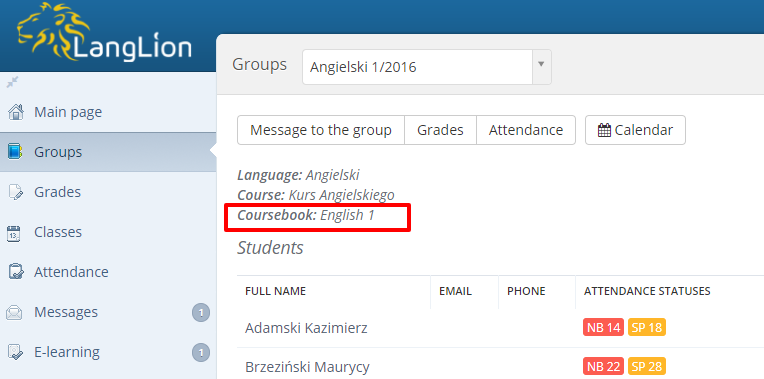 See below how to add the textbook and then assign it to a given group. Remember that you can filter out fast the groups using a given copy.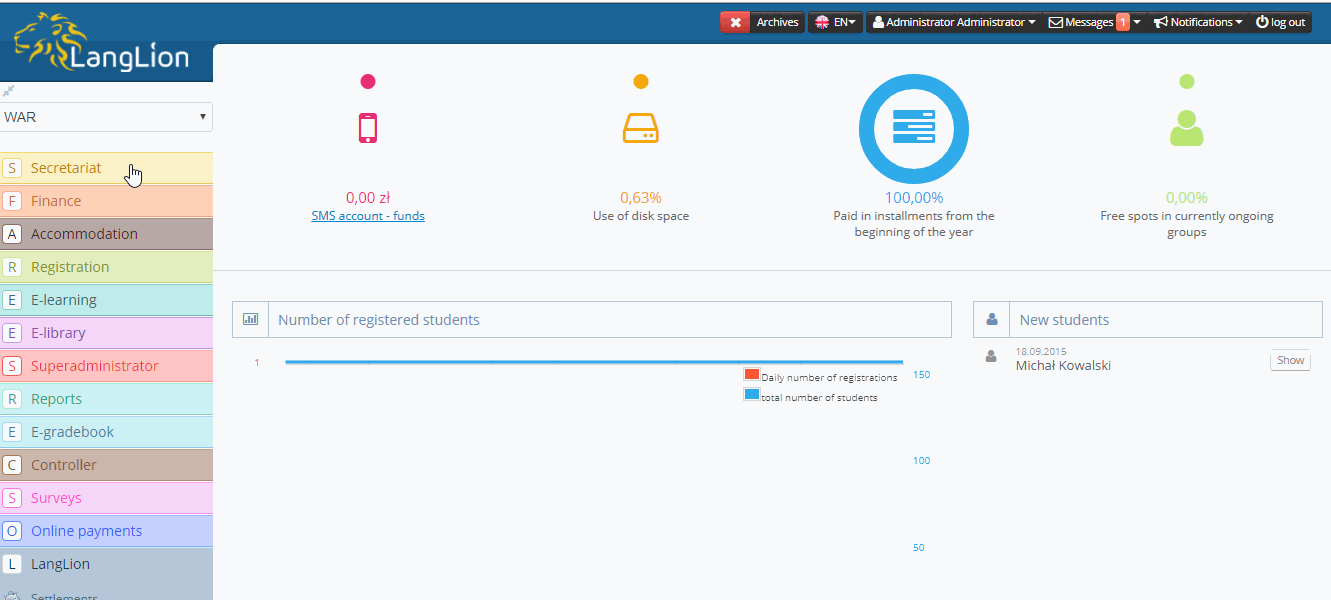 Improvements to working with archives on
---
Does it sometimes happen so that some students resign from a course and you move them to the archives? Owing to this, the students' data remain and you can easily contact them. We recommend the article
After the update, working with archives on is definitely more efficient.
Removing cyclic unavailability of a teacher
---
Sometimes a given teacher is unable to come not just to a single class, but also for some longer period. Therefore, in LangLion it is possible to market a cyclic unavailability of a teacher – every week, every two weeks and every month.
So far, to cancel a repeating unavailability, you had to cancel each single period. After the update, after removal of a single unavailability, the system will also ask whether you want to remove a cyclic unavailability of a given teacher.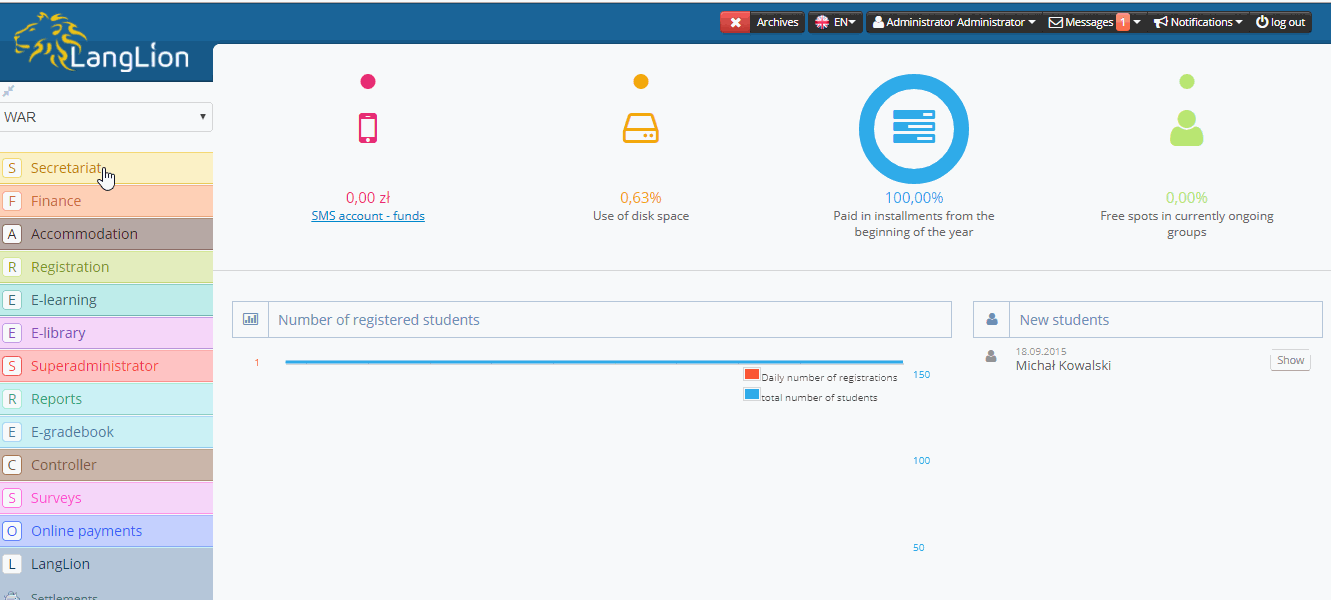 Remember that when you generate new classes, you can easily check the availability of a room or a teacher.
The possibility to send messages to new students
---
Earlier, new students appeared in the address book, but it was not possible to filter them out from among all students.
Starting from the autumn update, you can very swiftly send an e-mail or SMS message to new students, who are not yet assigned to any group, from the level of the New Students tab.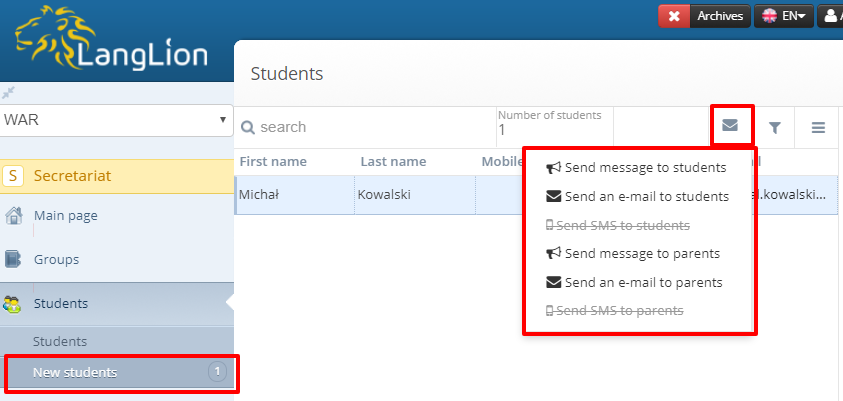 Remember to place the Telephone number and E-mail address fields in the registration form.
The name of Others template as the title of a document in the system
---
From now on, when you assign to a student a document from Others series, the title of a specific document appears on the list of all documents. Owing to this, if you have several document templates, you will know at once which document has been already assigned to a given student.
See below how to add a new template and assign a document to a given student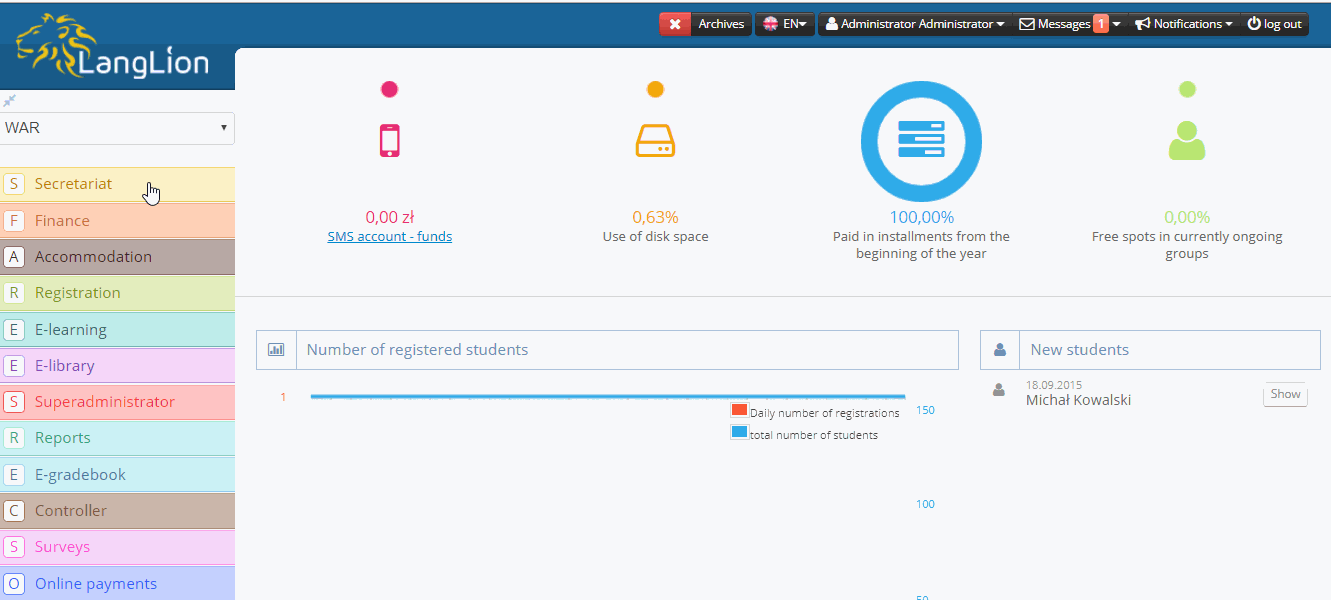 Improvement of the quality of mailing sending
---
We took note of the mailings that were being sent to students' mailboxes as unwanted ones. To reduce this phenomenon, we improved the configurations of the servers that send the mailings. Owing to this, the percentage of the e-mails automatically filling the SPAM folder should be much lower.
Frame with groups for regeneration at the home page
---
Perhaps is happens  so in your schools that a teacher is authorised to change the class schedule, for example to remove/add a new lesson or to mark a class with cancelled status. It is administrator's task then to regenerate all classes.
We have solved the issue of communication between the administrator and a teacher by introducing a frame with groups for regeneration. You will find it at the homepage. You can easily generate there classes in a single group or click on the Generate all button or check a specific group in the Groups Tab.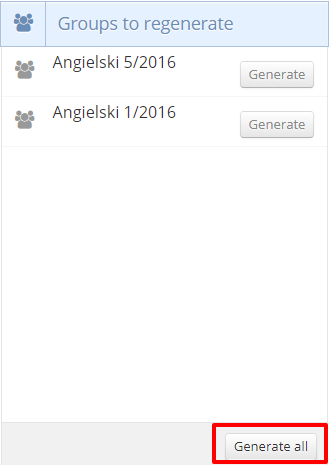 Owing to the frame with groups for regeneration, the administrator will not ignore any changes in the class schedule, even those that were not introduced by the teacher.
Transferring the date of student's signing in/signing out of the data in the group
---
We introduced the second way to enter the date of student's signing in/signing out in a group from the level  of Student's payments. See the GIF showing how to do that. The amount due for the course will be immediately recalculated according to the signing-in date, and the data will be automatically transferred to the data of a student in a given group.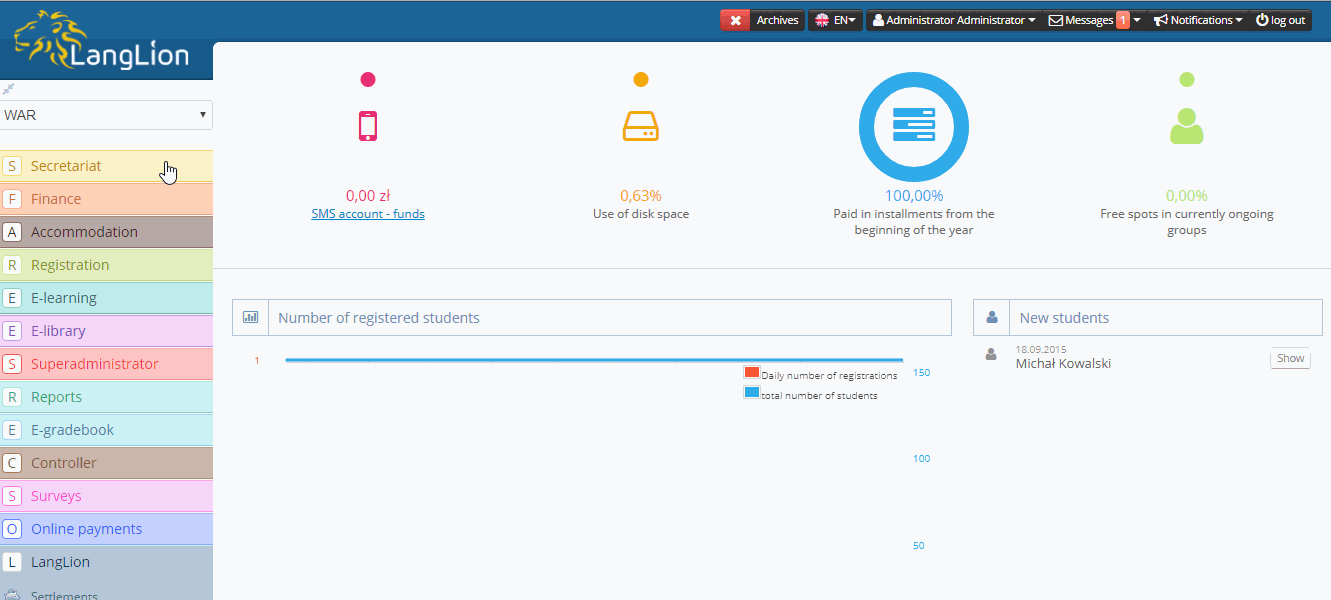 Classes cancelled only when marked up in the calendar
---
To avoid a situation when cancelled and current lessons overlap in the Rooms/Teachers/Groups calendar, we introduced some changes. From now on cancelled classes will not cover up current lessons, because they are only displayed once the Show cancelled classes box is ticked.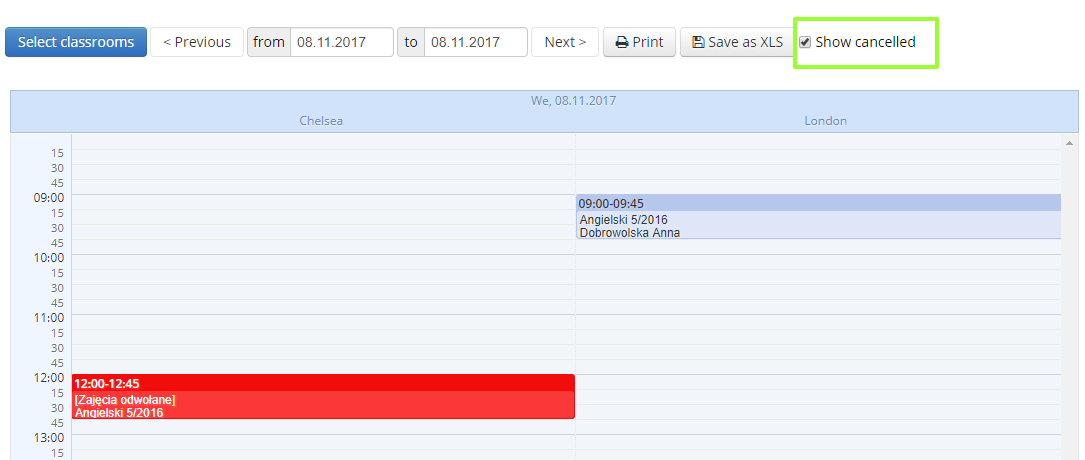 Improvements to students' filtering
---
In line with suggestions of our clients, we introduced a small improvement to filtering students out by Groups. Now it suffices to enter a fragment of the group's name to make students appear on the list (specific groups to choose from will no longer be displayed).
In the case of the debtors' list in Finance tab, selection fields have now appeared next to the names. So now after filtering  the debtors out you can mark all or only some single persons to whom you want to send a reminder about an overdue or approaching payment.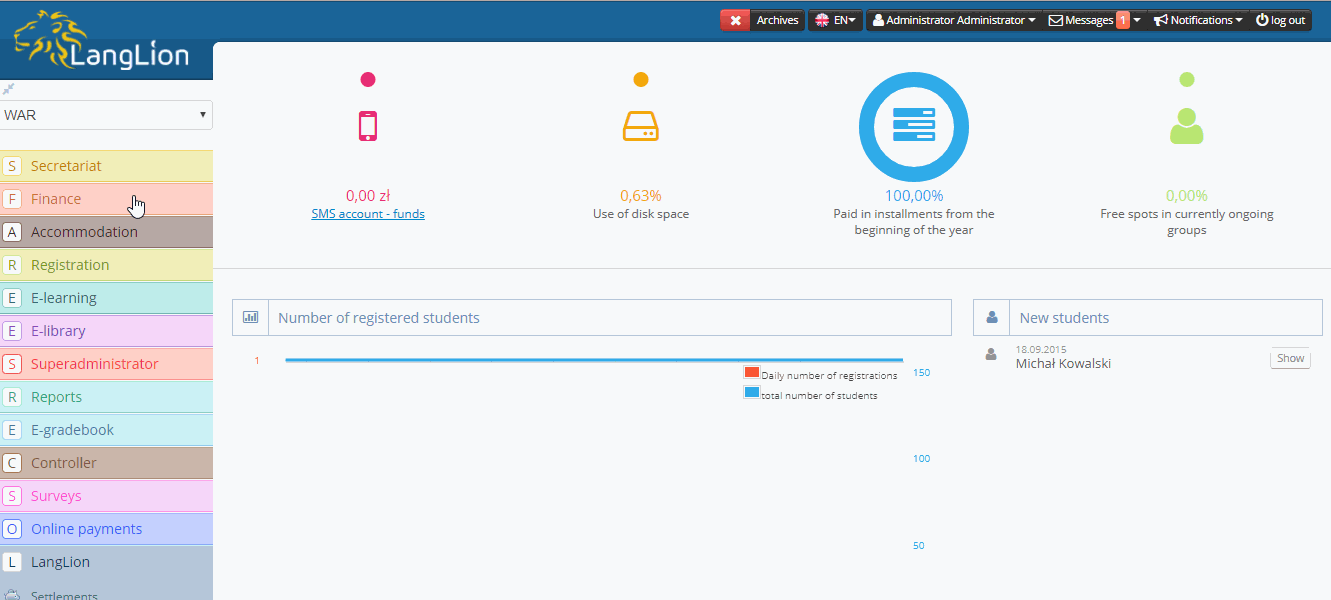 Remember that debtors' list is available for all schools, regardless of whether they have the Finance module or not.
A new update will appear soon, so we encourage you to follow our blog!