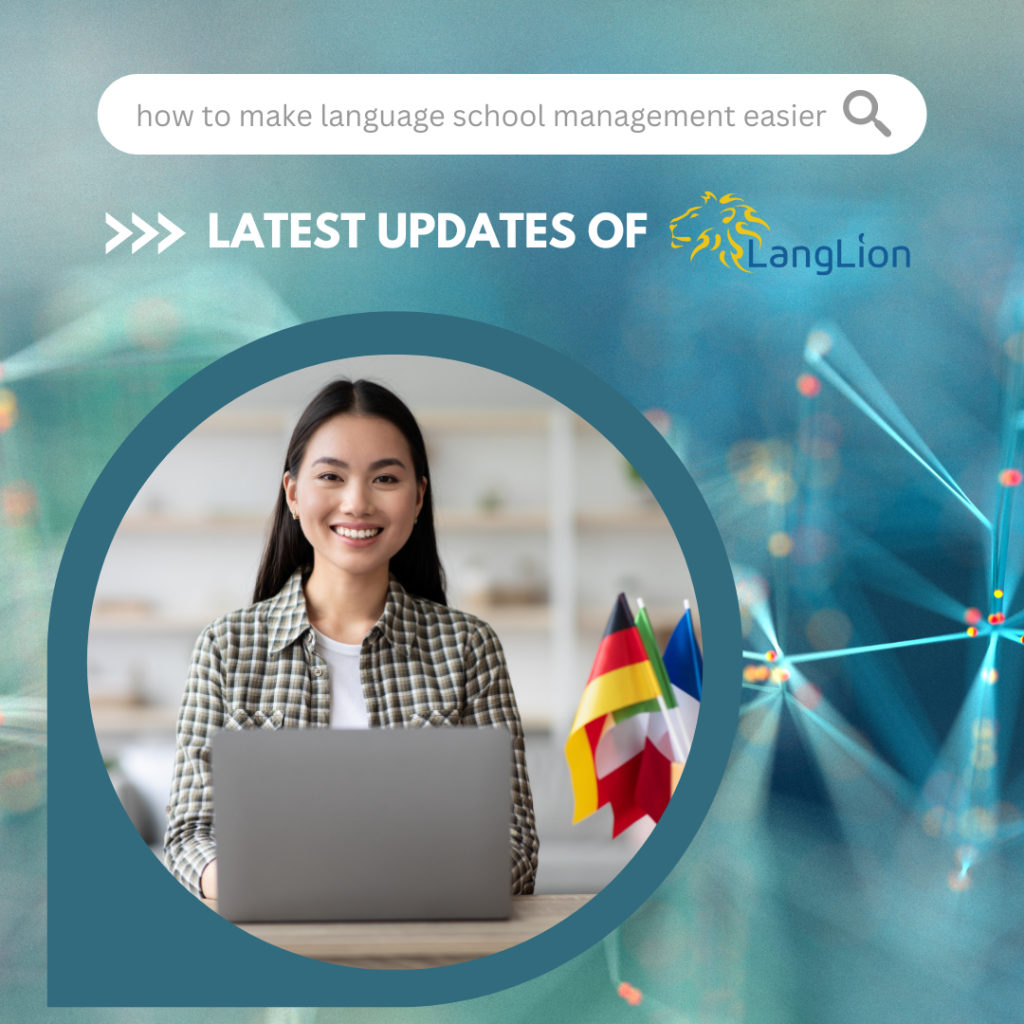 Today we would like to introduce you to the new features of LangLion. The article about updates in LangLion is one of the most awaited by you. The same is true for Q&A webinars, which are also very popular. We were reassured of this by Wednesday's meeting with Patryk Chmielewski, co-owner of LangLion. We would like to take this opportunity to thank you once again for your presence and active participation. This is an additional motivation for us to organize such meetings regularly. We encourage you to stay up to date with us because it certainly wasn't the last time 🙂
We want our platform to respond to your needs and make managing your language school easier. Thanks to such webinars, we have the opportunity to learn directly from you which solutions work and which ones are missing. The Q&A meeting is also a great opportunity for you to share exchange your experiences with other language school managers.
What updates have we introduced?
For those of you who couldn't attend the meeting, here is a summary of the new features in LangLion. In the last few weeks, we have implemented a lot of changes that can improve your daily work. So, without prolonging, here we go!
1. Moving lessons on the calendar
The "Calendar" tab in the Administration module is a tool that significantly improves your daily work with LangLion. Moving lessons on the calendar is the first new feature you've been asking for a lot. Until now, to change the date and time of lessons, it was necessary to edit them and manually enter a new date and time. Now it's much simpler. Just hold down the lesson box and move it to any other place on your calendar. This functionality works in daily, weekly, and monthly views.
2. Add, remove, and edit lessons from the calendar and view class details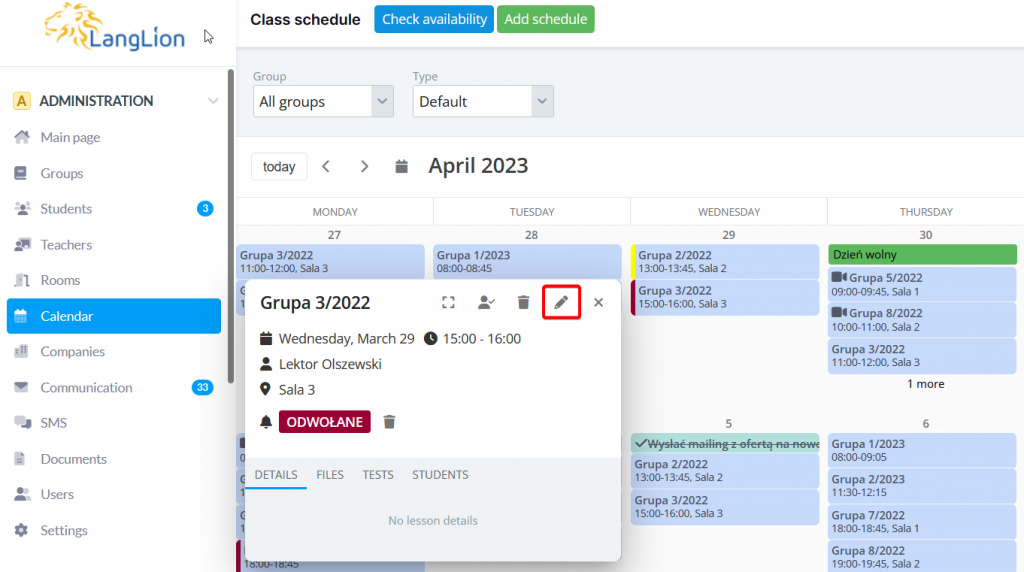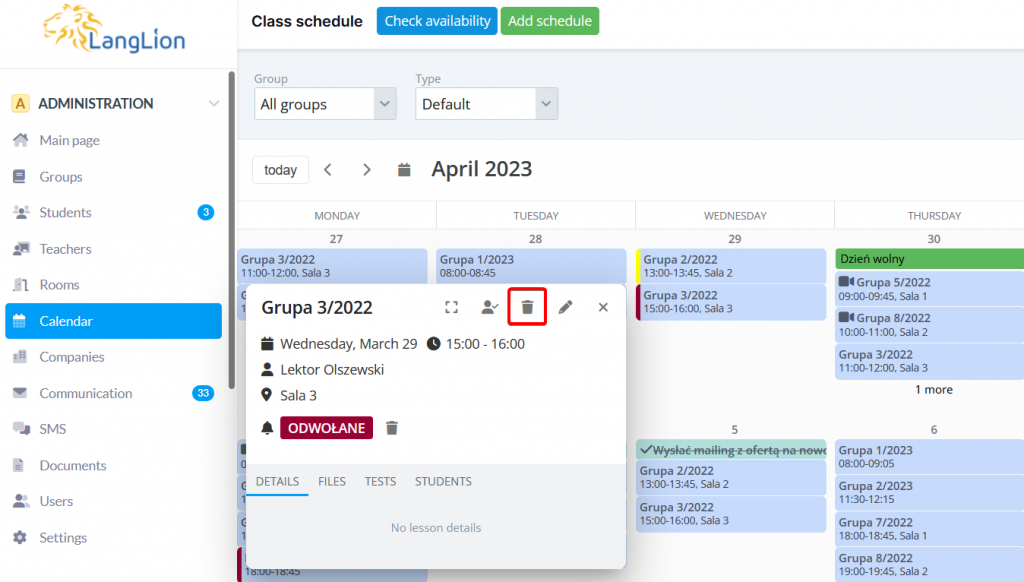 Thanks to the "Calendar" tab in the Administration module, you can have an overview of the schedule of classes on a given day, week, or month. A list view is also available. You can now also add or remove lessons from your calendar. You can stretch or shrink the area of a lesson to edit its duration. This is very convenient because you can immediately see how the lesson fits into the timetable. You can immediately see all the changes you've made. We can easily and quickly check the timetable of our language school and, if necessary, make changes to it.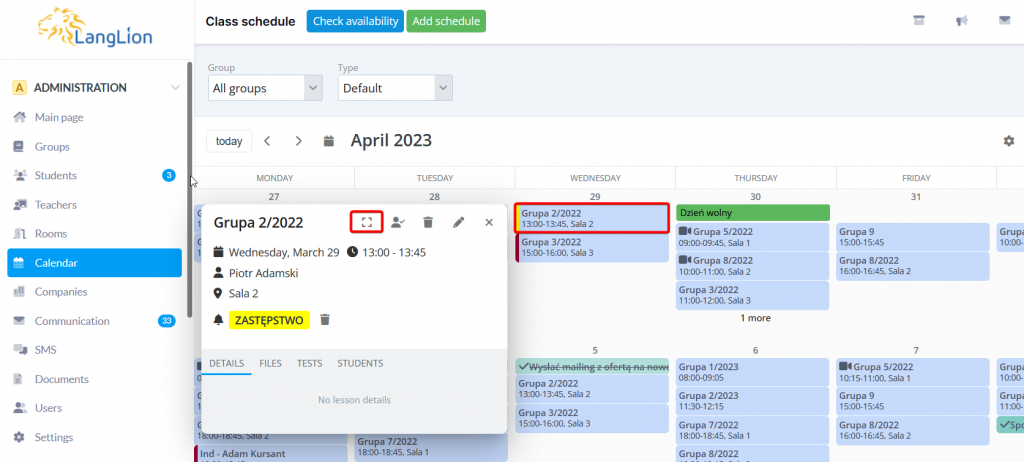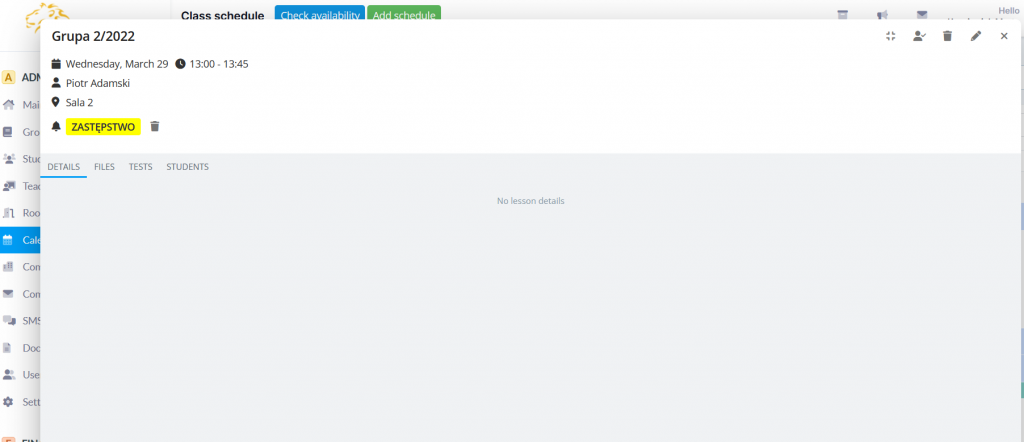 In addition, we have introduced the possibility of enlarging the lesson details, which also improves the comfort of work and makes all the necessary information better visible from the calendar. Just with a single click 🙂
Looking for detailed instructions for managing lessons in groups and working with your calendar? Click here.
3. "Calendar" tab added to CRM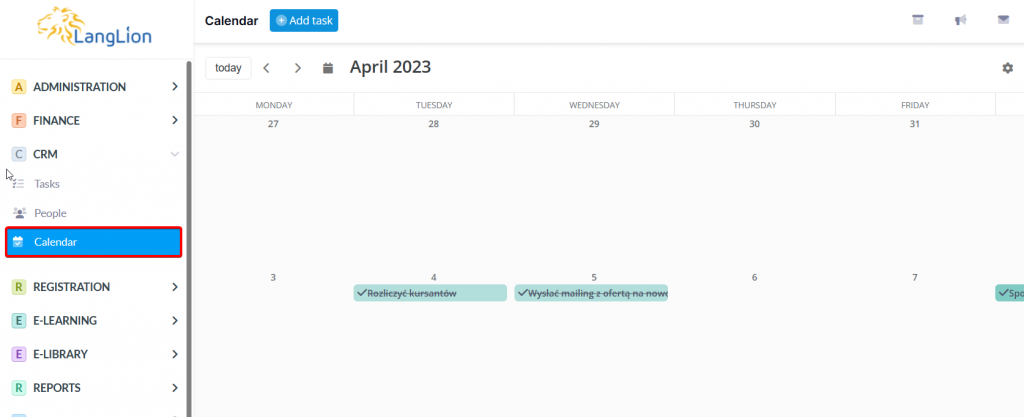 You can use CRM, Customer Relationship Management, to manage contacts with current, archived, and potential students. This module allows you to create tasks, such as scheduling meetings or phone calls with customers. To make it even easier for you to manage your tasks, we have introduced the "Calendar" tab. It gives you a sneak preview of what's coming up. From the calendar, you can also add tasks, edit them, and mark them as complete. What's more, the calendar also gives you a preview of what's already done.
Want to read more about the calendar in CRM? Here's a step-by-step manual that will guide you through the process of adding tasks and assigning people.
4. Move to a group by clicking on its name on the calendar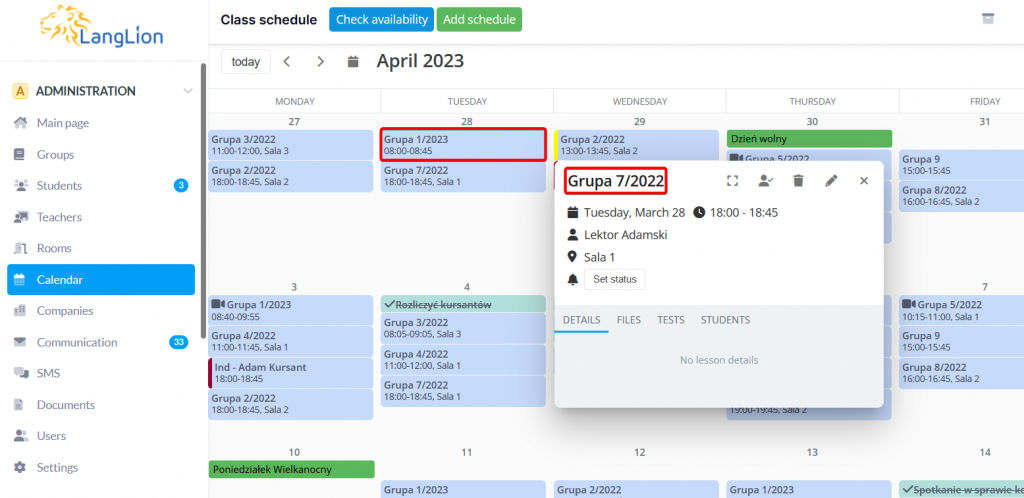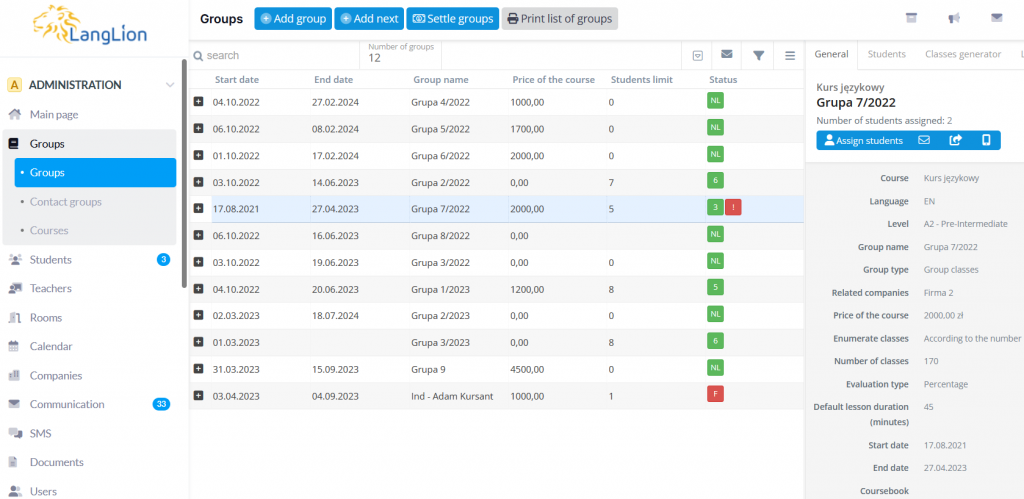 Another improvement we've added allows you to move directly to a group when you click its name on the calendar. Often, when checking the calendar, we would like to expand the group details. Now, there's no need to open a separate tab, we can check all the information from the calendar. We are improving this feature for you because we know that it significantly speeds up your daily work. We know that there's a lot going on at language school and saved time is at a premium 😉
5. Integration with Kontomatik – automatic import of payments and suggested persons based on the assigned account number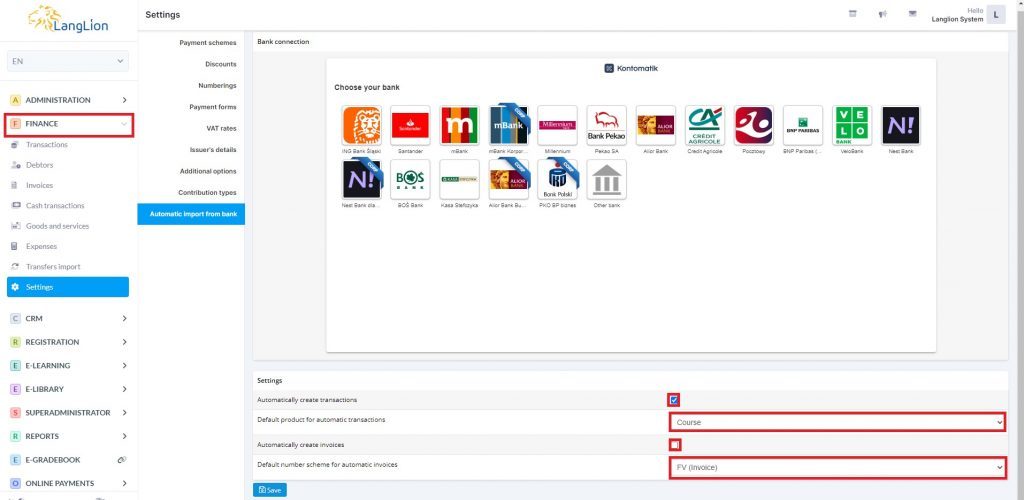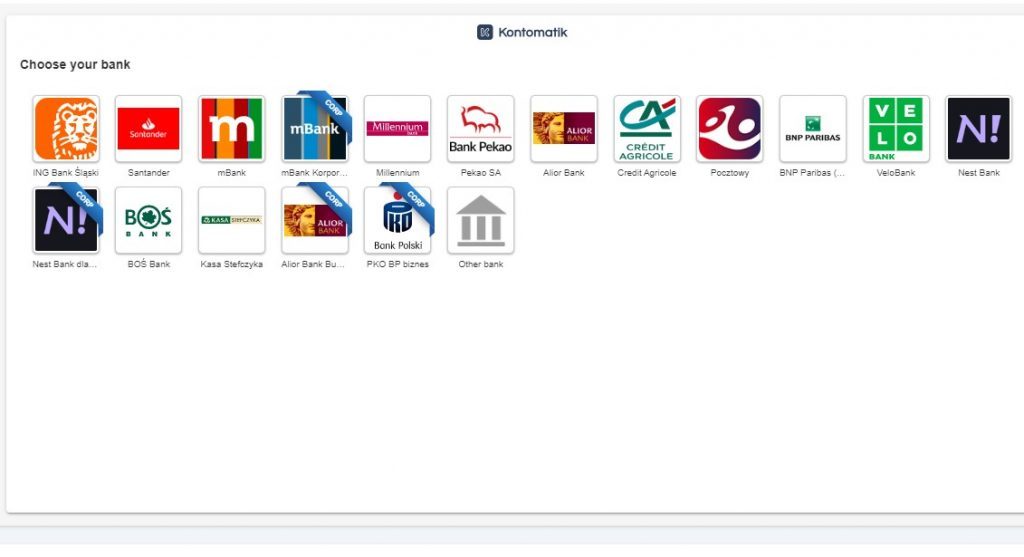 The Finance module gives you the ability to import transfers received from students. This is a very convenient solution because we have an automated process. You no longer need to manually download the file with bank transfers and then import it into your system. All you have to do is integrate your bank with LangLion and all your deposits will be automatically loaded (every day at midnight). Transfer import takes a long time, and by using this feature of our platform, we can automate this process with just a few clicks. In addition, the system will match a given transfer to a person based on the account number assigned to them. Managing payments has never been easier!
If you want to read more about integration with Kontomatik, you can find a complete guide here. A reminder: a guide on what the transfer import looked like before.
6. Child's name on an automatically generated invoice and creating a transaction for each sibling
Adding these features is proof that we are listening to you and your needs. We have received many requests to introduce such a solution into the system because it would make your work much easier. This is when a parent pays for the student's class, but the invoice is missing the child's details. Problem solved! From now on, the child's name will appear on the automatically generated invoice.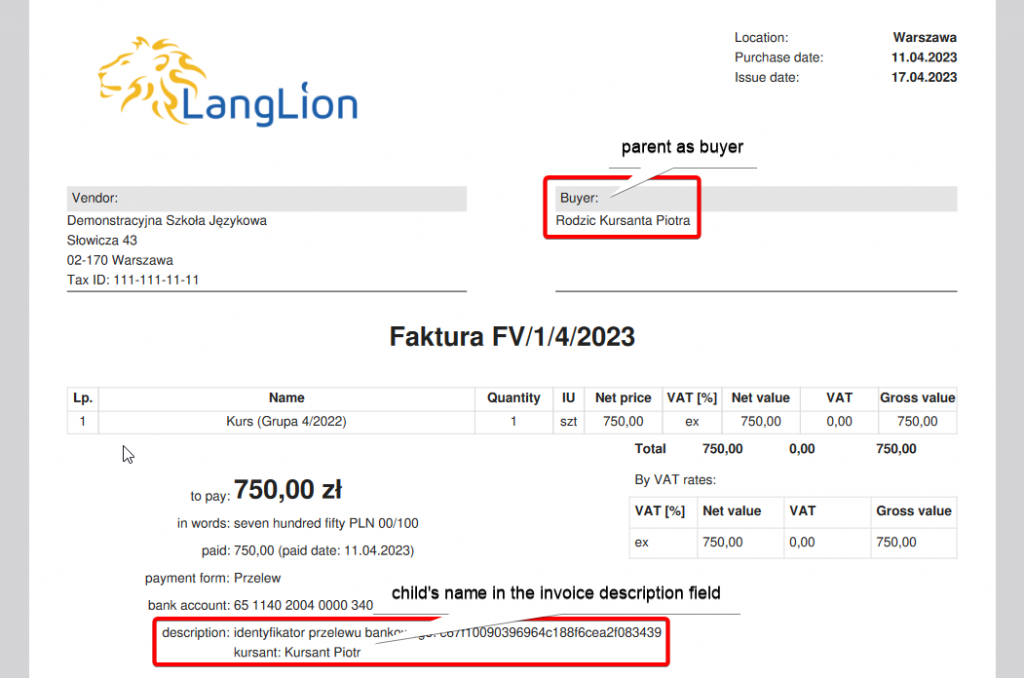 It often happens that siblings take part in classes in one language school. In such case, payment for classes is usually made from the same account. Now you can create a transaction for each sibling from the import level (you do not need to have a previously created transaction to pay). To add a transaction for each child individually, you just need to create one, save it, and then add another transaction for the remaining amount, in the same way as the first one.
Do siblings study at the same school? Read more about our solution to a situation in which a parent is the guardian of more than one student.
7. Student settlement for all classes without the risk of duplication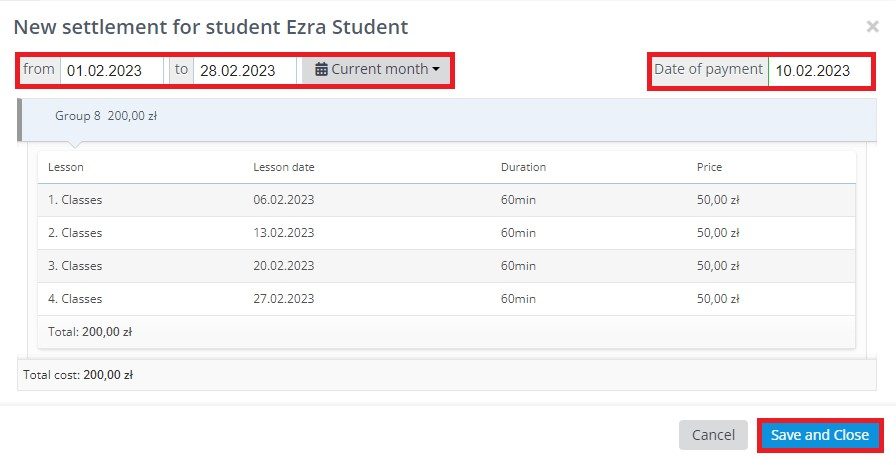 One of the student settlement types is hourly billing. There are three ways to do this, i.e. for all classes, hourly, and hourly in advance. We have introduced a solution to avoid duplication of data. This applies, for example, if a few days earlier you have already settled one of the groups, and later you choose the option of batch settlement of all groups. The system will then recognize that this one group has already been settled and will not duplicate the settlement for the same period. So you don't have to double-check to make sure that this is not going to happen. The LangLion platform will do it for you.
For more information on how to bill a student per hour, see here.
8. Full Dark Mode
And finally, two updates on the look and feel of the interface.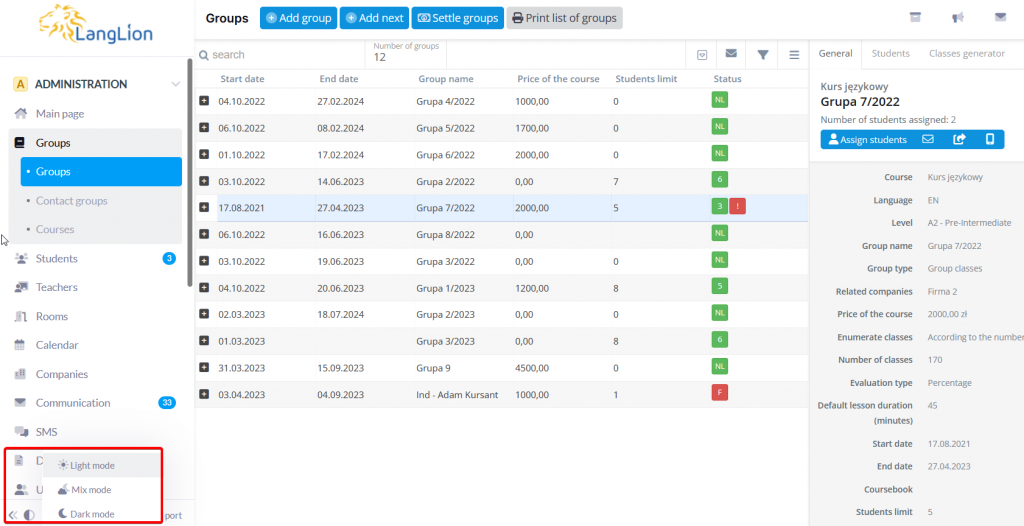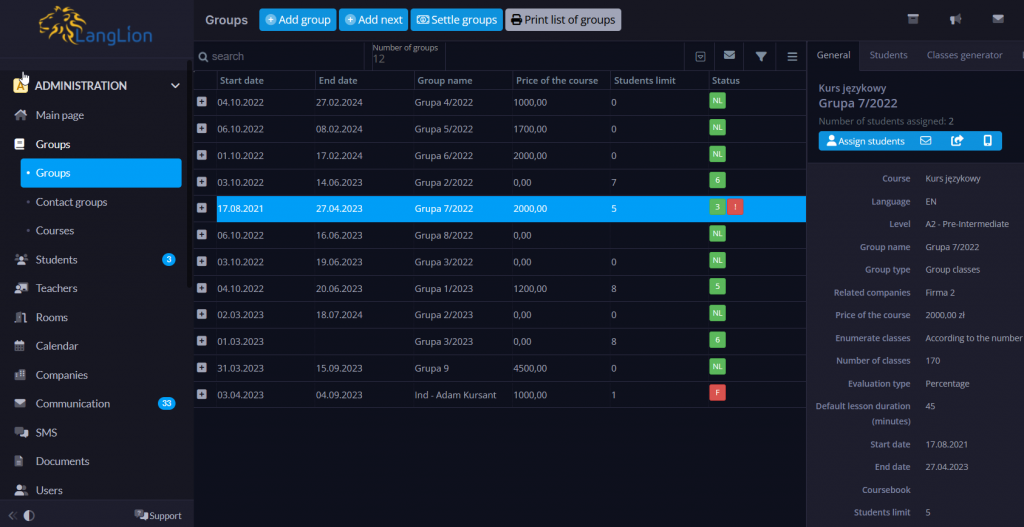 We know that many people prefer using dark mode because it is more comfortable for them. LangLion now has the option to turn on full dark mode so that each of you can customize its look to suit your needs.
Easier language school management with new features in LangLion
And that's it. Of course, we continue to improve our platform and we will introduce further updates to make your daily work easier. We also plan to continue Q&A webinars, because we really value the opportunity to interact with you. LangLion is primarily intended to serve you, so we are grateful for any suggestions. Make sure to let us know what you think about the recent changes.
We hope that thanks to this post, you will be able to make maximum use of all the updates we have implemented. In case of any doubts or questions, our technical support is always at your disposal. You can contact us both by email and phone. As a reminder: the contact details for all LangLion departments can be found on our website under CONTACT.
Once again, thank you very much for attending our webinar and we hope that this summary will be useful not only for those who were unable to attend but also for the participants of the event. It sums up what we discussed and presented to you during the meeting. See you next time!