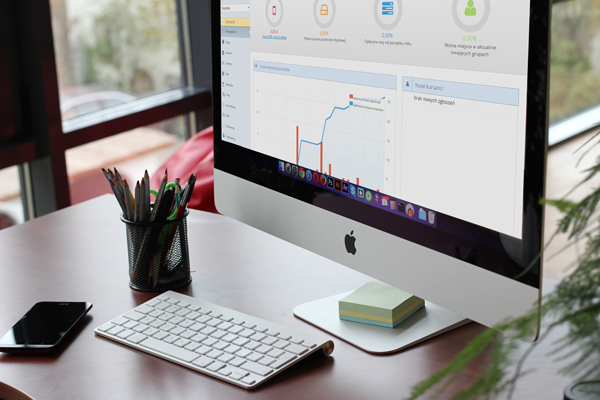 We continue adjusting the LangLion Platform to your needs so new, positive changes keep appearing in the system all the time. Today's update focuses mainly on improvements to the efficiency of teacher's work, changes in student's panel and on additional statistical functions in certain reports. We encourage you to become familiar with the update!
1. Student's contract linked to student's panel
---
Do you ever conclude remote contracts with your students? We have made a change your students will like a lot. Once the contract is added to a given student, it becomes automatically displayed in Student's Panel. After logging on at their account, students may download and print the contract after going to Payments folder.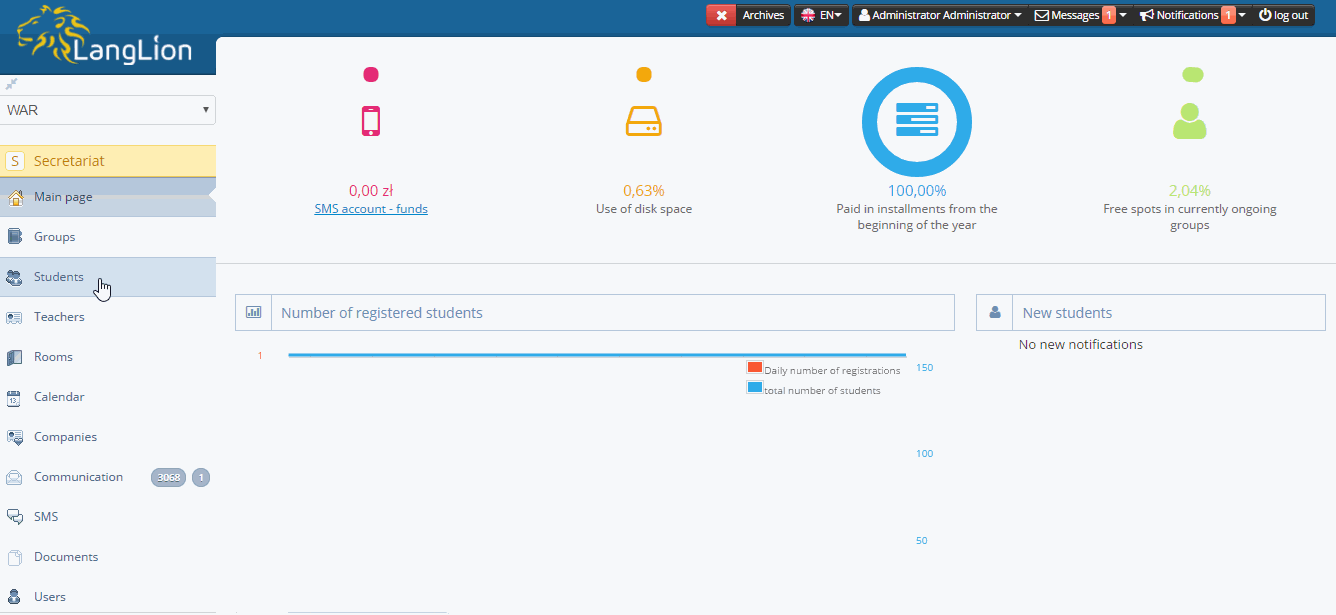 2. Fast return to all groups in Teacher's Panel
---
Teachers are usually in a hurry to make it for the next lesson; they are always short of time. We would like to make their work even more efficient. We have added a dedicated button in Classes folder in Teacher's panel, owing to which after selection of a specific group the teacher will be able to return efficiently to the list of all their classes.
Please remember about the possibility to preview classes for agiven period (e.g. the current week).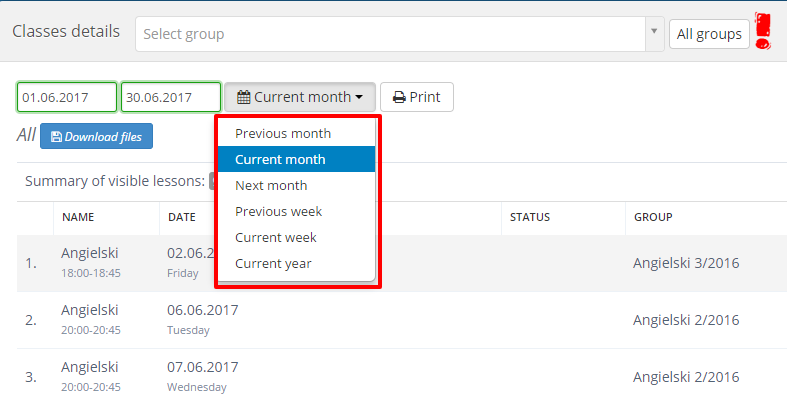 3. New columns in the report Students – settlement in advance list
---
When students pay for a specified number of lesson hours, you settle them on per-hour in advance basis. You can easily generate a special report named Students – settlement in advance list, showing the listing of the people who have already paid for subsequent lessons. Two new columns informing about the total number of lessons of a given student and the envisaged revenues have appeared in the report.

4. Special marking of groups taught by substitute teachers in Teacher's panel
---
It happens quite often that teachers deliver classes as substitutes. We highlighted the groups to which they are assigned permanently and those they have taught in connection with absence of another teacher. From now on, they have clear access to all groups because they were sorted into two categories: Groups and Substitutions.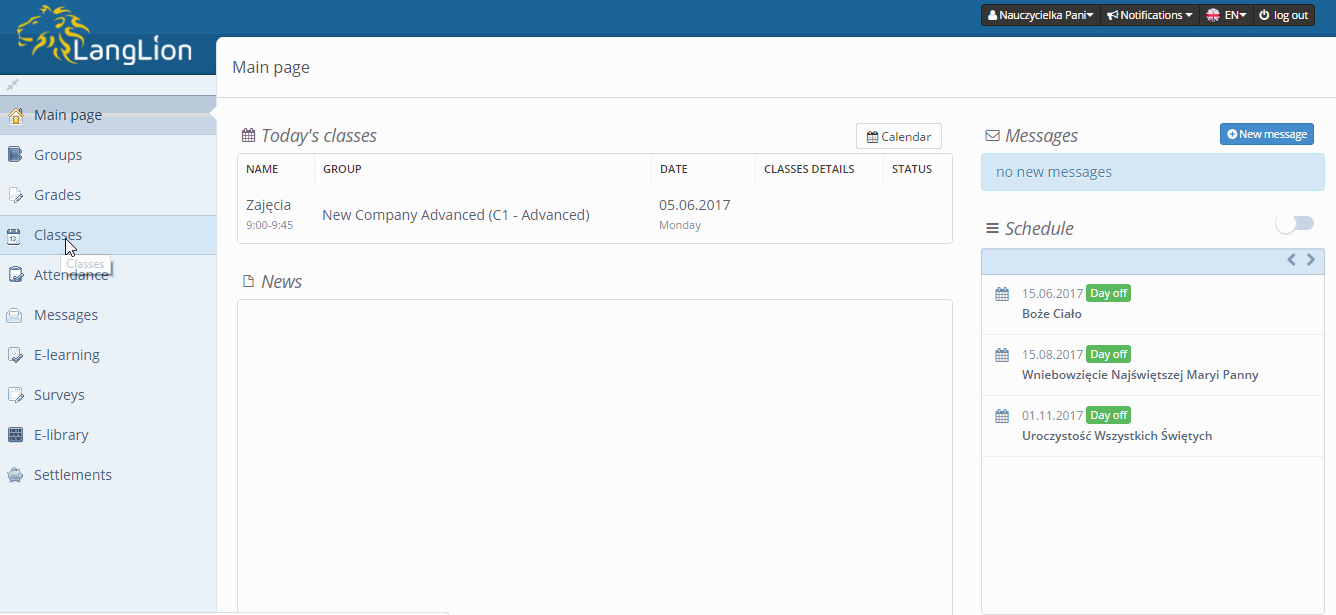 5. A new column in the report named Finance – goods and services
---
If you have the Finance module, you have the possibility to add goods and services you sell to counterparties. It is very easy to generate a report owing to which you can check not only the quantity of the sold items and the price but also (from now on) the gross value paid for them.

6. Copying the surveys
---
Do you want to create a few similar or identical surveys targeted at various platform users? From now on you can copy the surveys created earlier using a single icon.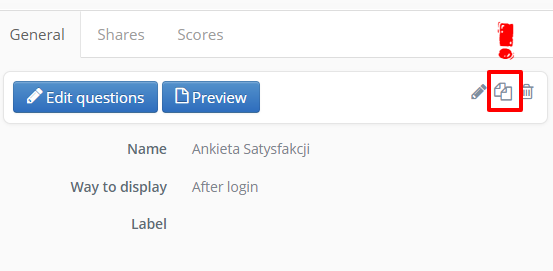 See below how to create a new survey and copy it.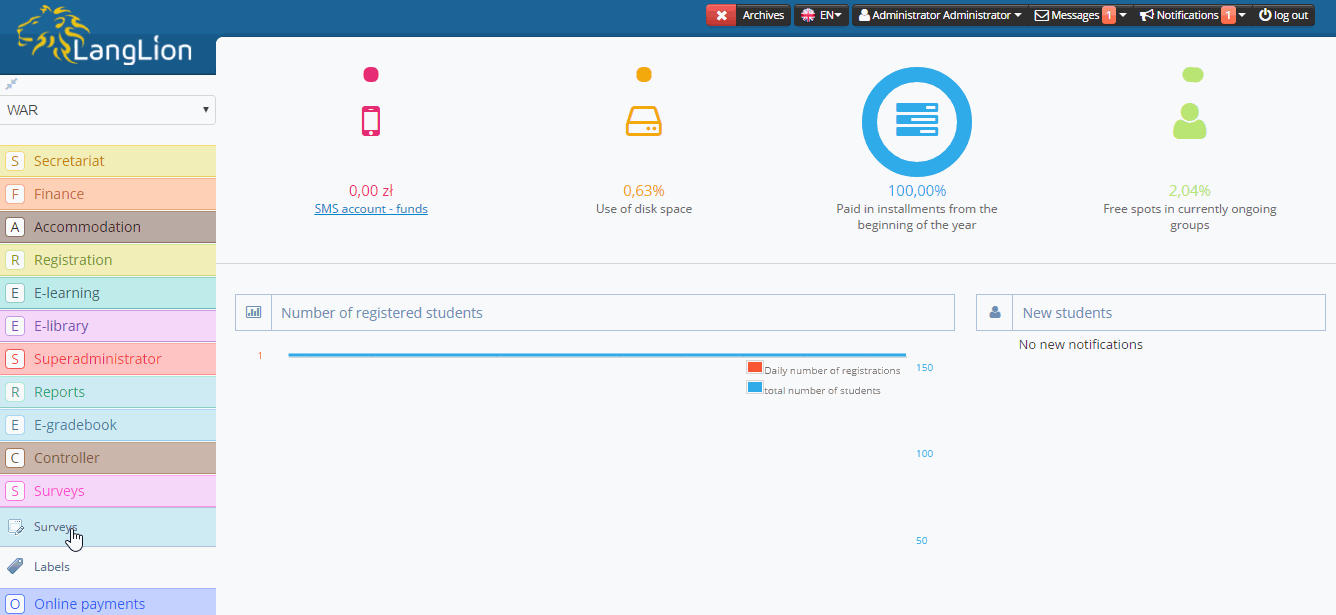 Remember that you can place the survey at your website.
7. The annotation on VAT exemption added to ordinary invoice template
---
A good change for schools benefitting from tax exemption on foreign language teaching. If you want to add the annotation, go to Additional options in the settings of the Finance section and fill Default information on VAT exemption.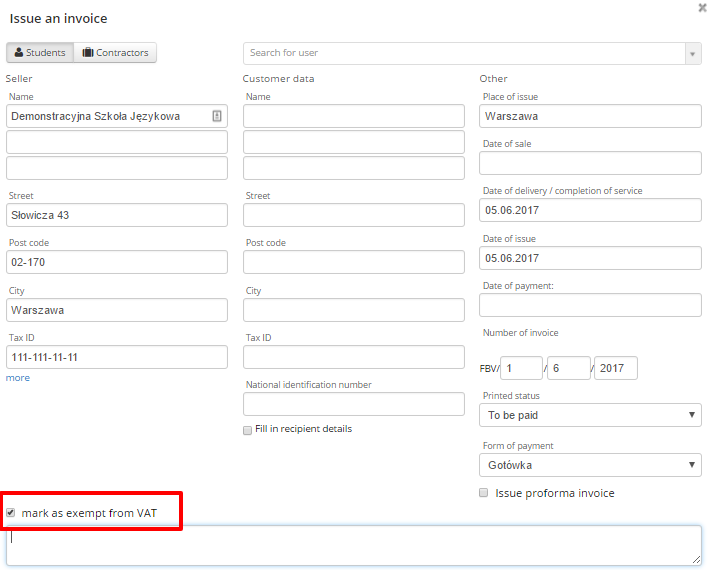 What is more, from now on you can use separate numbering for invoices with VAT and those bearing an annotation on VAT exemption.
8. LangLion's app for teachers
---
We are proud to present you with a mobile application for teachers named LangLion for Teachers!
This is the first version of a LangLion mobile application available for devices with Android 4.1 operating system and its newer versions. For this reason you can find it exclusively in Google Play.
What can a teacher do in the application?

check students' attendance,
flag a homework,
supplement or display details of classes.
LangLion's technical department works constantly on new functions. We hope the changes will improve work in your schools 🙂