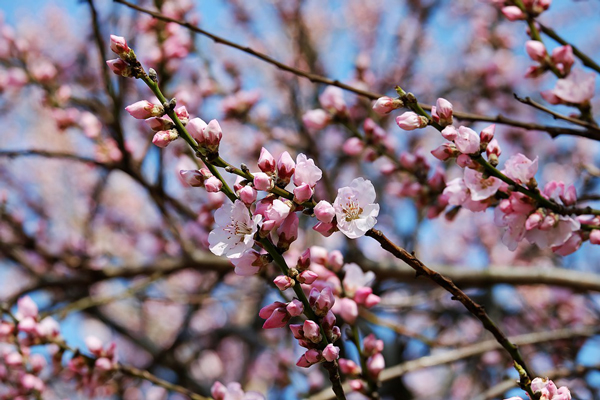 Just as flower buds start blooming, LangLion is changing positively in the springtime. We have introduced additions in response to your suggestions, so we have an even greater hope that you will be pleasantly surprised. We encourage you to become familiar with the update.
Linking invoices to transactions in Student's Panel
In the E-gradebook, students can now preview their payments for courses in Payments section. This section features not only the settlements but also transactions and linked documents. A new addition is comprised of the option to download invoices (if issued) and contracts in the form of PDF documents.

The option to print corporate settlement details without the necessity to issue an invoice
Before the update, it was possible to print class details only as an attachment to a VAT invoice, after its prior issuing. From now on you can print the attachment alone, i.e. class details. To this end, we created a dedicated Printers icon.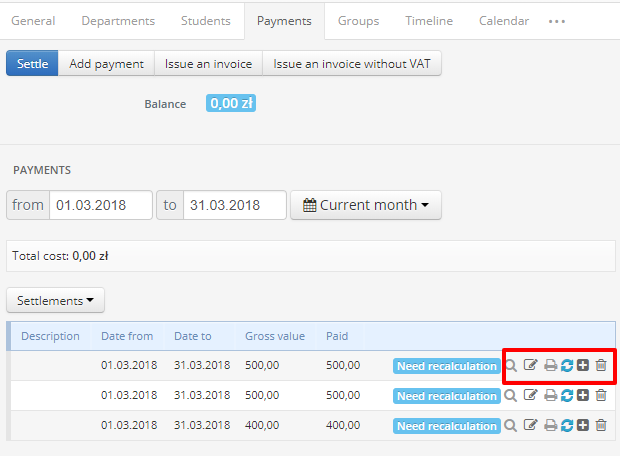 What do the remaining icons mean?
Magnifier – enables previewing of settlement details
Pencil – enables editing of settlements (as regards dates, amounts and descriptions)
Arrows – an update of settlements in the case of changes on the list of classes – what is important, if such changes did take place, the icon will light up in blue and a message will appear beside it that the settlement should be updated
Plus – enables adding of transactions (e.g. if a given transaction was not added during creation of a given settlement)
Trash – deletes a settlement
Batch printing of descriptive opinions of students
Starting from the current update, it is possible to print descriptive opinions of filtered students. The administrator can for example print the opinions of all students from a selected group. You can print many descriptive opinions at once from the Secretariat level.
Because the generated document is ready for double-sided printing, it may contain blank pages.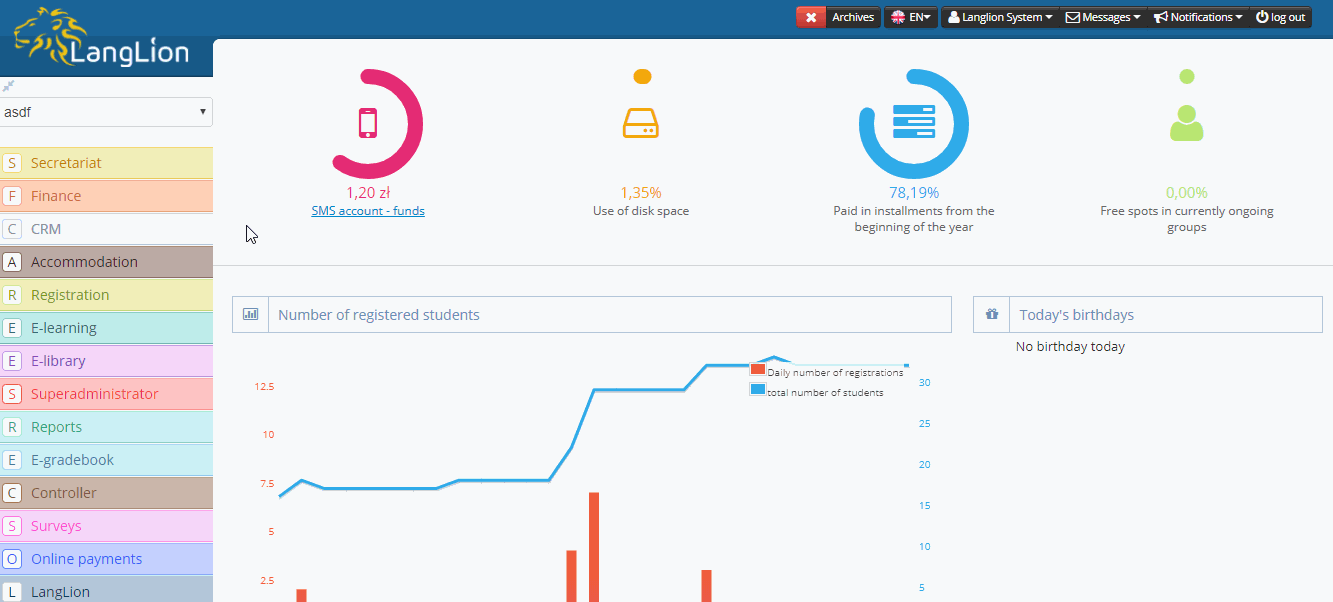 Remember that you can print a descriptive opinion also from the E-gradebook level.
Mailing of messages to new students
New students are the people who signed up for a course in your school or completed a level test. Only once you add them as students, or assign them to a group, you will be able to manage them, settle them and add payments that have been made.
Starting from the spring update, a nice change has taken place, because now you have the option to send messages to new students before you add full-fledged accounts to them at the LangLion Platform. Owing to this, you will easily send to them an e-mail or an SMS with a welcome, inform them when a course begins or which group they will join.
Certainly, a new student should provide their e-mail address and telephone number so that you can contact them. Remember to obtain consents for mailing of information via e-mail messages.
See how to send an e-mail message or an SMS to new students.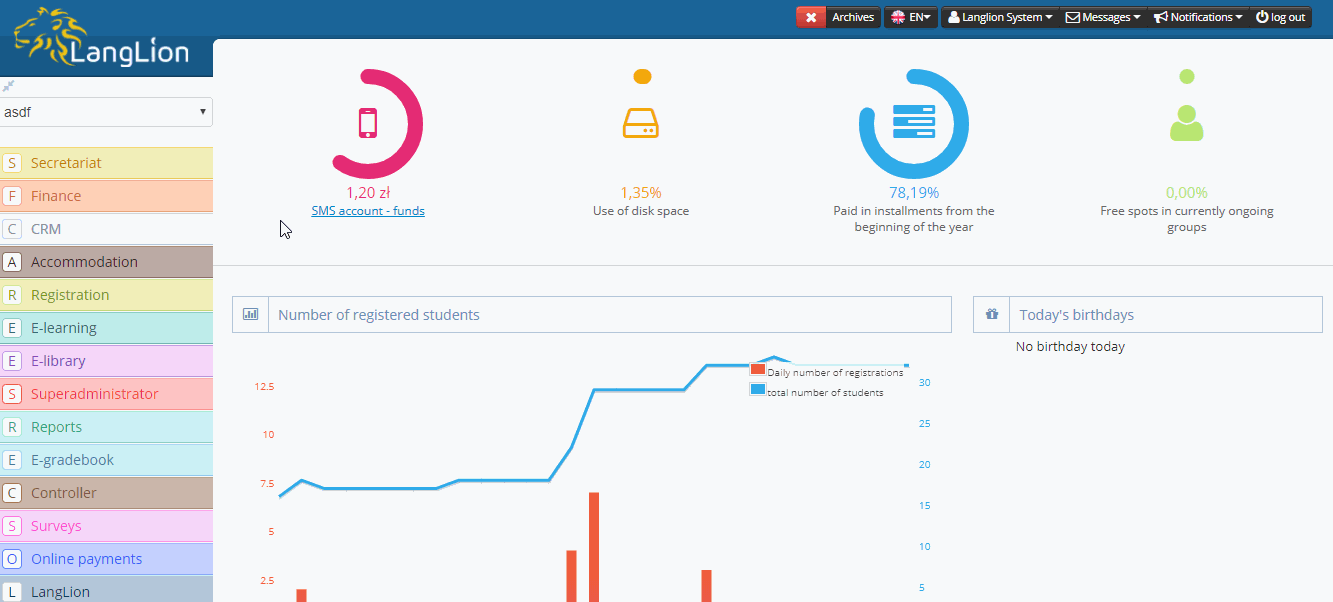 A new option to transfer a student to another group
It sometimes happens that you need to transfer a student to another group. So far you had to write out a student from one group and enlist them with another group, at the same time adding the date of the write-out and enlistment.
In the current update, we facilitated that procedure. From now on, after clicking on Transfer to another group in the Students – Groups section, the system automatically transfers a student with their history and financial date (instalments, transaction, discounts). At the same time, the date is automatically set for the write-out from the old and enlistment for the new group (this is the transfer date).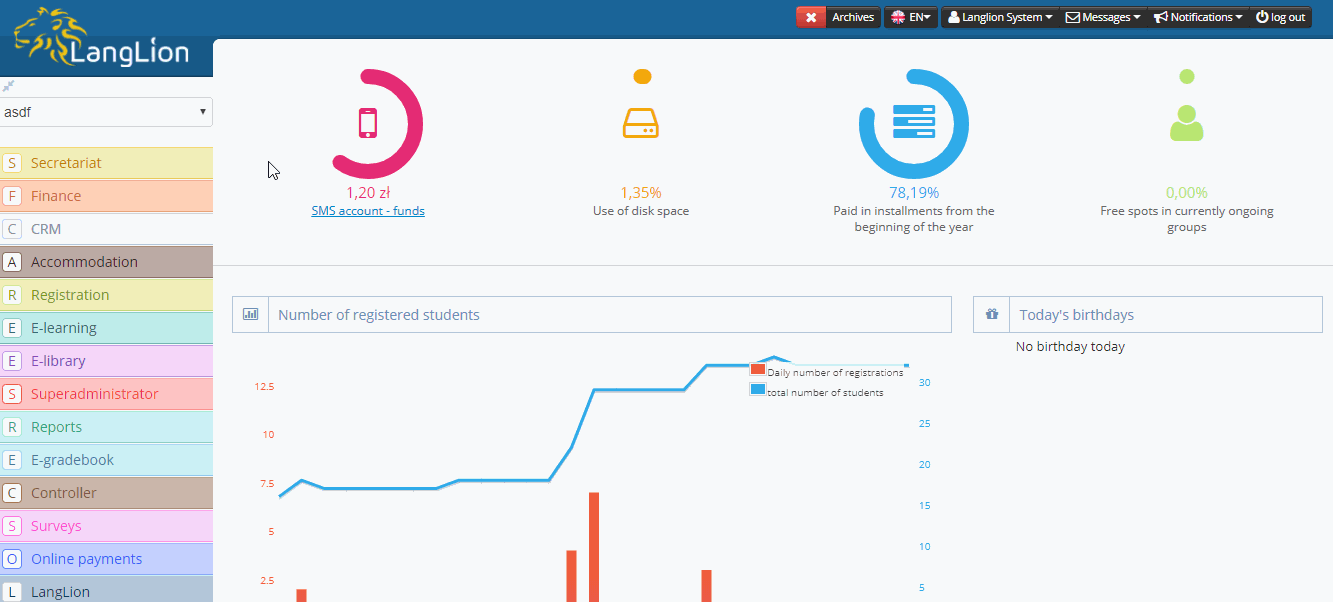 Automatic update of invoice's status
At the moment when you add a transaction, and then you confirm the payment, its status is marked as Paid. Then, if you issue an invoice for that transaction, it will be automatically saved as a paid one, and the payment date will be the same as that for the confirmed transaction.
Remember that if there are several transactions under a single invoice, then all of them have to be paid (confirmed payments) for the invoice's system status to be marked as Paid.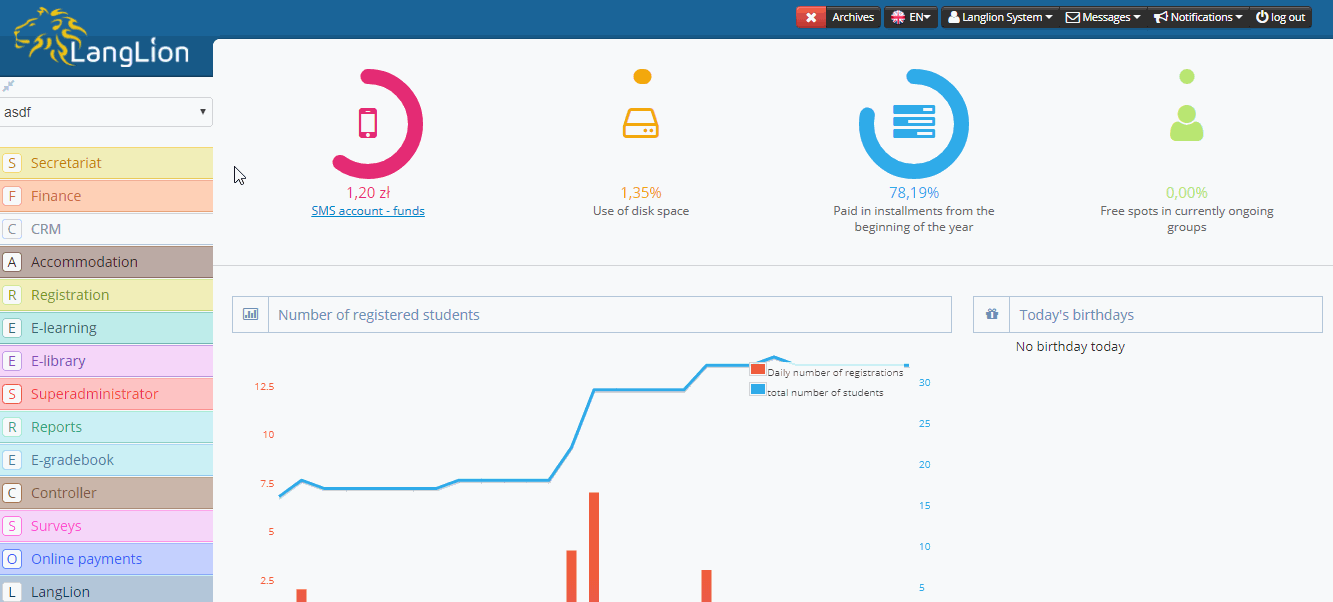 Changes in sending notifications and mailings
Sending of notifications and mailings after a prior consent
In connection with the imminent changes related to protection of personal data, we have introduced some restrictions related to sending notifications and mailings. In accordance with legal regulations, every person has to give voluntary and unambiguous consent for reception of commercial and marketing information. Therefore, starting from the current update, e-mail messages and notifications will reach the people who have selected consent for the processing of personal data for the purposes related to the contract.
Where shall consents be selected?
A student, parent and teacher can at any time select commercial and marketing consent at their account in the E-gradebook in Profile Edition. The consent for the processing of personal data for the purposes of the contract can be selected or unselected from the Secretariat level.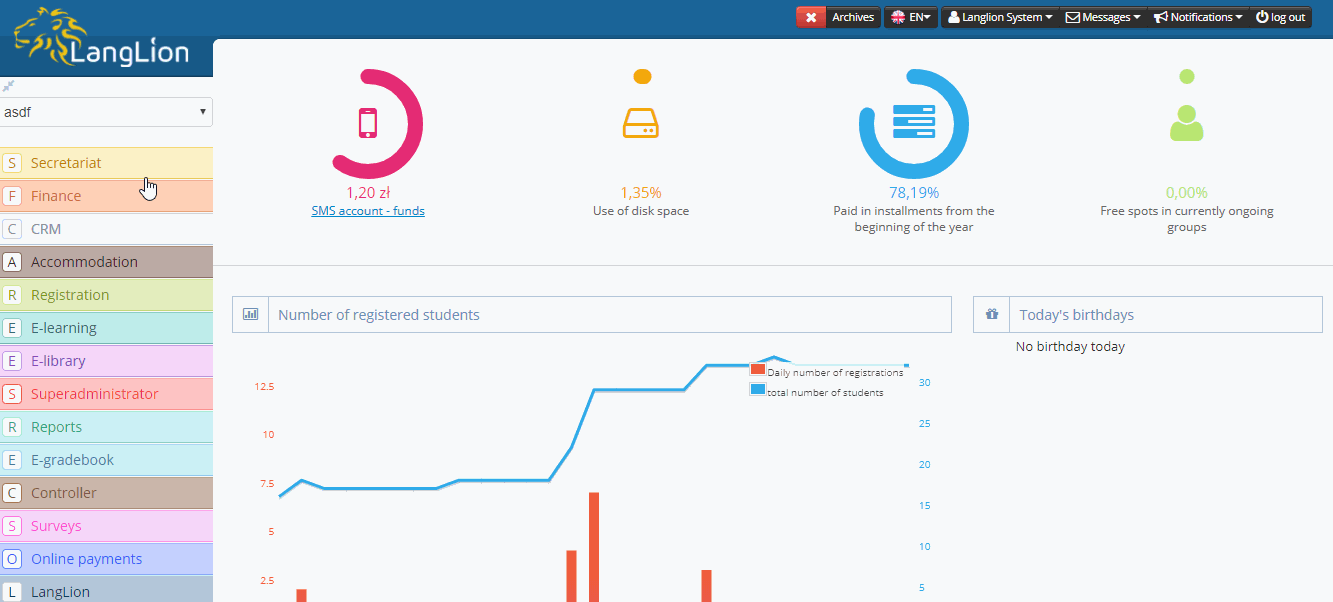 Additionally, if you have the Registration module, you can easily add three boxes to the student's/parent's/teacher's form.
Consent to processing personal data for contract purposes
Consent to processing data for marketing purposes
Consent to processing data for sales purposes
The option to indicate the type of mailing
We have added four types of mailing to choose from:
related to the contract
sales
marketing
other
This is associated with consents to the processing of personal data, users have expressed. By default, the type Sales is selected, so if you want to send a different type of mailing, choose the relevant type from the list.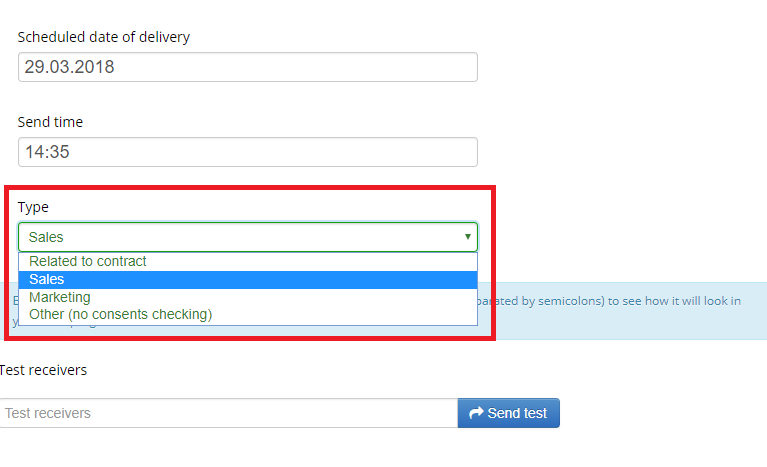 Sending of notifications both to a student and to their parent
Notifications are the pieces of information sent to users after a specified event has occurred at the LangLion Platform. They can have the form of systemic messages, e-mail messages or SMS.
Starting from today's update, notifications will be sent both to a student and to their parent, provided their e-mail addresses have been filled in in the profile edition.
Remember about some exceptions; if you send notifications to debtors or invoices, you can choose who you want to send the e-mail to – a student or a parent.
Automatic change of an e-mail address
Each user of the E-gradebook – a student, parent or teacher – has the option to edit their data at any time. We have introduced a change resulting in updating of the data in the user's profile from the Secretariat level. For example, if a teacher changes their telephone number or e-mail address in the E-gradebook, then the secretariat will automatically see new data in the user's profile.
Consents in the "Students – additional information" report
So far in the report, one could find the total sum of all instalments assigned to a student, a list of archived students and the status of students in a given group (New, In progress, Continuation, Resignation).
What is important, new columns have appeared in the report, related to consents given for reception of information related to the contract, as well as marketing and commercial information.
We hope the additions we have introduced permanently will be useful for you.
Do you have any questions related to the current changes?