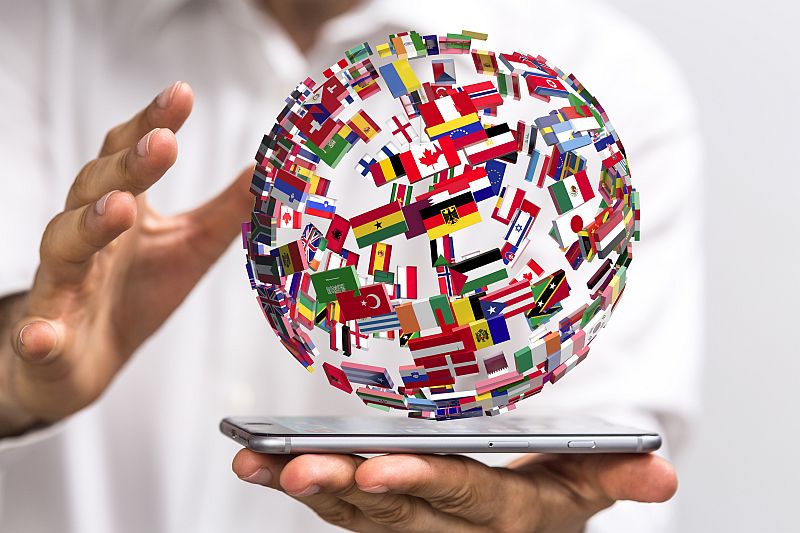 A good website is now an absolute must. Regardless of the business, it is now the place your potential client visits before contacting you or coming directly to your office. How people see your school before they give it a try can obviously have an impact on their final decision. If somebody sees an old styled website that looks like it was designed in the early 2000s, it is likely that he will immediately exit, thinking that the business must be closed, or simply because of the aesthetical reasons. Here, at LangLion, we have a lot of contact with language school owners, but also we visit a lot of pages. In this article, you will find a ranking of good websites that hopefully will inspire you. It is the 1st out of 2 parts about the best websites. This time we will analyze Poland, UK and Spain + Latin America. Next time: USA, Russia and Asian countries.

Let's start with our domestic market – Poland. As Poles tend to learn foreign languages a lot, there is now a lot of competition in our country. Therefore even the best schools must fight for the client. A good website certainly helps in convincing a potential student.
We awarded Akademia Vena the first place among Polish websites because it's mostly elegant, easy to read and navigate. One can see and appreciate the logic and order. We especially like the owner's invitation with a signed picture of good quality. The student's and teacher's zone is also very well organized. The whole style is up to date and called flat design. After a few seconds browsing, there is a window with an invitation to sign up for the newsletter. It is a good "lead catcher". Overall responsiveness we rate 9/10. A very good web site!
2. NORKURS
A slightly different school, because it's located in Norway, but dedicated to the Polish people living in Oslo. The website is an eye candy. Beautiful drawings, giving away the Norwegian ambient. It is very dynamic and quite vast, but the graphics encourage you too scroll and scroll and scroll…In addition there are very well taken photos and students' testimonials. Take a look at unique typography.
Superb responsiveness, clear and elegant design. "Flat designish", with a lot of essential information, but not overloaded. Very good background photos, an invitation to read their blog and check the books they sell. Interesting section – "About you". It is quite surprising but does the trick. One just must click and see it. A big A+ for the theme of the website and the colors used.
---
Now, let's take a closer look at schools from the United Kingdom. These schools are usually oriented on the immigrants or tourists coming to the UK to learn language by immersion. It's a very specific market, a lot of competition.
This web-site is very aesthetic with a lot of professional pictures that are not from the stock. You can quickly feel what the school is about, that it's modern and friendly. The structure is very clear and there and navigation easy. There is a good section about the school's home city – Brighton, where you can learn more about the place you will be staying in.
A school from Bury in Suffolk with it's website prove that smaller towns' businesses can be more professional than the ones in the big cities. The overall design is clear, it's easy to navigate the website and it's very easy to register at school, through a well-organized registration part of the site. Another plus for a well working live chat. We like the testimonials part a lot, however, we'd recommend to place it a little bit higher.
A very responsive and colorful website with On-line advisor, clear navigation and minimalistic design of the fonts and logos. Posted pictures are of a good quality and you can easily find essential information about the courses. A big plus for a video with real students' testimonials and teachers/admins comments. You can feel how professional and motivated these people are. Bravo!
Certainly, the idea for the main site is very original, with a very specific but clear navigation. A plus for links to almost all the social media available. Overall a very pleasant website but we recommend to post more pictures of the school and testimonials.
---
Now let's change the country and let's fly from usually rainy Britain to usually sunny Spain and Colombia. Spanish and Colombian people due to their economic situation need to constantly improve their skills, that's why their market is full of language schools. Take a look at the best web sites from the land of wine and flamenco!
The name's good, location beautiful and the web site is terrific! We love the minimalism, creative design and colorfulness of the site. There are testimonials, registration site, various languages to select, a blog, real pictures…there is everything a client needs to know when looking for a language school. The only thing that's missing is a live chat.
2. Tea BCN
An interesting design, without the upper bar menu. All the essential information you can find under 4 big yellow buttons in the middle of the screen. Hard to miss and fun to look at. The pictures in the background slide show are very good quality, however, it would be good to post pictures from the actual school, not from stock. We like a lot the simplistic icons and teachers' profiles.
A nice website with a lot of information, on-line payment section, a blog, interesting design of the logos and icons. We like that right after visiting the website a student can leave his contact details. Good for people that are revisiting the website and don't need to search for a form. We absolutely love the idea to click on the most famous monument of the city where a branch of WSE school is located. This website is definitely responsive. The only thing is missing, are the pictures, there should be more of them.
---
I hope that you enjoyed our ranking. If you have a good example of the website please share a comment below. If you'd like us to examine your website don't hesitate to send us a link. See you next time!