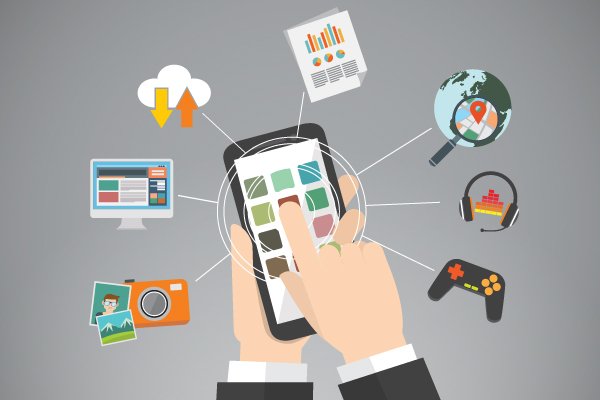 13 free Android applications that are going to change your language school life
Can you imagine life without a mobile phone or a tablet? The omnipresent Internet access has changed the face of the world, because it has given us billions of applications facilitating not only day-to-day functioning, but also an integrated pursuance of business activities. Learn about 13 applications you will not want to part with starting from tomorrow.
An application that will help you to combine all favourite services, such as e.g. Twitter, Google Drive, Spotify, Instagram, Gmail, Slack, MailChimp. What can you do there?
view news from the world owing to The New York Times publications,
keep up with social media,
save screenshots in a selected album,
transfer photos automatically from Instagram Twitter entries or Pinterest files,
control security systems owing to automatic warnings.
WeVideo film editor is used not only by private persons, by also by 5000 schools from all over the world. The editor allows you to create stories out of the photos and videos selected by you, superimpose voiceover or choose ready music, and also to add subtitles and emoticons.
An application that will help you to face daily difficulties. Are you poorly motivated to rise in the morning? Fabulous will wake you up at the chosen time, motivate for exercising, and will even remind you that you should have lunch. Mental training, exercise in mindfulness, meditation – you will also find them all in the application. Everything is based on building of healthy, daily habits.
Musixmatch is a perfect solution for language learning, because the application automatically finds lyrics of the played musical pieces and even their translations! The application is integrated with music applications: Spotify, Youtube, Pandora Apple Music, SoundCloud, Google Play Music.
Create your own or group history jointly with your students. Add your reflections, photos and videos, and then share the entries with your family members and friends. The diary automatically adds weather and your location to the notes.
A funny application creating a video clip out of a text you have written. You may add your own gif or video or use ones already available. It is worthwhile mentioning that a large part of hits in the application are available against a charge.
A tool that will allow you to download and share Instagram photos without a watermark. What is this about? For example if someone mentions your school or marks themselves at classes, you can easily share such a post. See an example below
If you run a Facebook page, this is an application for you. Via this application you can manage even several fanpages in a single spot. The manager enables sharing of updates directly from the phone, replying to students' questions, and – what is important –  all of that can be done without the necessity to log onto your account each time.
In your daily work you will surely find use for Mindmeister application, owing to which you will intuitively create a mind map – you will combine selected terms, add a proper photo or videos, create a presentation. You can easily share a map or export it in RTF, PDF or PNG format.
A very fast way to transfer photos and videos online. Send files of up to 10 GB to students or friends via e-mail. You transfer files safely and recipients click on a download link. Easily, stress-free and for free.
An application for management of projects, perfect for group work. This is where you can create tasks, add other people, run discussions, set the performance deadlines and control everything owing to notifications. You can use the application in your school, private life and also during classes.
You view Facebook and find an inspiring online training that you cannot view immediately? Or perhaps you run a transmission at your fanpage and want to save the video? Besides saving a post, you can use the application to download videos from Facebook. What is important, you can download at the same time several videos from a board, groups, pages and from fiends.
If you use LangLion Platform in your school, remember that a teacher can use our mobile application What can you do in the application?
check students' attendance,
mark a homework,
complete or display class details.
Learn more about that in the LangLion guide.
It is worthwhile stressing that a large part of the aforementioned proposals were awarded by Google in the ranking of the best applications called Android Excellence in 1Q 2018. What does that mean? Definitely that you must not ignore them 😉
What applications do you use on daily basis? Let us know in the comments.